For artist Alisa Harris, coming up with a title for her first one-woman show was simple.
"(My work has) changed over the years. I used to try to do everything as realistically as I could, mostly from nature. I got tired of it," Harris says. "I began to learn more about abstract art. I'm still using natural elements, but my paintings are becoming abstract.
"It's just the natural transition that I have fallen into. It just kind of naturally happened."
Hence, the name "A Natural Transition" developed — and grew — into an exhibit of about 30 original acrylics spanning from landscapes and seascapes to abstracts and animals that runs from Monday, Jan. 2 to Jan. 31 at the Ocean City Arts Center.
Harris received a Bachelor's in art from Penn State University. After working as a graphic artist in Philadelphia for a few years, she and her husband moved to Upper Township where she raised two children full-time.
Missing art and the opportunity to be creative, Harris' husband, a dentist, mentioned that he had a patient who was an art teacher and suggested she take a class with him.
That patient was none other than the highly acclaimed, nationally recognized artist Lance Balderson.
"So that's what I did," she exclaims. "And I've been painting with him and the same group of painters since 1991."
The group is composed of eight to 10 "very talented artists" at any given time.
Three years ago, a few folks from Pine Shores Art Association conceived the art show "Deck t…
"We're not real formal," Harris says of the group. "We really enjoy each other's company and count on each other's critique of our art. We really respect each other's opinions."
With her newfound attraction to abstracts, Harris thought that "A Natural Transition," for which she's been preparing since July, might be composed of all abstract work. But for someone who claims to be "not a marketing person," Harris was savvy enough to think like a viewer and realized that there should be more variety to her exhibit.
"I thought maybe I'll do all abstract for this show, and I painted six or seven, but then I thought, 'what a boring show,'" she laughs. "When I brought them home and paired them with some of my older, more realistic-type paintings, they looked really good together. So I decided to put both in."
Generally anything that comes from nature inspires Harris to paint, so look for several realistic landscapes and a few animals — "I am madly in love with animals" — including a prized painting of a Texas Longhorn, one of the few that will not be for sale.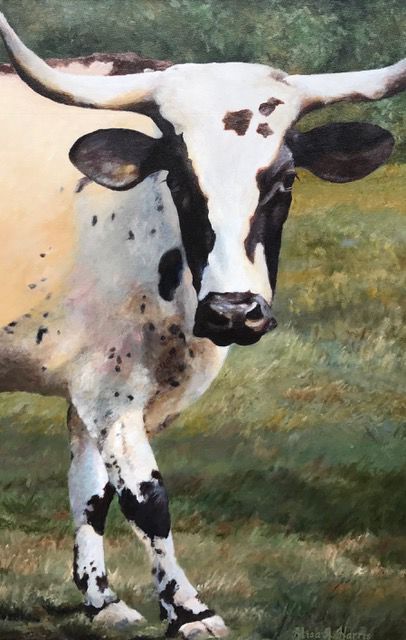 Her abstracts, however, appear to also be nature-inspired, as they resemble and are often mistaken for florals, but the images are actually piles of debris that Harris found on the beach after a storm.
Three years ago, a few folks from Pine Shores Art Association conceived the art show "Deck t…
"I like to call them (the abstracts) 'beach trash,'" she says.
"Beach trash." Quite the catchy name. Perhaps Harris has more of a knack for marketing than she gives herself credit for.