Jan Bendyna's artistic talent could be considered a family affair. Identical twin sister Judy Chora is an incredible mosaic artist and co-owner of Chora Leone Gallery in Somers Point. Bendyna is an equally amazing painter. The sisters' gift for creating beautiful artwork may stem from their biological parents. But it could also have been something that was encouraged by their adoptive family.
For artist Peter Davidson, art is a mystery. As is preaching.
"We did find our real father, but we didn't find our real mother yet. But we heard she was an artist," says Bendyna of the possible biological tie to her and her sister's talent. "But when we were kids, (in our adoptive family) we had a cousin who was an artist — and still is. Her husband was one, too, and they were also professors of art.
"She would send us pastels and colored pencils and art supplies every Christmas — whether we wanted them or not," she laughs. "She wanted to cultivate us into the arts. My (adoptive) mother was very artistic in her own way — not painting — but a very talented seamstress and clothing designer for a lingerie company."
In Bendyna's case, it seems as if neither nature nor nurture alone was the cause of her artistic ability. It was both.
Growing up in rural Dunkirk, N.Y., her talent was noticed early on by a high school teacher who made her his protégé and gave her preferential treatment: taking her out of class to work on art projects; pushing her to enter art contests; giving her one-woman shows.
After her school years, she moved to New York City, where she would occasionally do murals for restaurants and other fine art work. But for the most part, she was a marketing director for a large construction firm, where they enlisted her relatively young graphic design skills.
"I took a stab at their corporate identity package and wound up winning a national design award and got featured in Architectural Record magazine."
Eventually becoming "fed up" with the city, she followed her sister to South Jersey and opened up her own graphics design firm. After Chora Leone opened, Bendyna placed some of her own paintings in there.
"They were flying off the wall," she says. "I thought, 'I guess I'd better pursue this.'"
Once you see a Bendyna piece, her unique style becomes instantly recognizable to you — her unabashed use of color, her sizable subject matters and her prevalent water scenes — mostly underwater scenes — are anything but your more traditional water scenes so frequently spied here at the shore.
"The underwater thing was easy," says Bendyna, a snorkler and scuba diver. "There's no way, though, that I'd paint overturned boats 24 hours a day. Or scenes of dunes. Everybody's got that already. I can't contribute anything to that, it's already done. If I'm gonna do water, I'm gonna do water in MY style.
"(And) you'll never see a subject matter in my paintings that doesn't take up less than three-quarters of canvas. I don't like tiny subjects. I like images to take on a life of their own … for the subject matter to take on a life of its own."
As for how Bendyna devised her most common subjects — faceless swimming women shown from under water — with little reflective waves glistening over their skin …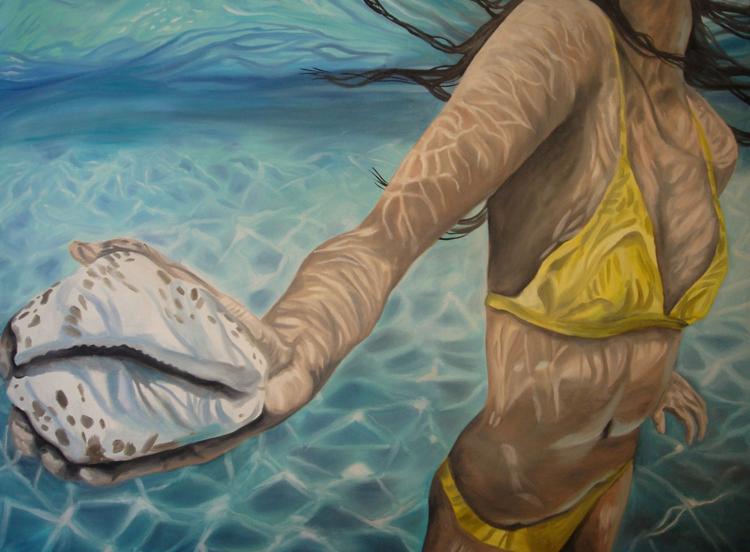 "I was snorkeling in Mexico at the time and wasn't paying attention to the fish," says Bendyna of how this idea came to her. "I wound up looking at the reflections on my arms and thought, 'that's pretty cool.'"
Bendyna believes that her signature bold use of color, however, might stem from as far back as her childhood.
Joanna Hoang, 18, has always been "obsessed" with art since she was "a baby."
"I'm not afraid of color — I want to use all colors — bold colors or retro colors. I think because I grew up in a rural area with landscapes of brown and green trees … everyone would be painting old barns, so I grew up painting that," she says. "When I went to New York City … everything is boldness. So not only did things (in my paintings) get bolder and bolder with regard to color, I started running more images off the page and doing extreme close ups."
Even when not painting her swimmers, most of Bendyna's images still have some aspect of water in it, but she won't paint a picture that merely illustrates an aquatic scene. For her, it also has to evoke a feeling.
"I like the tranquility of the water, I even like storms — anything that has to do with water," she says. "But a painting should portray a mood or make you feel relaxed or excited.
"I like to give people a feeling other than 'that's just a pretty picture.'"