Most Caesars Atlantic City regulars who have frequented Nero's Italian Steakhouse — or any of the other restaurants that have occupied that space — often refer to it as "Betty's restaurant."
So after three decades, Caesars finally made it official. And rightfully so.
Who is Betty? Well, you clearly aren't a regular. But maybe you should be.
Betty is Betty McHugh, the stylish, short-haired, always-smiling, restaurant-savvy, customer-favorite general manager of Nero's, one of the many Caesars restaurants she has managed — among Milt & Sonny's Deli (where she started), Café Roma, Bacchanal, Oriental Palace — over the last 30 years.
Over the summer, the management team was smart enough to finally name a restaurant after her. And what a fabulous restaurant Betty's Back Room is.
As the oldest business in Atlantic County, the Linwood Market and Deli, nestled in a quiet residential neighborhood, was on the brink of becom…
"I think it's a very special place," says McHugh of the Italian restaurant. "It actually reminds me of the way dining experiences were back when I first started. It's a very personalized experience that you will remember for a long time. I want to make sure that when you come to Betty's Back Room that it's unlike anywhere else. Not only will you have the meal of your life, but you'll leave with some great memories and maybe a few new friends."
If you haven't heard about Betty's Back Room yet, that's because Caesars wants it to be the best-kept secret in town. There's no mention of it on their website. They don't accept reservations on Open Table. There's no phone number, and it's not advertised at all. Those in the know — loyal guests and customers — are simply handed a business card that says, "Betty's Back Room. To make a reservation, email mchughb@caesars.com."
"We wanted to make it like a speakeasy," McHugh explains of the back room, which was formerly part of Nero's and has a history so rich that McHugh still has photos of celebrities dining there, including one of her sitting on the legendary George Burns' lap. "And while people are going to talk about it and write about it, we are going to keep it special and intimate."
The gorgeous space, framed by beautiful dark woods, is reminiscent of glorious casino restaurants of the past, and Betty's Back Room delivers on its promise of offering diners an unrivaled experience, complete with its own custom linens, candles that illuminate the room, top-notch service (as is always expected in any of McHugh's restaurants), and Jennifer Shieh — a longtime professional casino lounge entertainer and Juilliard School grad who greets you at the entrance playing a Baby Grand piano.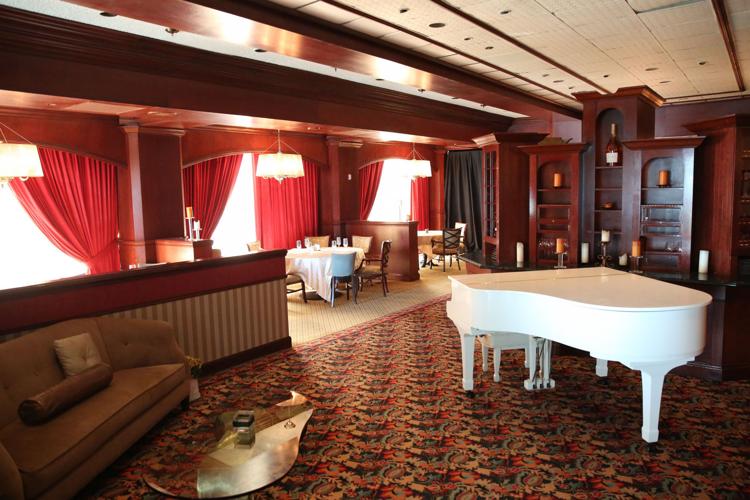 "The atmosphere is so beautiful and the dining experience is amazing thanks to the fantastic food, great cocktail and wine list, and Jennifer adding great music," McHugh says. "She can play it all, from standards to showtunes to modern music. On any given night, people might start singing along and even dancing. But that's what I like about this place. You never know what to expect. It's different every time. One customer said it reminds her of the days when people would dress up and go out to dinner. I like that."
Of course, McHugh is there to meet and greet everyone. She's the kind of general manager that not only knows your favorite wine and cocktail and has it waiting for you before you even sit down, but she also knows your kids' names and your grandchildren's birthdays. If she ever decided to switch careers and become a casino host, she would have made a fortune.
"I love Caesars because we aren't just a team, we are a family," McHugh says. "I feel like I grew up at Caesars. All of the customers who come in aren't just here for the food, but to see me and my employees — at least 20 of them have been here since day one, which is more than 20 years ago. So we all became very close to our customers. They tell me about their life and their kids, and I tell them about my family, and we share great stories. They call and email me. It's a real relationship."
Even though people would probably visit McHugh even if the food was mediocre, Betty's Back Room is anything but.
Any Caesars regular will also know the chef running Betty's Back Room and Nero's: Maurizio Di Marco, the casino veteran who previously ran Arturo's and Buca di Beppo at Caesars' sister property, Bally's.
Thankfully, Di Marco, who grew up and studied culinary arts in Italy, is back in the kitchen showing the originality and creativity he is known for. Offering a menu that changes every two weeks, Di Marco and his team are creating everything from scratch with the best imported ingredients that would make most chefs envious.
"Maurizio has a way about him that is very charismatic and authentic," McHugh says. "He personally goes to the tables and spends time with customers to make sure they get exactly what they want, and then he goes in the kitchen and prepares it for them. He will go off the menu if they want. He's a fabulous chef and a great person."
There are only about two dozen items on the menu separated in five sections. But despite its brevity, good luck choosing.
Seafood lovers will have absolutely no choice but to order the seafood tower ($120) stacked with clams, oysters, rock shrimp and king crab, before moving into an impressive array of appetizers including Melenzane alla Normanna ($14), Di Marco's version of eggplant rollatini with fried tomato, buffalo mozzarella, ricotta and roasted pepper coulis; Palipo alla Griglia ($16), perhaps the greatest seafood salad you will ever have — Italian style — with grilled octopus, crushed fingerling potatoes, pecorino-crusted chickpeas and fire roasted pepper vinaigrette; Rissotto d'Aragosta ($22), a creamy, scrumptious lobster risotto with shaved lobster "Bottargo;" and Peperoncini Ripieni ($12), Di Marco's twist on stuffed roasted peppers with Italian sausage.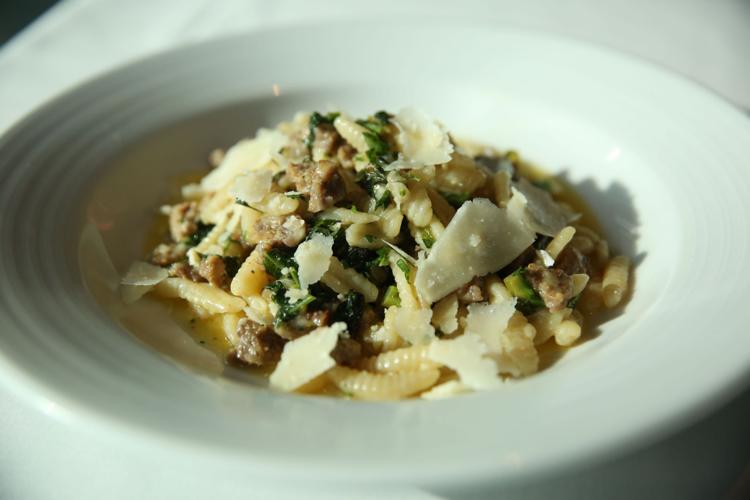 Di Marco's Italian roots and modern sensibilities are even more apparent in the entrees. His Cioppino Livornese ($55) is about as good as this traditional Italian staple gets. Loaded with mussels, clams, shrimp, giant scallops and grilled lobster tail in a red sauce that is perfectly garlicky and spicy, it's the perfect Italian fish stew.
Since the front is a steakhouse, it shouldn't be a surprise that the Filetto di Manzo ($58) impresses. Simply seasoned and grilled, it's served with bacon creamed spinach, homemade caramelized semolina cavatelli — which can also be had in the pasta section with sausage, broccoli rapa, garlic and oil for $31 — and Borolo sauce.
But if you are a fish lover, you may have never had a better piece of fish than his Sogliola alla Mugnaia ($68), Dover sole served to the table with wilted spinach, then topped table-side by a server who pours a masterpiece concoction of white wine truffle sauce and enough jumbo lump crab to feed the entire restaurant over the fish. It's incredible.
Then there's the pasta. Aside from the homemade cavatelli, anyone who knows Di Marco knows he makes the best Bolognese sauce you've ever had, and it's used perfectly in the Paccheri Bolognese ($31), a homemade, crepe-like pasta stuffed with whipped black pepper ricotta, topped with his famous meat sauce.
As Betty's Back Room keeps impressing regulars and attracting some new faces, it may become the toughest restaurant to get a reservation in town.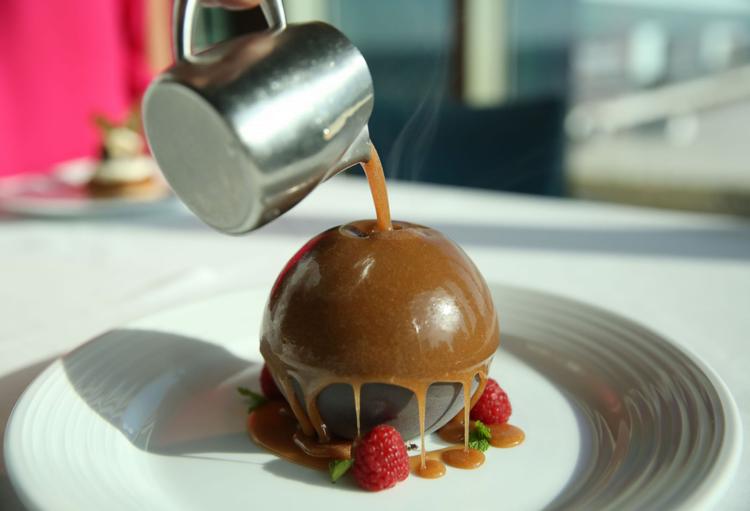 "Hopefully we will open more and more as people learn about it," McHugh says. "I already have people who will only sit in that room. And that's surprising when the front of the restaurant has one of the best views in the city. I think they are so excited that they named the restaurant after an employee. It's unheard of. We already had someone get engaged in there, and we are celebrating birthdays and anniversaries every week. It's that kind of place."
In a casino culinary world full of restaurants bearing the names of international celebrities such as Guy Fieri and Gordon Ramsay, Betty's Back Room is surprising to say the least.
"I am honored," McHugh says. "It's my pleasure to make sure that everyone has a wonderful dining experience. I can't begin to express my appreciation and gratitude for giving me the best opportunity I could ever imagine, and I will continue to work hard to make sure it's the best restaurant experience in the city."
Cuba Libre Restaurant & Rum Bar has always offered Atlantic City diners a unique, creati…
How Betty's Back Room got its name
No one was more surprised than Betty McHugh when she found that they were naming the cozy back room of Nero's Italian Steakhouse after her. Here's how it happened.
Last year, Caesars opened the back room as an Italian restaurant on Saturday nights to please longtime customers who craved a first-class Italian experience, which Caesars hasn't offered since Mia closed to make room for Gordon Ramsay Pub and Grill.
"One night the customers were dining and the piano was going and everyone was having a great time and one customer started singing, 'Betty's back room, Betty's back room,' and then everyone was chanting it," McHugh says. "So one customer went up to (Caesars' President) Kevin Ortzman and said, 'It would be great if you named this room after Betty.' He smiled and said, 'That would be a great idea.'"
McHugh didn't think anything of it until a couple of weeks passed and she heard from her boss, Vice President of Food and Beverage Joe Giunta, who said they wanted to name the restaurant "Betty's Back Room."
"I thought he was joking," McHugh says. "But Joe told me they were serious, and I was just floored. I was amazed. So I told them it would be an honor. It still hasn't sunk in."