It's hard to believe The Ebbitt Room could get any better. But it just did.
That's because the extremely talented and passionate chef Jason Hanin returned home to South Jersey to take over as executive chef at not just one of Cape May's finest restaurants, but one of the best in the state.
Hanin, who has been building his resume around the country working in Los Angeles and Houston for stellar concepts, first caught the area's attention when he helmed Chelsea Prime, the amazing Stephen Starr steakhouse that once graced the now-closed Chelsea Hotel, which was owned by Cape Resorts, the owner of The Ebbitt Room.
At 77 years old, John Varalli still seizes business opportunities, especially when it comes to Scannicchio's, his beloved Italian restaurant.
His approach — heavy enough to please carnivores and delicate enough to please everyone else — helped make Chelsea Prime one of the best steakhouses in Atlantic City and impressed Starr, who eventually brought him to Philadelphia's Barclay Prime, considered one of the best steakhouses in the country.
Hanin returned to Cape May's Ebbitt Room with lots of experience, wisdom and maturity.
"I am really glad to be back, and this first menu is just me getting started," says Hanin, who started at Ebbitt Room about three months ago. "I am still settling in, but this is just me warming up. I am happy where me and my crew are and happy about where me and my team are going. It's always about moving the ball forward."
Like his predecessors, Hanin will make good use of the produce and animal products grown and raised at Beach Plum Farm, the 62-acre farm in West Cape May operated by Cape Resorts.
Here are some of the dishes Hanin is proud to present for The Ebbitt Room's summer menu:
Beach Plum Deviled Eggs ($13)
Hanin, who is not a personal fan of deviled eggs himself, is embracing what has become a signature dish for this iconic restaurant.
"The fact that we have our own farm that delivers fresh eggs every single day makes them really special," Hanin says. "It's also a great team-building opportunity every day where me and the sous chefs and cooks brainstorm what we are going to offer that night. They change every day — at least one of them — so that it's never the same whenever you come here."
The base egg mix — which Hanin says is incredible — stays the same, but some recent intriguing creations include a trio of caviar deviled eggs, prosciutto and caramelized peaches, steak and blue cheese, and a trio of seafood deviled eggs featuring Jonah crab, lobster and tempura fried fish.
Hanin's experience in Los Angeles meant exploring great restaurants, which led to him seeing "toasts everywhere, whether it was ricotta toast or avocado toast." When spring hit, Hanin's love for peas was put on full display with his summer pea toast featuring homemade ricotta, sugar snaps, pea greens, mint and lavender honey — sourced locally, of course — on country bread. It's light, it's fresh, it's summer.
"It's a way to take fresh, simple ingredients and present them in an elegant way," Hanin says. "It's an item for people to share and snack on before they get to heavier starters. It's a dish for people to warm up with."
Hanin already has ideas to evolve the dish to include peaches when they come into season, or possibly Bayonne ham … "something simple that will also wow."
Oysters Rockefeller ($14)
Another longtime staple, Oysters Rockefeller feature applewood smoked bacon, spinach and anise cream. But Hanin, no stranger to Rockefellers after working in major steakhouses, has some ideas to "tweak" them without upsetting too many regular visitors.
"I might mess with it," Hanin says. "After working at Chelsea Prime and Barclay Prime, I think I know what good Rockefellers are. And these are, too, but I think I can make some adjustments to make them even better."
Fried Squash Blossoms ($14)
Another item right from Beach Plum Farm, fresh squash blossoms are overstuffed with Hanin's awesome homemade ricotta — this time mixed with pecorino and chopped herbs — before they are lightly battered and fried to perfection.
"I was at this Italian restaurant in L.A. called Scopa — we all know squash blossoms aren't anything new — but their chef ... who has been on "Top Chef" a couple of times, always had these awesome squash blossoms and I would always order them, but I always thought they were under seasoned. So when I came here and saw the fresh blossoms, I said I am going to do them and make sure they are seasoned perfectly."
Even the marinara served under the blossoms is made by Hanin and is as good as at any Italian restaurant you will ever walk into.
"When you grow up in South Jersey and Philadelphia, marinara becomes a mother sauce," Hanin says with a laugh. "I started working for Italians and was taught to make it right. When you live here, making good marinara becomes engrained in you. And when I start using Jersey tomatoes from the farm when they are ready, it will be even better."
A beautiful, raw fish dish featuring yellowtail, citrus, radish, charred avocado and lime salt shows Hanin being creative both culinarily and visually.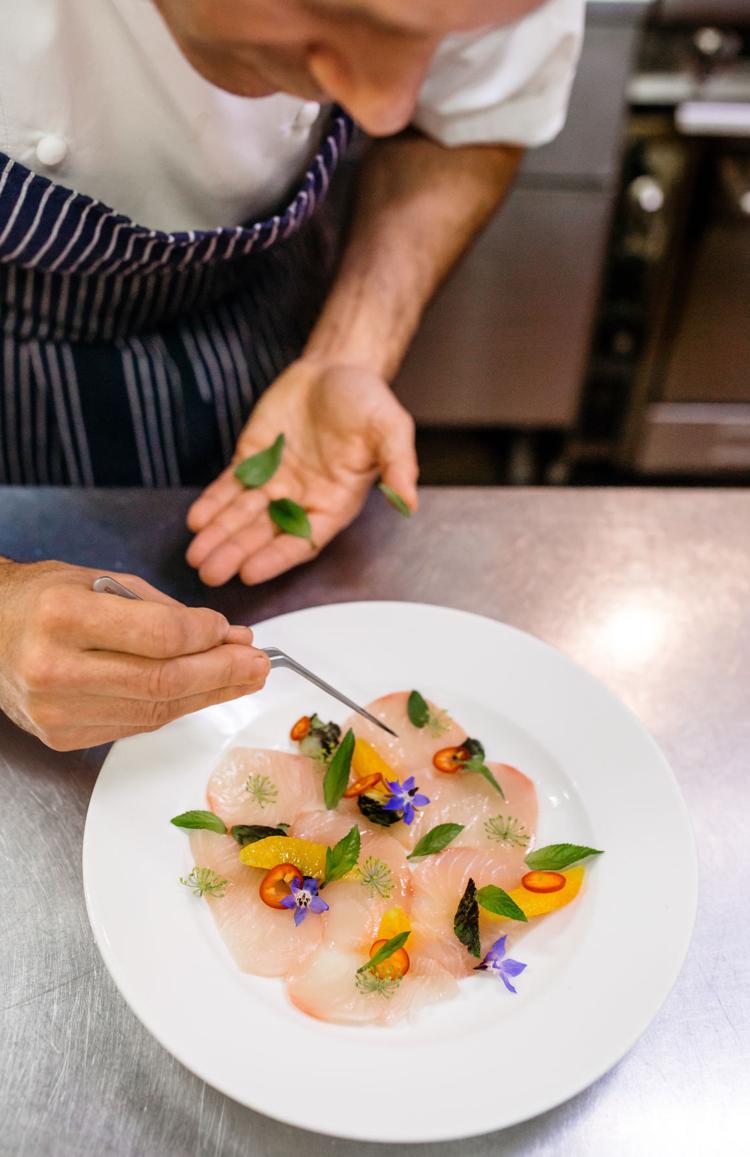 "I have been doing different types of raw fish dishes, barely cooked fish dishes and tartare for a long time," Hanin says. "It has always been my M.O. So when I came here I was like, 'Hey, wait! Why aren't we doing crudo or tartare or something?' So this dish is bright, clean, crisp and you can taste everything you are eating. And when it comes out you just want to look at it for a while."
With multiple types of citrus, smokiness from the charred avocado and bite and acid from pickled fresh chiles, it's perfection.
Get this dish before it's gone because this was Hanin playing with all of the farm's spring, early summer produce including morel mushrooms, leeks, fennel, peas and herbs.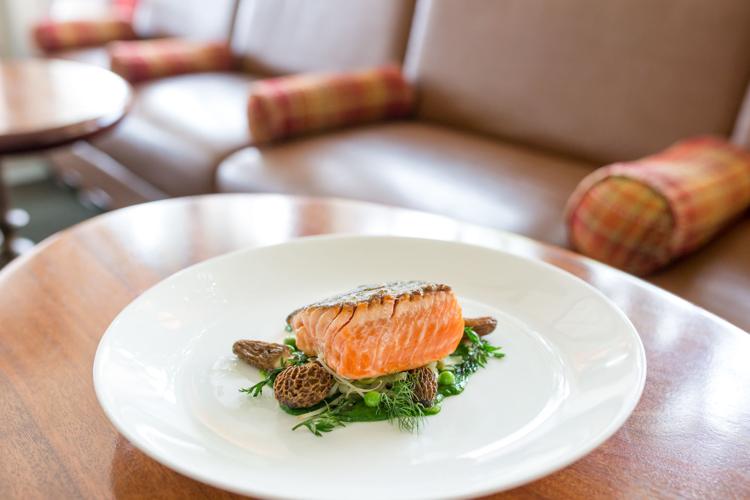 "This is a spring dish, and I just wanted to use these bright green herbs and take leeks and butter and marin for richness and sweetness in a sauce, get the earth tones from the morels, and it's just a sexy salmon dish," Hanin says. "But it's soon time to move on to something else. It won't change overnight, but it's going to change organically like a lot of dishes will. What makes this dish so great for me is the pride the sous chefs take when plating it. They want to make it beautiful. It's important to them."
Beach Plum Farm Chicken ($30)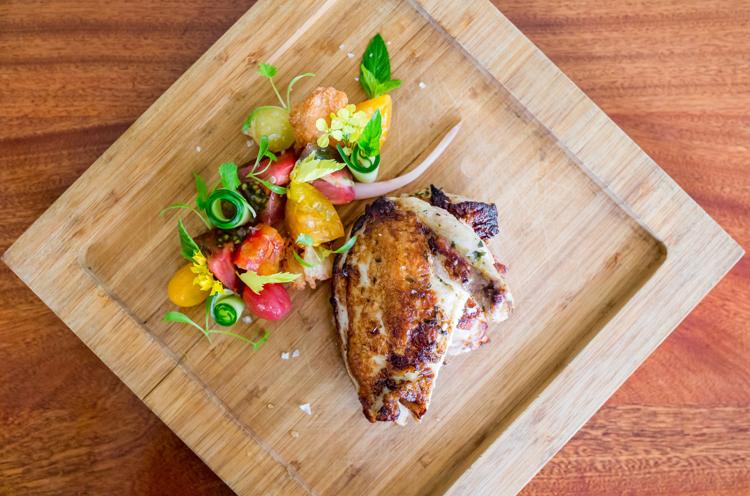 As simple as a chicken dish gets, Hanin takes an airline breast from the company farm, creates a beautiful marinade that caramelizes the skin when cooked, offering a dish with some spice, bite and lots of tenderness.
"And the panzanella — Tuscan bread salad — takes cucumbers, tomatoes, basil, mint, celery and makes the whole dish pop," Hanin says. "I used white balsamic because I didn't want that rich, caramel flavor to hijack the dish. I want you to taste the tomatoes and vegetables. When I got here, there was a different chicken dish, but no one ate anything but the chicken. I think the chicken eater wants simple and fresh. And this is it."
Beach Plum Farm Pork Chop (market price)
Beautiful Heritage Berkshire pigs raised on Beach Plum Farm provide The Ebitt Room's signature entree.
Kids are constantly jumping, climbing, biking, swinging and sprinting. In other words, they'…
"Those pigs get nothing but love and hugs from the children and they live in a good environment, are treated well, eat to their heart's content and become an amazing meal," Hanin says. "We all know that animals who are treated well make for an awesome product in the end."
The end result is 16 to 24 ounce chops — priced based on the size of the cut — served with Beach Plum Swiss chard that is quickly sautéed with bacon for a delicious side. The meat, simply seasoned with salt and pepper, is served with a gorgeous cherry compote made from fresh cherries.
"The classic cherry sauce is because it's cherry season right now even though people think cherries are a fall fruit," Hanin says. "But there isn't too much of it to overpower that beautiful meat. I can always get you more sauce."
14-Ounce Creekstone Ribeye ($46)
With Hanin's steakhouse background, it was really important for the chef to offer his diners an amazing steak. And he does so with this prime beauty.
"They used to have a strip here that I wasn't fond of, so since we don't have a broiler, I thought about how to do it right," Hanin says. "So I reached out to some purveyors and settled on this great steak from Creekstone Farms. I wanted a small eye so it's nice and tight. We salt and pepper it and sear it in a cast-iron pan on both sides to get that nice crust, then we butter baste it with thyme and garlic and throw it in the oven."
The final product is served on a wood plank with onion compote and homemade parmesan fries to die for.
"It looks hearty and manly, and I am pretty confident steak eaters are very happy with this," he says.
Sweet Ricotta Doughnuts ($10)
If you still have room after that amazing meal, check out the sweet ricotta doughnuts that feature Hanin's homemade ricotta in the dough. Served with orange caramel sauce and sprinkled with powdered sugar, they are delicious. But you should also ask for a sample of Hanin's homemade ice cream and sorbets, including his most recent creation, coconut-cinnamon sorbet.