Chinese-born Faith Zheng and her partner Anthony Ling, also from China, are the heart and soul of Sushi Ocean View, just off Route 9.
Or maybe you can say they are the heart and "roll."
Zheng is the owner and manager of the 6-year-old sushi house, while Ling is the chef who assembles their amazing house special rolls.
Case in point? The Amazing House Special Roll ($11.95), a shrimp tempura roll topped with spicy tuna.
Up until 13 years ago — and since 1990 — what happened at Carmine's in New York stayed at Ca…
It's an interesting combination — as is the phenomenal Cape May Roll ($13.95) with warm scallop and asparagus tempura topped with a spicy lobster salad. Two sushi roll favorites — spicy tuna and eel-avocado — combine to make one flavorful Sunset Roll ($13.95). Impressive combinations like these are created by Zheng, who believes the ingredients that make up the rolls are not so special individually, but when put together they create a delectable combination.
This credo is perhaps best illustrated in Zheng's Rainbow Tar-Tar ($12) appetizer. This coloful beauty is as delightful to the eyes as it is to the tummy. Oranges and pinks of shrimp and tuna are blended with green avocado. Crispy tempura flakes are added to give it some crunch. The ingredients are then pressed together in a circular formation, then topped with sweet, yellow mango, black caviar and a bright red maraschino cherry. It's enough to make a non-sushi fan a full-blown sushi lover.
Zheng warns, though, that you won't find anything like Sushi Ocean View rolls in a traditional sushi house. In fact, Zheng says that many, if not most, sushi houses that you come across are, like Sushi Ocean View, operated by those of Chinese descent.
"The Japanese do sushi very traditional — lots of seafood. We do American-style sushi," Zheng says of the creative roll combinations. "Most American's like that."
Although "sushi" is in the name of her restaurant, Sushi Ocean View also has teriyaki, udon and soba noodles, mei fun and hibachi, but "without the show."
Zheng will tell you right off the bat that she has a very good memory, which comes in handy when taking multiple orders at once, whether at tables or over the phone. You'll never, ever see her jot anything down. She also has a knack for remembering what each customer likes, and will either suggest the same dish again or develop something new for them based on their preferences.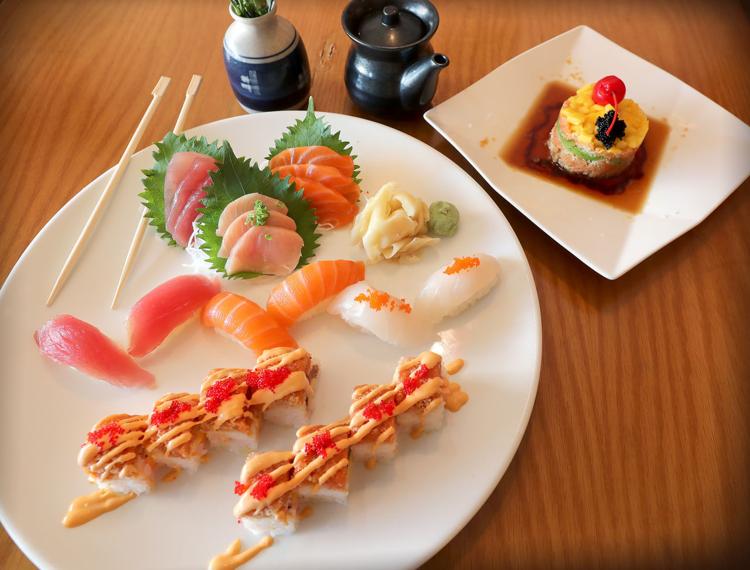 "I have a very good memory. I know what likes my customers have. It comes from waitress experience," says Zheng of her past experience in restaurants in Philadelphia and Rio Grande. "I know my customers … I always give them what they like, always recommend something that they like — and sometimes they give me ideas. I try my best to never let the customer leave dissatisfied."
Her customers seemingly want to make sure that Zheng is satisfied, too, and also successful.
"My customers treat my business like their own business," she says. "A customer did a (promotional) video for me for free. He just wanted more people to know about my restaurant."
I don't know about you, but every time I go to the zoo, I'm a little jealous of the marmoset…
Zheng, who lives in Palermo, has dedicated her life to her restaurant — which is complete with tatami-style booths, large photographs of Japanese gardens and ponds filled with koi fish and a singular sushi bar in the rear where Ling busily creates. She often works seven days a week without ever taking a vacation. Zheng says that she and Ling work very hard to survive and thrive in a location where others had failed.
Work ethic aside, it's quality and freshness that Zheng says makes her customers keep coming back for more.
"My philosophy is about healthy, tasty food — all our items are very healthy, no MSG, light sauces and not heavy sauces. The quality is very fresh and constantly good.
"I don't think my sushi is very special," she humbly states. "But for sure it's very fresh."