Valentine's Day is the perfect time to celebrate love in its many forms. Love can be lusty, fun, sensual, delightful and outrageous. But above all, love is extraordinary, so celebrate it with something remarkable. This area is full of Valentine's celebrations that are as unique as your own love. So celebrate with live music, a show and some solid gold selections.
In the heart of historic Cape May, tucked into a beautifully restored 1879 landmark inn, the Ebbitt Room boasts award-winning upscale dining. Luxurious décor, a wood-burning fireplace and locally sourced ingredients set the stage for a memorable meal. On Valentine's Day, the Ebbitt Room takes romance to epic proportions with a four-course prix-fixe feast for the senses, brimming with aphrodisiac foods. Itsmenu features selections such as deviled eggs with Sevruga caviar and 24K gold flakes; Kumamoto oysters with Asian pear, pickled radish, cucumber and ponzu; beef carpaccio with arugula, fennel, orange and tarragon aioli; yellow fin tuna with foie gras, caramelized endive and black truffle jus; duck breast with apple-spiced cabbage, sweet potato and cherry gastrique; almond pavlova with dark chocolate and cinnamon; red wine velvet cake with whipped mascarpone and strawberry ice cream and more. This mouth-watering, romantic feast is $85 per person and will be served 5 to 9:30 p.m. Wednesday Feb. 14. Reservations are required.
Located at 25 Jackson St. in Cape May. For more information call 609-884-5700 or go to CapeResorts.com.
For fairy tale-worthy, rustic romance, spend your Valentine's Day at Beach Plum Farm in Cape May. This 62-acre, sustainable, working farm cultivates over 100 kinds of fruits and vegetables, as well as raising chickens and Berkshire hogs. Chef Todd Phillips expertly crafts meals from ingredients harvested at the farm. His four-course Valentine's menu is inspired directly from what the earth offers and what's fresh that week.
The dinner will be held in the beautifully decorated Hoop House. It's BYOB, but farm-fresh juices and herbs will be provided to craft cocktails. This intimate Valentine's Dinner will be limited to just 28 couples and reservations are required. The dinner is $175 per couple, plus tax and gratuity ($224.44 per couple). The romantic evening on the farm begins at 6:30 p.m. It will be served on Feb. 10 and Feb. 14.
If you're feeling a little feisty, "An Evening of Burlesque with the Vintage Vixens of Valentine's" at Elaine's Dinner Theater, may be just what you're looking for. The Salty Sirens burlesque group will present a modern take on classic burlesque, rooted in Victorian Vaudeville.
"When we started our troupe we all agreed that, because burlesque is one of the original women's empowerment movements for our culture, it is our goal to share the art of the tease and seduction by empowering each other to bring out our individuality in performance. Each of our members has a unique style and shares that with passion," says Lydia Bloom, troupe member and choreographer.
This show is a fun look at Valentine's Day through the ages, told in the sultry language of burlesque.
"The Vintage Vixens of Valentine's Day show is a collection of acts all touching on love and sensuality. It's a really different and exciting way to celebrate this 'Hallmark holiday' that has a bit of a sordid history," Bloom says.
This show is for mature audiences only. Tickets are $30. Food and beverages will be available for additional purchase. Advanced reservations are required. The show will start at 8 p.m. on Wednesday and Friday, Feb. 14 and 16. Cocktails start at 7 p.m.
The Iron Room has more to love
Sometimes you just need to try something new, especially on Valentine's Day. If you're aching for something novel on this lover's day, you can be among the first to check out the expanded and newly renovated Iron Room in Atlantic City. As Executive Chef Kevin Cronin, explains, The Iron Room is taking out the store to make room for a more formal dining room. There will be more tables, which means more room for Chef Cronin's unique, creative, globally inspired, locally sourced, sustainable fare.
This comes just in time for The Iron Room's special four-course Valentine's menu featuring selections such as tuna crudo with Granny Smith apples, kewpie and pickled chilies; crispy tofu with house sweet chili; foie gras ravioli with a bourbon cherry demi glaze and crispy sage; seared 10-ounce hanger steak with crispy French green beans, horseradish and mustard hollandaise and Dauphinoise potatoes; roasted tilefish with herb coulis, parslied fingerling potatoes and parsnip puree; flourless chocolate cake and more. Dinner is $65 per person. Dinner reservations start at 5 p.m. on Feb. 14.
Located at 648 Albany Ave. in Atlantic City. For more information call 609-348-6400 or go to IronRoomAC.com.
Celebrate Gal-entine's Day
If you're planning a girls-night-out for your Valentine's celebration, head to Broadway Burger at The Quarter in Atlantic City. Broadway Burger will offer a special dining package that includes a prix-fixe menu, an IMAX ticket to the new "Fifty Shades Freed" film in 2D at The IMAX Theater at Tropicana, a mini bottle of prosecco and a mini facial from Blue Mercury. Dinner includes Broadway Burger's special Valentine's Day bread pudding. You can also indulge in the St. Valentine's Day Massacre Milkshake.
This package is $30 plus tax and gratuity and will be available Feb. 12 through 15. Restrictions may apply.
Located at 2801 Pacific Ave. in Atlantic City. For more information call 609-317-4660 or go to BroadwayBurgerBarAC.com.
If good music and amazing comfort food speaks to your soul, check out Kelsey's in Atlantic City. This stylish restaurant in the heart of Atlantic City, is equally focused on crafting delectable southern fare, as well as operating as a prodigious music venue. On Valentine's Day, Kelsey's will feature the live band The Muzik, playing old and new, smooth and funky R&B that will get your Valentine's party in the right groove.
While you enjoy the musical stylings of The Muzik, Kelsey's will feature a special Valentine's menu. Selections such as southern fried chicken ($19.99), smothered turkey or pork chops ($22.99), slow smoked BBQ pork ribs or short ribs of beef ($22.99), fried whiting or catfish ($20.99), shrimp and grits ($22.99) and more. The restaurant will be opened from 4 to 10 p.m. on Wednesday, Feb. 14.
Located at 1545 Pacific Ave. in Atlantic City. For more information call 609-344-2200 or go to KelseysAC.com.
Everything is hotter in Havana. If you can't make the trip, just head to Cuba Libre at The Quarter in Tropicana Atlantic City for a Valentine's celebration fill with Latin amor.
"Celebrating Valentine's Day at Cuba Libre is like celebrating in a plaza in Old Havana — sipping mojitos under the palm trees and enjoying traditional dishes prepared over a wood-burning grill, just as they do in Cuba," says Kevin Couch, senior executive chef of Cuba Libre.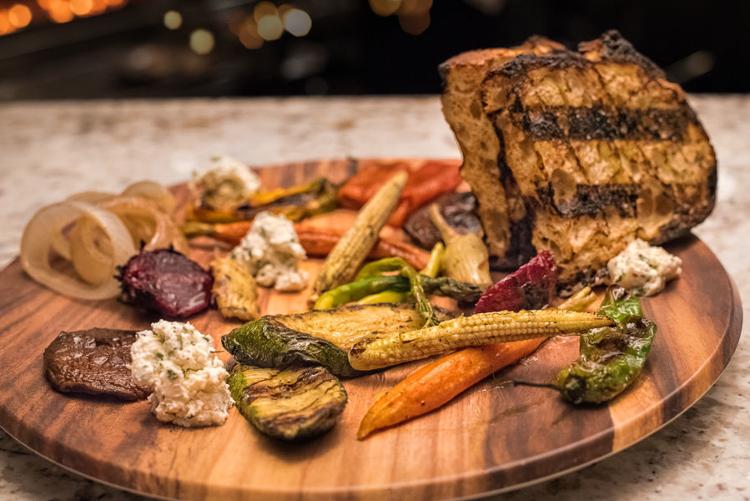 On Valentine's Day, Cuba Libre will offer special dishes.
"In addition to our wood-grilled menu of Cuban favorites, I wanted to get creative to celebrate amor this year. Our special crispy wontons ($12) are a fun appetizer to share, while the short rib special ($25) is a classic winter dish — perfect for a cold a February evening in Atlantic City," Couch says.
On the weekend before and the weekend after Valentine's Day, head to Cuba Libre for dinner and dancing. Cuba Libre features Latin dancing beginning at 11 p.m. on Fridays and Saturdays.
Feel the love at Assaggio! Restaurant
Sometimes all it takes is a good Italian meal to stoke the flames of romance. Assaggio! in Galloway will offer a romantic Italian Valentine's feast with live entertainment by Mia. The special menu will feature selections such as sautéed oyster stew with potatoes and crusty bread ($12); stuffed artichoke hearts with ricotta, mozzarella and pecorino cheese ($9); shrimp carbonara with pancetta and peas served over homemade gnocchi ($32); grilled filet mignon served over grilled eggplant and sautéed mushrooms served with a port wine reduction ($38); Amaretto cheese cake ($9) and much more. Assaggio! makes its pastas fresh daily and offers a large selection of gluten-free items. Assaggio! will open at 4 p.m. on Valentine's Day.
Located at 500 W. White Horse Pike in Egg Harbor City. For more information call 609-965-3303 or go to AssaggioGalloway.com.