"No frills, no fuss … just fresh!" That's the motto at Outlaw's Burger Barn & Creamery, a Vineland restaurant that's been making a name for itself as a killer burger spot.
Since its opening in May of last year, Outlaw's has developed a menu of monster burgers that live up to its rough-and-tumble name. Piled high with beef and dripping with cheese and homemade sauces, these are the kind of burgers that you gape at for a moment, wondering how you're going to get your jaw around it, the kind that leaves juice dripping down your arms, the kind that will take a handful of napkins to recover from.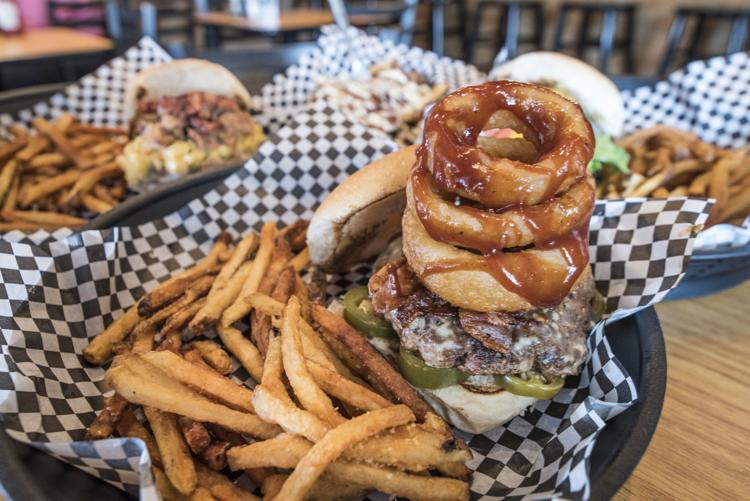 This good ol' down-home Americana food is the result of Owner and Chef Ryan Briggs' rather austere education.
"It's been a dream of mine for years now," he says. "I went to culinary school, and I've been a cook at everything from fine dining to casual. I wanted to combine that fine dining experience with burgers. Burgers and ice cream have always been my two favorite foods."
When The Beatles broke up in 1970, any hope of seeing them live in concert evaporated, much to the dismay of Beatles fans everywhere. Then, wi…
Briggs' fine dining background manifests in the ingredients he uses to craft his burgers.
"We source everything that we can from within a couple of miles from here, and are very into organic. We have eggs that we top our burgers with that come from two miles down the road," he says.
When asked how he developed the menu, Briggs replies simply, "Basically, we came up with a lot of unique toppings."
Those toppings include bacon, a farm fresh egg, white cheddar, crispy onion rings and roasted garlic mayo on the Farm Fresh burger ($10.25); house pickled jalapeno, avocado, red onion, pepper jack cheese and habanero crème fraiche on the En Fuego burger ($11.25); and dry rub seasoning, fire roasted cubanella peppers, balsamic reduction and provolone and ricotta cheese on the Aunt Milly burger ($10.25).
By far the most popular burger Outlaw's serves is the Smokehouse, with crispy bacon, house picked jalapeno, white cheddar, fried onion rings and house-made barbeque sauce ($9.75).
"We focus on making our customers happy," Briggs says. "If someone asks for something special, we make it for them. We give them the best possible product we can find at an affordable price. Everything from our sauces down to the nitty gritty, everything is fresh."
True to his word, Outlaw's accommodates vegetarian tastes, as well. Each 8-ounce black Angus burger can be substituted for a portabella mushroom, or a ground turkey burger or grilled chicken breast for those counting calories. An assortment of wedge salads ($6) is also available.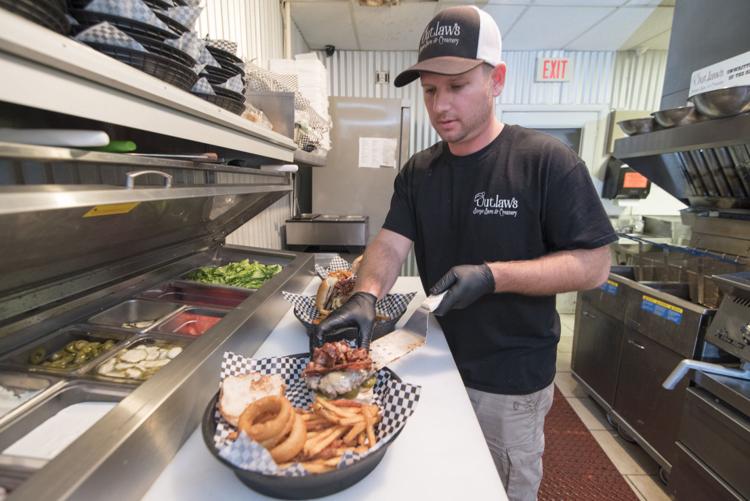 A few side dishes, including chicken tenders ($6.25), wings ($7.95 for 10) and mozzarella sticks ($4.95) diversify an otherwise burger-heavy menu. We would be remiss, however, if we didn't mention the Outlaw Fries. Smothered in white cheddar cheese sauce, bacon and roasted garlic mayo, these fries are the perfect sloppy counterpart to the burgers.
Moving to the latter half of Outlaw's Burger Barn & Creamery's name, the restaurant also offers an assortment of ice cream treats. Using Hershey's ice cream as the base, Outlaw's incorporates Jersey-fresh fruits and other toppings to create unique sundaes and shakes. Or, for special occasions, check out their ice cream cakes, in varieties like Nutella Crunch, Fruity Pebbles and Reese's Overload.
This Saturday, at the Atlantic City Weekly Health & Wellness Expo, there will be vendors…
With a year on the books, Outlaw's is keeping busy with a healthy clientele. And though he has aspirations to open up a second location in the future, Briggs assures, "We're very happy with where we are." Until then, Briggs and his team hope to continue being outlaws in faith and in food at their Vineland location.
"When I think of an outlaw, it's someone who is going against the grain and they're doing something different," Briggs explains. "First and foremost, we're a Christian-owned business and we promote that a lot. A lot of small businesses back down from that. We give back to the community through God. We're 'outlaws' in our food, too. It's a little bit different."