Thanksgiving has always been a holiday that celebrates the people you are thankful for in your life. And while the holiday itself has a beautiful message, most people end up spending Thanksgiving strictly with their families, and, as a result, friends, co-workers and other folks who mean a lot but don't share a bloodline seem to get left off the guest list.
So the staff here at At The Shore wanted to make a point to celebrate our at-work "family." How did we do so? Well, we thought about trying to exactly replicate a traditional American Thanksgiving, but we did the next best thing — brought in a bunch of Thanksgiving side dishes!
We're still scratching our heads as to why Thanksgiving Eve is such a big party night. Perha…
We can hear you getting all judgy already. "Just side dishes?" Yes, Melissa, just side dishes.
Why just side dishes? Well, mostly because they are by far the best part of the meal. Plus, the traditional main course served at most Thanksgiving celebrations seemed impractical and a bit unnecessary, seeing as it would take at least 12 hours to cook a turkey large enough to feed our whole staff and we only work an eight-hour day.
Side dishes it was. Here's what we brought …
Smoked Gouda Garlic Mashed Potatoes
Ryan Loughlin, Associate Editor
I was never much of a fan of Thanksgiving until I started hosting the holiday myself and took control of the menu. Of course, having that control comes with a fair amount of pressure, because people tend to have rather high expectations for their favorite dishes.
So, over the years I have perfected each of the side dishes I make, and when the idea for a work Thanksgiving came up, mashed potatoes was my go-to choice — but not just any mashed potatoes. For this event I decided to prepare my signature version, which combines two of the culinary world's greatest dresser-uppers, cheese — smoked gouda to be exact — and garlic.
Prep was fairly straightforward, (peel potatoes, boil, mash, add mix ins), but I tinkered with my usual recipe, adding both roasted and raw, and a bit of parmesan cheese.
The dish was prepared the night before, and I honestly think that helped intensify the flavors. The reaction from my co-workers was very positive, as nearly the entire bowl was devoured, which is impressive considering it had to be at least 7 or 8 pounds worth of pure carb heaven. Scott and Daryl were both particularly taken aback by the deliciousness, with Daryl noting, "You don't even need gravy. They are amazing just how they are," before requesting the recipe.
Rebecca King, Associate Editor
Green bean casserole is essentially the only vegetable to reach my family's table on Thanksgiving, and I hesitate to even call it that. All the nutritional value of the green beans is countered by the layers of fatty cream of mushroom soup and deep-fried onions. But, hey, at least we have a little green in there, adding some color to a table that otherwise exists in shades of beige.
A family favorite — particularly of my sister who, at some point during the meal, will without fail reach for the carton of fried onions and start eating them alone — green bean casserole is incredibly simple to make, which is to say, my kind of recipe. You essentially put canned green beans, cream of mushroom soup and French fried onions into a bowl, then slop it into a casserole dish, top it with more fried onions, and bake for around half an hour. I added a dash of soy sauce and some cheddar cheese for our Thanksgiving feast for some added flavor.
As simple as it was to make, my green bean casserole went over well with the group. Scott, who normally "doesn't like green beans," thought it was tolerable. Kathy "liked it better than her sister's." And it was just like how Daryl's mom used to make it. It is my theory that cream of mushroom soup and French fried onions are magic foods — you can put anything with them and the dish will turn out to be crave-worthy. It's for that reason, plus the fact that it couldn't be easier to make, that I highly recommend green bean casserole to every exasperated person hosting Thanksgiving at their house this year.
I had to think practically when coming up with an idea for my side dish. I was away the entire weekend before, so I needed something that I could prepare the morning of and bring to work to finish up. So, I chose a baked brie that I had made for a dinner party recently.
OK, so it's more of an hors d'oeuvre than it is a side. Desperate times call for desperate measures.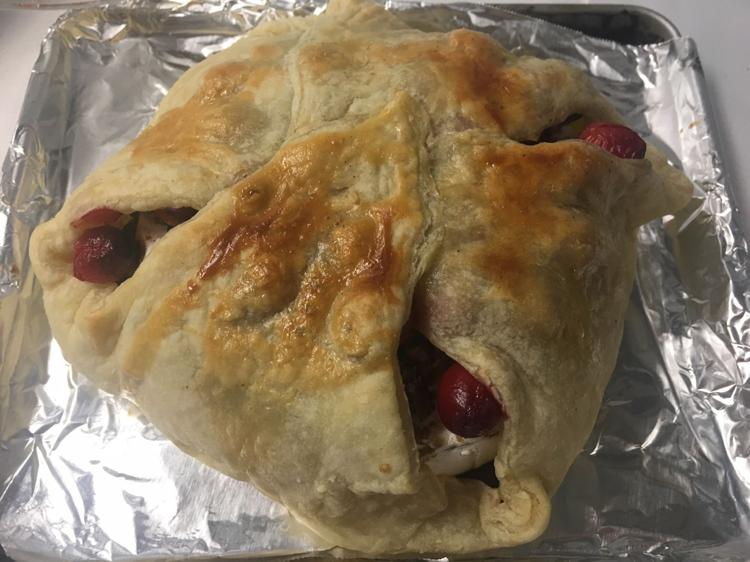 It's easy enough to prepare: just lay out the pastry puff, plop on the brie, layer with cranberries, pecans, brown sugar, cinnamon, wrap up, egg it up all over and heat.
I did the majority of the prep work at home before I went to work, but left it unheated. I didn't want to have to reheat the brie at work. It didn't seem fitting.
The problem with that, however, was the heating part. There's no oven at the office. So I had to rely on a toaster oven. Let's just say, if using a toaster oven to heat a large circular mound of brie, add some extra minutes to the recommended bake time.
Parents have been making it for years as a way to clear out overstuffed refrigerators post-T…
But, it turned out just fine. All gooey and runny — just how warm brie should be. The nuttiness of the brie and tartness of the cranberries blended well with the sweetness of the brown sugar. And there was the right amount of crunch from the pecans to counter the soft cheese.
All in all, it was a perfect autumnal side dish, if I do say so myself.
Scott Cronick, Director of Entertainment Publications
When I was a kid, I was a pretty picky eater. And the only veggie I would eat — aside from peas — was corn. So my mother, in her loving attempts to please me and probably out of sheer desperation to serve something other than just plain or cream corn — decided to get creative and whip up Cronick's Corn Casserole, a beautiful concoction that uses not just regular corn, not just cream corn, but also cornbread for the ultimate corn dish. Crispy on the top and edges, softer inside and buttery throughout, it made me happy and allowed my mother — a damn good cook — to try something different on the Thanksgiving table. It has been there ever since.