Jim Barnabei moves fast. When he was offered to take over the space of the former Fuze Restaurant & Lounge that closed in Avalon this spring, he didn't hesitate.
Within a matter of a few short weeks, Barnabei relocated his long-standing Wildwood Crest restaurant Marie Nicole's Grill to that Avalon location. And in that same time frame, he opened the new DeNinno's Italian Kitchen and Wine Bar in the former Marie Nicole's spot.
"Opportunities to own a property in Avalon with a liquor license are few and far between — the last time it happened was 28 years ago with the Concord Café," says Barnabei of when he opened his first restaurant in Avalon. "I jumped at the chance."
Back in May, Tropicana Atlantic City stepped up its culinary game in a big way, re-imagining…
But Barnabei's real reason for moving Marie Nicole's to Avalon? He simply wanted "a bigger space to make people happy."
An Italian renaissance in Wildwood Crest
Barnabei always wanted an Italian restaurant. In fact, Marie Nicole's was originally slated to be just that, but it morphed into something quite different to give Cape May restaurants a little friendly competition.
"Fifteen years ago my family and friends and I would go out to dinner in the Wildwoods — it was all Italian," he says. "So Marie Nicole's became more classic American upscale fare. What was the sense of (people) driving to Cape May?"
No cosmetic changes were made to the former Marie Nicole's building, which helped ensure an easy entry for the DeNinno's concept. For a smooth transition in the kitchen, Barnabei employed the help of long-time Marie Nicole's Chef Gus Zimmerman — whom he brought along to Avalon — and his daughter and general manager Jamie DelMonte to design the new Italian menu and train the staff that included DeNinno's Chef Ivan Medina — all within that three-week span when Marie Nicole's moved to Avalon and DeNinno's opened in the Crest.
It was a deliberate move on Barnabei's part to lower the prices for DeNinno's, as well as give his new place a more family-friendly feel.
To enhance its future, Atlantic City Country Club spent $5 million upgrading ballrooms, deck…
"We wanted to lower the price point — there are lots of families vacationing here, and they're price-conscious," Barnabei says. "(And) that's the tricky part — making it affordable and good."
Barnabei should absolve himself of his worries on both — particularly the latter. DeNinno's is good. Excellent, in fact.
Already-popular items from an outstanding menu — where each entrée comes with a house salad — include two different bone-in chickens: Milanese ($23.99) with a delicate lemon vinaigrette, and parmesan ($21.99) with a side of linguini.
The "other white meat" served here is the delectable grilled pork chop ($20.99) with a sage and walnut pesto, potatoes and zucchini. Seafood lovers will delight in the crab-stuffed Sicilian fluke ($23.99) with parmesan bread crumbs, roasted rosemary potatoes and sautéed green beans.
Naturally, the menu is also inclusive of pasta dishes, like rigatoni Bolognese ($17.99) made with ground beef, pork and veal; crab ravioli with shrimp ($24.99) in a blush sauce; and tortelloni pesto with sausage ($19.99).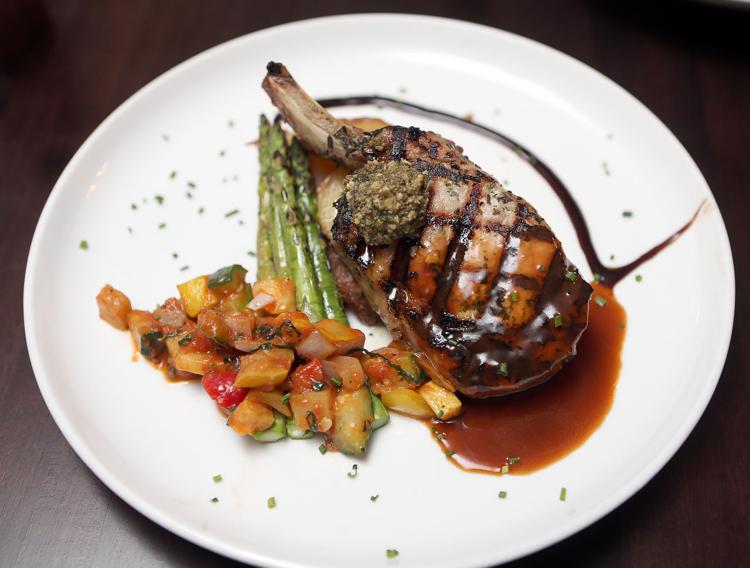 If you're not in the mood for a full meal, DeNinno's also serves pizzas like the Arugula ($15.99), a white pie with arugula salad, prosciutto, tomato, parmesan, red onion and lemon vinaigrette, or the Soppressata ($13.99), a different take on a classic pepperoni pie. And you'd better be really hungry if you order a hamburger here. The "Uncle Tony's" burger ($13.99) is made of premium blended beef and topped with crispy prosciutto, sharp provolone, arugula, pesto mayo and served with a side rosemary fries — for which you'll want to request a side of "Aunt Tree" — a flavorful pomodoro sauce for dipping your fries.
Nightly specials and happy hour
Each night of the week hosts its own food or drink special. Examples include homemade lasagna on Sundays ($17.99), lobster and shrimp risotto on Saturdays ($29.99) and select bottles of wine for $15 on Wednesdays and Mondays, the latter of which is also Margherita pizza night ($7.99).
Happy hour runs from 5 to 7 p.m. nightly at the bar. Drink specials include house wines ($5), $2 off craft beers and house martinis ($6), with appetizer offerings such as fried calamari ($8 for happy hour, $11.99 regular menu) and the meat and cheese board accompanied by crostini and a tasty olive tapenade ($8 at happy hour, $13.99 regular menu).
Turning the tables in Avalon
"It's kind of funny, when we first went to the Avalon/Stone Harbor area (with Concord Café), all the restaurants were fine-dining, jacket-only … we were the only casual dining spot around," Barnabei recalls. "The tables have turned. Lots of places today are going more casual. It's funny that we're going back (now) with Marie Nicole's."
That said, Barnabei refuses to use the term "fine dining" when describing Marie Nicole's.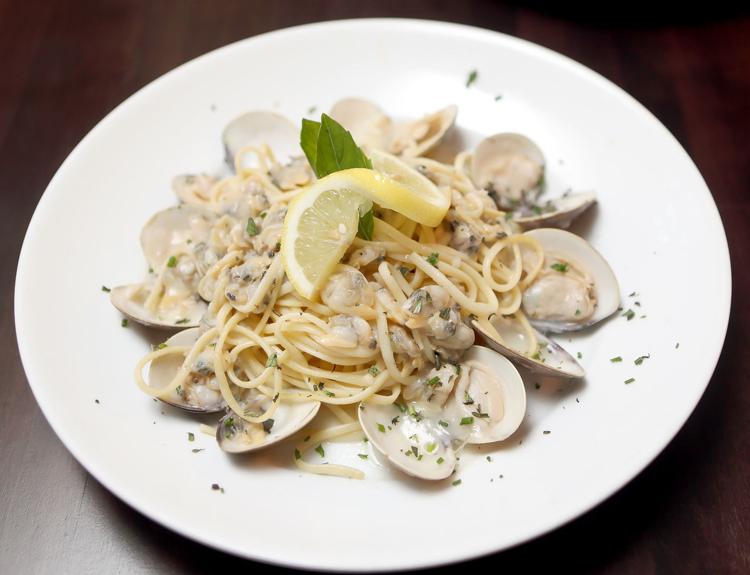 "We're at the shore. The shore is more casual — you can't do fine dining," he says. "You want guests to be comfortable. So you don't want to seem too pretentious."
That's why Marie Nicole's still offers burgers and flatbreads, early-bird specials for $25 and prix-fixe dinners ($35) that you can order any time.
Now with a total of four restaurants — Concord Café and Marie Nicole's in Avalon, the California-cool North End American Grill in North Wildwood and the brand-new DeNinno's in Wildwood Crest, Barnabei hints that he might be ready for the next chapter, which he refers to as, "the hand-off to the kids."
But before making any permanent career decisions, for now Barnabei still relishes the restaurant business and, in what free time he has, enjoys playing with his two 5-month-old Portuguese Water Dog puppies, Major and Simone.
"Two new puppies with a new restaurant," he laughs. "A lot has happened in a short time. But it's worked out."