Heading out for a date can be an expensive endeavor. As much as it can be fun to splurge on a big night out at the best steakhouse in town to impress your significant other, sometimes you want to be able to enjoy the night without worrying about your bank account being bone dry in the morning. The good news is, a date in South Jersey doesn't have to be expensive to be memorable. In fact, a little creativity and a bit of research can go a long way. And, of course, the right setting on the right night will make all the difference. Check out our ideas on how to make a cheap date a great date.
If every drink you buy costs as much as a mid-range Buick, you and your date may find yourselves out of dough before you even get to dinner. That's why when it comes to drinking on a date, economy size is the way to go. Why drop $13 on a fancy cocktail in a tiny glass when Back Bay Ale House's 32-ounce Basin Masons will run you just a buck more, but provide you with quite a few more sips along with some gorgeous views? Back Bay Ale House is located at 800 N. New Hampshire Ave., Historic Gardner's Basin in A.C. For more info, go to BackBayAleHouse.com.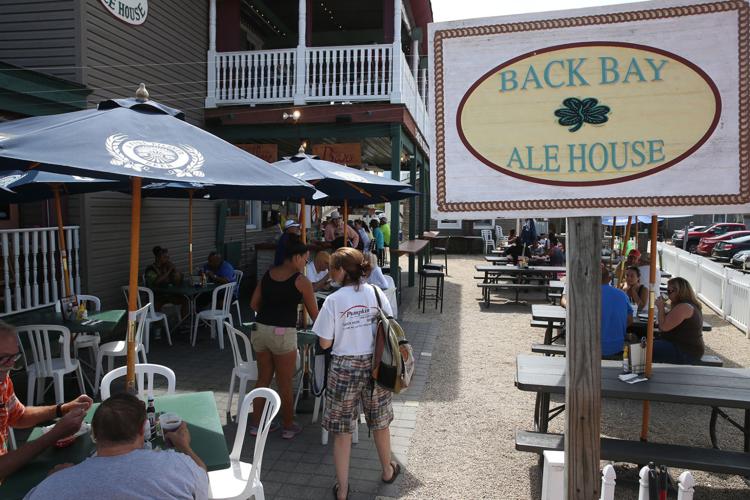 Who says a date needs to take place on a weekend night after the sun goes down? Some of the best deals around happen during the week. Why not meet your date straight from work and take advantage of "Crush Wednesdays" at Harry's Ocean Bar and Grille in Cape May, where all day $5 orange, strawberry, mango, grapefruit and creamsicle crushes can be had, along with $5 hummus and pitas and $6 wings? With its rooftop deck offering oceanfront views, this is a tough option to beat. Harry's Ocean Bar and Grill is located at 1025 Ocean Ave. in Cape May. For more info, go to MontrealBeach Resort.com.
Cheap eats doesn't mean bad eats
While it's true that some of the finest celebrity chefs in the country have set up shop in our backyard, that doesn't mean that some amazing eats can't be had on the cheap. Truth is, some of the most delicious food we have had in South Jersey comes out of the kitchens of some rather humble spots.
Jim Barnabei moves fast. When he was offered to take over the space of the former Fuze Resta…
If your date likes things a little spicy, there is simply no better buffalo wing than the ones served at the Pic-A-Lilli Pub in Atlantic City. While the wings at the Pic are always reasonably priced, on Mondays they offer a $5 sampler which contains two wings, two ears and two tails for just $5. The space may be a simple dive bar, but the wings will have you licking the bowl clean. Want an insider tip? Don't be afraid to experiment. The Pic puts their legendary hot sauce on everything from onion rings to egg rolls, and each is more incredible than the last. Pic-a-Lilli Pub is located at 231 S. Tennessee Ave. in Atlantic City. For more infor go to PicaLilliAC.com.
The boardwalk is your friend
No matter if it's Ocean City, Wildwood or A.C., the boardwalks of South Jersey offer up an amazing variety of activities on the cheap. From food to games to thrills, everything that awaits is relatively inexpensive. And best of all, it's so much fun that you will forget all about that high-end dinner you might have had planned.
A ride on the Great White at Morey's Piers in Wildwood is sure to keep your date clutching your arm as you drop from high above the ocean, while a few rounds of Haunted Golf in Ocean City just might produce the same result without the danger of vomiting up all that Manco and Manco pizza you just chowed down on.
Morey's Piers are located on the Boardwalk in Wildwood. For more info go to MoreysPiers.com. Haunted Golf is located at 825 Boardwalk in Ocean City. For more info go to HauntedGolf.com. Manco and Manco is located at 920 Boardwalk in Ocean City. For more info go to MancosPizza.com.
Of course, those who really want to go big in an old school (read: high school) kind of way can try winning her a giant teddy bear, or whatever the current boardwalk fad is (good news lovebirds — stuffed feces emojis seem especially popular this year!), at any of the numerous boardwalk games of chance. We could name them individually, but once you've seen one frog bog, you've seen them all.
The Steel Pier in A.C. is sure to suit your needs in this department. The Steel Pier is located at 1000 Boardwalk in Atlantic City. For more info, go to Steel Pier.com.
It may be an old move, but watching a horror movie has been a great way to get your date to snuggle up just a little closer to you than they might have originally planned. The perfect movie to give you the chills is the original 1975 classic "Jaws." Come see it on the beach (of all the incredibly appropriate spots) 8:30 p.m. Thursday, Aug. 10, as part of Margate's weekly free "Movies on the Beach" series. For more info, go to DownbeachBuzz.com.
When it comes to a romantic night out, a bit of music in the air can be a natural aphrodisiac. But with the price of concert tickets often reaching beyond reasonable, what is a broke Romeo to do? Well, luckily Somers Point's Beach Concerts are here to save the day. They have been around for 25 years, offer some of the best live entertainment around and are 100 percent free! What's the catch? Well, they only run on Friday nights, and the series is over on Sept. 8, so you'll need to act fast.
Graffiti "wasn't the smartest thing" Rob Dugan, 25, ever did. As a middle-school and high-school skateboarder, he'd frequently get in trouble …
All shows begin at 7 p.m. and take place at The William Morrow Beach at Municipal Beach Park, located on Bay Avenue between Higbee and New Jersey avenues in Somers Point.
Coming up Friday, Aug. 11, The Dane Anthony Band will perform classic Motown and tribute "The King" Elvis Presley. Go to SomersPointBeachConcerts.com.
And, of course, long walks on the beach
It may seem obvious, and it's one of the biggest clichés around, but when you think about it, there are few date spots more picturesque than the beaches that sit right here at the Jersey Shore. What better activity could there be for a date than to take a long stroll down to the water's edge as you listen to the waves crashing gently on the sand? The whole thing is dripping with Brian Wilson-esque romance, and whether it seems cheesy or not, it's a slam dunk. And it won't cost a dime.