Kids are constantly jumping, climbing, biking, swinging and sprinting. In other words, they're always working out. What is a jump rope but a high-intensity cardio work out? A monkey bar, but arm and chest toning?
Last year we — At the Shore Editor Pamela Dollak and Associate Editor Rebecca King — tried out three fitness trends on air, land and sea to see what all the hype was about. This year we decided to get a little juvenile, and focus on adult workouts inspired by kids' playtime. After all, working out should be fun, right?
Perhaps South Jersey's most-anticipated concert of the summer — OK, the year — in South Jersey is P!nk.
Here's a bit about our fitness experience:
Pamela: I enjoy running more than any other exercise, although I've been really getting into HIIT (high-intensity interval training) workouts lately. For me, if I haven't perspired, I haven't worked out. Yet, I do find that the occasional yoga routine, while not always sweat-inducing, is challenging, strengthening and even fun — particularly if done on the beach.
Rebecca: I am a semi-regular gym-goer who thinks squats are sent from the devil to torture us. Somehow my life is full of them, anyway. I've recently started attending a barre class, even though I spend my entire week dreading it, mostly because of the aforementioned squat thing. I'm a fan of Zumba, a brisk walk and yoga, namely corpse pose.
Climbing the walls: rock climbing
Bored with the typical drag of running on treadmills and lifting weights, Liz Beasley opened PLAAY Fitness and Yoga in Ocean City at the beginning of this year.
"I wasn't able to lift my body weight. That drew me away from machines," Beasley says. "Here, your body is your machine. These are complex yet practical workouts."
The center offers a number of workouts like yoga — both mat and aerial — kickboxing, boot camp, barre and pole dancing, and equipment like a 24-foot monkey rig, cargo net and rock climbing wall, which is what we took advantage of on our trip to PLAAY. The 1,000-square-foot wall spans the entire main room and is designed to look like an ocean wave. While we were there, an incredibly helpful instructor Jayne showed us the ropes literally, and took us through both the automatic system (where the rope is rigged to catch you when you rappel down) and the manual one (where Jayne, or a trusted workout partner, controls your descent to the ground).
Official Butora climbing shoes and a harness are included in your fee. The shoes run a little small, so make sure you're comfortable in them before you climb.
Pamela: First of all, the name of this place is brilliant — and especially fitting for this "kid-themed workout" story. I told folks the day of that I was "going out to PLAAY." The name tickled me.
Knowing that I was going to rappel off the Sheraton Atlantic City for Big Brothers Big Sisters in June, I looked at this rock-climbing session as "practice." Sure, the Sheraton is 16 stories high and this wall is only 22 feet, but I still felt like it might help. (Side note: it really did!)
Going up is not that bad. Coming down — the first time anyway — is disconcerting. I was actually surprised at how unsettled I was at the top. I knew the ropes would "catch" me, but it's still an unnerving feeling when you first "fall" back.
Once I reached the ground and took inventory of all my body parts, I couldn't wait to climb back up. Each time I climbed and felt more and more like Spider-Man. Rock climbing was a lot of fun, and I really did feel like a kid at times. What was cool was that, because it was so much fun, it didn't feel like working out — until the next day, when I woke up all sore (This is a good thing, by the way).
Rebecca: What I loved about this workout was how much mental exertion it took. When you're rock climbing, of course, you have to move your legs and arms and pull yourself up, but you also have to think about where you're going to actually put those legs and arms. This may seem obvious, but I wasn't really expecting to lose myself in the workout as much as I did. I really only mentally commit to a workout at the very best of yoga classes — during nearly every other kind of workout my mind is racing, planning out what I'm going to do next. Not while rock climbing, though. My mind and body were so connected, figuring out which rock was the right one to get me where I needed to go, that it wound up being a great stress reliever, as well as a workout.
And I would be remiss if I didn't mention that I was sore — and I mean sore in muscles I didn't even know I had — for days after rock climbing. My forearms and back specifically were hurting, muscles I usually never hear any complaints from. It was an incredible way to work every muscle at the same time, while having a ton of fun. Fair warning — rappelling down is a little scary for those squeamish about heights, but it gets easier with each descent and makes you feel really brave, even though your risk of falling is practically non-existent.
You spin me: hula hooping
If you've every partied at Boogie Nights, you many have seen Tara Rebel doing her thing. She's the hula hoop girl there, wowing crowds with her uncanny ability to swing a hoop. Inspired by her work, we decided to check out her hula hoop class, which takes place on the last Tuesday of every month at Dolente Dance and Fitness Factory in Egg Harbor Township.
Wildwood is one of those towns that roars to life like a no-longer-sleeping giant as soon as Memorial Day weekend arrives — and doesn't stop e…
According to Rebel, she wasn't always the hula hoop natural that she is today. After seeing some girls do a hula hoop act at an audition, she decided to pick up a hoop of her own and learn. Now, she translates those skills to a workout class.
"I'm always impressed by the people who come to this class," Rebel says. "I was a slow learner, but they pick things up so quickly."
Whether you've been at it for years or have never picked up a hula hoop before, Rebel can adjust her class to suit you.
Pamela: Having won more than my fair share of hula hoop contests back in the day, I was really looking forward to this class. It's especially fitting for this theme, as nothing makes me feel like a kid again more than a hula hoop.
The hula hoops used in this class are weighted, not like the lighter ones I played with as a child. You use two at different times — one smaller, one larger — to work different parts of your body. Now, I knew that I could get a good core workout out of this, but Tara also showed us how to work our arms — and let me tell you, these hoops get heavy. Near the end of the class, Tara taught us a short choreographed routine with the hoop. She did it with great finesse and made it look easy. I, on the other hand, was slightly uncoordinated, but I still enjoyed it. This class is definitely a fun way to tone various body parts.
Rebecca: I used to be a hula hoop expert. Waist, neck, arm, leg, you name it, I could hula hoop around it. When I got older my hooping prowess lessened. For some reason the hoop just wouldn't stay up like it used to. So, I was a little nervous heading into our hula hoop class, afraid that I would be unable to do even the basics. My worries proved unfounded. Tara explained something that had never occurred to me: that when you're an adult, you have to use adult hula hoops, ones that are bigger and more weighty, of which she had plenty. Duh. My hooping abilities rushed back to me.
The hula hoop class was non-stop fun from start to finish. Just watching Tara was a delight, as she expertly flung the hoop around her body, doing complicated combinations of spins and dips. Throughout the class she showed us how to imitate her, and we spent the hour doing twirls and tricks of our own. Was it the hardest workout I've ever had? No. I think the trick to getting a really great cardio and strengthening workout while hula hooping is doing it consistently, something that I was too much of a beginner to take on. This is a class to head back to month after month to get the skill it requires to really get your heart pumping. You'll also learn a really cool party trick while you're at it.
Living at the Jersey Shore, we see kids boogie boarding and surfing all summer long. We wanted to replicate that — but indoors, not on water. Enter, Surfset — a short surfboard balanced on BOSU balls to provide movement and instability, as if you were really on the water.
Held at the Ocean City Aquatic and Fitness Center, Surfset was created by professional athletes and fitness trainers who took their idea to ABC's "Shark Tank" and the rest was fitness history.
This class combined cardio, yoga, pilates, core work, step moves, HIIT and — if you take Surfset certified-trainer Erica Schaffer's regular class — weight training. And common exercises are given cute nautical names — mountain climbers become "wave runners," bicycles become "shark kicking," "Superman" becomes "starfish" and so on.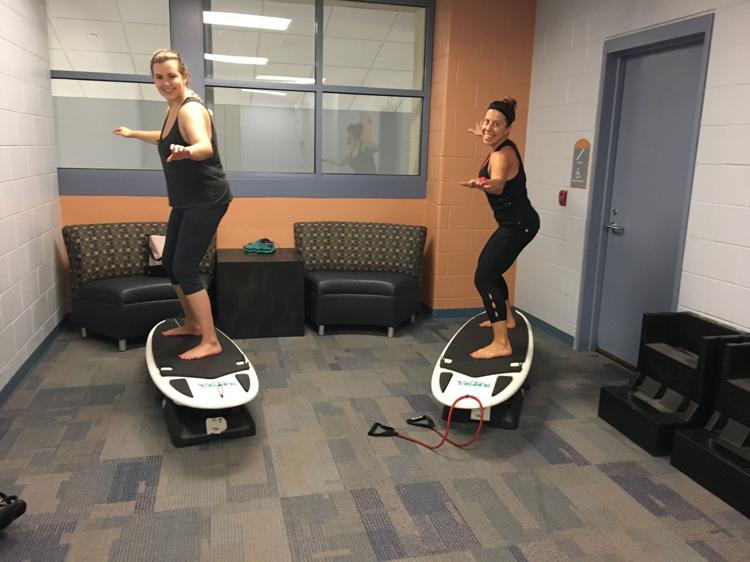 Pamela: Even though the other workouts were great for toning, as the cardio junkie that I am, I really wished that they could have made me sweat a bit more. So I went into Surfset thinking this class would be another great toning device, particularly for my core, but that I may have to go for a jog afterwards.
That, dear reader, was not the case.
Let me just put it out there, I have never surfed, but always thought it looked tricky. After Surfset, I now have a whole new respect for surfers.
"It's not an easy workout at all," says Schaffer of Surfset. "It's tough — it engages every single muscle all the time."
She's not kidding. I hadn't sweated that much since … well … ever. I was exhausted following this class, but in a good way. It was a fantastic full-body workout — and it was a heck of a lot of fun to boot. This workout incorporated all of my favorites — cardio, HIIT, yoga — and more. I'm not sure how many calories I burned, but the official website SurfsetFitness.com claims you can burn up 900 calories per session. And I believe it.
Rebecca: Boy, did this workout kick my butt. I'm not too keen on balancing — something you may remember from my trepidation at last year's stand-up paddleboard yoga class. But for some reason this class didn't make me as nervous, probably because I wouldn't be getting a face full of water if I fell off. It was definitely a challenge to balance on the Surfset board, though, and I quickly realized that a faceplant on the floor would be nearly as bad as one in the water.
For those with an off-set equilibrium like me, keep this in mind before heading to Surfset. The balancing definitely kept me from doing the moves as aggressively as I might have done on land. However — allow me to contradict myself and say that it's the very fact that you're balancing on a board that makes it such a great workout. Every squat, lunge, plank and jump is harder. Surfset requires a great deal of body-awareness, and this class will, more than any of the others we tried, get you in incredible shape for the summer!