It's not Carnival, and we're not in Brazil, but we do have a festival — Exit Zero Jazz Festival — and PhillyBloco will bring the best of Brazilian percussion right to our own backyard when it plays the Cape May Brewery Stage at Cabanas on Saturday and Sunday, April 22 and 23.
PhillyBloco takes its name from the traditional blocos of Brazil.
"Blocos are fundamentally neighborhood groups," says Michael Stevens, who started PhillyBloco in 2008. "Go down to Rio or Salvatore during Carnival, and you have the blocos."
The jazz scene has been on the periphery of mainstream music's collective unconscious since …
Street bands with a focus on percussion, Brazilian blocos can be compared to Philadelphia's Mummers, both from a community, as well as theatrical standpoint. Both are comprised of large groups of people and both are celebrated and recognized as a distinct part of a city's culture.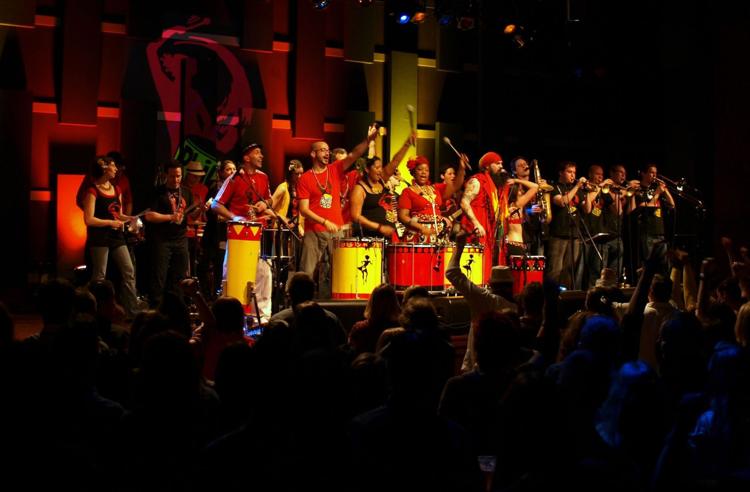 "PhillyBloco features heavy Brazilian percussion and typically includes a lineup of 18 to 20 people," Stevens says. "At Cabanas, it might be 16 or 17 on stage and two dancers in the crowd."
So why Brazilian music? And why a bloco?
"I've been doing Brazilian music for about 20 years," Stevens says, recalling the Brazilian samba class he took while at Wesleyan College.
Stevens, who had previously been in rock bands, was completely blown away.
"I thought, 'Oh, I have to do that'," Stevens says. "It's just really joyful, positive music."
Stevens moved to Philadelphia, began teaching Brazilian drums and eventually took a trip to Brazil, where he saw the blocos.
"I started going to Brazil and became familiar with these show groups," Stevens says. "I had all these drum students and we added bass and guitar."
And while they perform as a bloco, they certainly add their own twist to things.
It's not everyday we've got a lineup of world-class musicians taking part in a three-day, multi-venue music festival right here in South Jerse…
"Every kind of music can be put to Brazilian music," Stevens says. "We'll do funk, reggae, New Orleans jazz … we lay down the fundamental beat, but you can do anything on top of that."
With everything from Stevie Wonder to James Brown to Bob Marley in their setlist, you can expect the unexpected at a PhillyBloco show. But one thing is for sure —you will dance.
"If you can't dance to Brazilian music," Stevens says, laughing, "it's possible you don't have a pulse."