If last week's trip to McGettigan's 19th Hole was the warm up to St. Paddy's Day, this week was definitely the real deal.
Being a fan of both pubs and beer — and being of Irish decent — I naturally found myself hanging out at Atlantic City's St. Patrick's Day Parade last Saturday. After several sober hours spent on the boards watching festive floats go by packed with revelers having the time of their lives, I decided to head inside Tropicana Atlantic City to continue my celebration.
I could have stopped at any number of the bars and lounges that Trop offers, but today there was really only one clear option fitting for a post-parade pint, and that was Ri Ra.
Ri Ra sits on the upper level of the Quarter, looming above other festively ethnic spots like Cuba Libre and Carmine's. It is an Irish pub of course, but in the true sense of the term. To be honest, way too many places these days think by simply slapping on a few coats of green paint and serving the occasional pint of Guinness they can declare themselves as such. Nonsense, I say. And that is why a place like Ri Ra scores big points with me — it's all about the authenticity.
The restaurant biz is a tough game. Even if you make a great lasagna, it can be difficult to…
It's often hard to pin down exactly what makes an Irish pub feel authentic, but it seems to be a combination of dark woods, dim lighting and old world decor, along with a great list of beers and traditional foods from the Emerald Isle. Ri Ra nailed all of these one after the other.
Although I was coming from the parade, I managed to beat a decent amount of the crowd in getting here, which was huge, because I suspect that over the course of the day Ri Ra would have slowly morphed into a mob scene. While the number of parade attendees was surely down due to the cold weather, there were still plenty of folks out looking for a party.
I grabbed a high-top table as the bar had already filled its stools. The staff was quick to work in teams, with everyone from waitresses to bartenders and even managers coming over to check on me and make sure I had a menu and a fresh pint at all times. Nice touch.
That fresh pint came in the form of the Blacksmith, one of Ri Ra's many versions of the half and half, where a pint of Guinness splits its duties atop various beers or ciders. The Blacksmith used Smithwick's for its bottom half, which is a personal favorite of mine as it is malty and smooth with notes of caramel goodness. A perfect St. Paddy's Day treat.
The crowd on this day helped add to the festive vibe at the bar. While many times conversations at a bar are limited to locals chatting each other up, something about St. Paddy's Day seems to encourage a type of friendly spirit that otherwise might be absent on a normal night. Although I walked in to Ri Ra alone, I met several groups of lads and lasses from various locales all looking to share a pint and a laugh, which is really what the Irish are all about.
Time to eat. I started with a cup of potato leek soup ($4) that was somewhat thin, but intensely flavorful and topped with what appeared to be a homemade version of tater tots. Pleased with my soup, I decided to see if I could keep the good-luck streak going with a cottage pie ($14). For the uninformed, cottage pie is basically the same thing as shepherd's pie — technically shepherd's pie is supposed to contain lamb whereas cottage pie is made with beef, but both names are often used for the same dish — and after enduring a rather bland version of this dish last week, I was determined to track down the real deal. Mission accomplished; the cottage pie at Ri Ra was a smashing success. Served piping hot in its own baking dish with a side of multigrain bread, this is what savory pie is all about. The minced beef and veggies made for perfect bedfellows, both lying comfortably under a blanket of whipped potatoes brilliantly topped with a somewhat uncommon — yet very much welcome — cloak of perfectly browned cheddar cheese. The dish was well-seasoned. No salt or pepper needed.
+2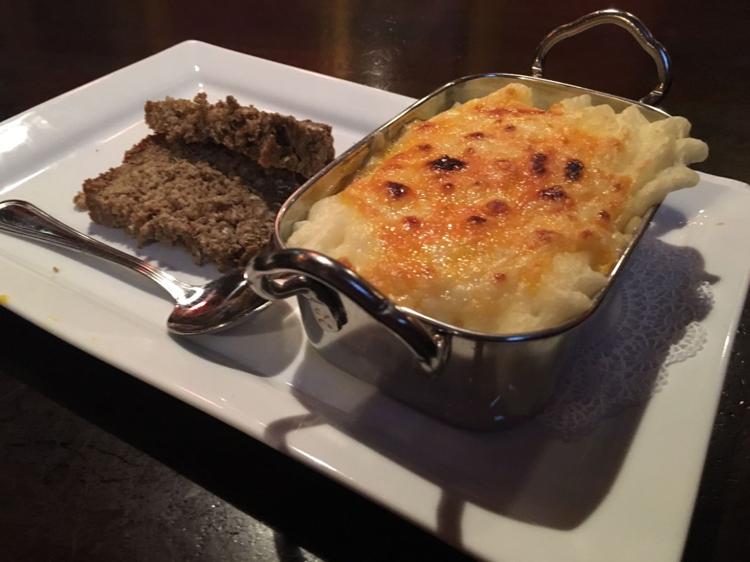 Music-wise they kept it upbeat and festive, with a mix of Irish tunes and songs that sound like Irish tunes, such as Bruce Springsteen's jug-band classic "American Land." The soundtrack made the whole atmosphere all the more enjoyable. Those who prefer a bit of live music would be wise to return this weekend, as live Irish music will be on the menu from Friday to Sunday. St. Paddy's Day has the band Galway Guild beginning at noon and playing sets throughout the day and night.
It's not every local band that can boast over a three-decade existence, but nine-member Cheers the Band has been going strong since its incept…
Sadly I had to cut my visit a bit short, but needless to say Ri Ra makes for one heck of a good time. Although I wish I could have stayed longer, I definitely left with my Irish eyes smiling.