New Jersey is a state with a multiple personality disorder. Although we may be small in size, somehow we have managed to cram everything from industrial smokestack highways to lazy beach towns and vast farmlands within our borders. We've got everyone from gritty North Jersey tough guys to folks whose accents border on a southern drawl.
Much like the people, each town seems to have a unique identity, but few towns possess as much quaint charm as Millville, whose downtown recalls old school Americana, a sort of Main Street USA from a bygone era, projecting a vibe that is more middle-America folksy than East Coast cool. In the center of this quaintness lies the subject of this week's Pub Scout, the Old Oar House.
Sometimes a place just seems to have figured out how to keep its bar stools filled. For as l…
The exterior is that of a traditional Irish pub, although I didn't spot anyone who seemed even remotely right off the boat from the Emerald Isle. The bar area is a simple rectangular shape with dark lighting and even darker woods to match. The crowd was fairly mixed, while leaning a bit toward the younger side, and there was a noticeable friendliness about the folks who sat sipping their drinks and cracking jokes. Conversations with strangers came easy, even though I was definitely not in a bar where everybody knew my name.
Although I love a good cocktail, something about an Irish pub makes me want to drink beer. The folks at the Old Oar House seem to realize this, too, as they have one of the best selections of taps anywhere. I counted 43 options on the beer list — not counting bottles — which was impressive to say the least. I ordered a pint of Double Nickle Mother's Barrel, a bourbon barrel-aged brown ale, which was dark and roasty with a fairly strong whiskey flavor. If you are looking for a great beer bar, this is the place.
One of the reasons I made the long trek out here on a Wednesday evening was that it was karaoke night. While I had no plans to hop up and grab the mic myself, it's always fun to watch boozed-up amateurs struggle through a chorus or two of "Don't Stop Believin'." On this night the crowd was thin and mostly male-dominated, making the list of karaoke participants rather short. The few who were brave enough to step up did a decent job though.
I wasn't starving, but figured I might as well munch on something, so I ordered a batch of buffalo chicken tenders ($10.50) and a cup of potato cheddar soup ($4.50), which was the soup of the day on this particular evening. The soup came out first and completely caught me off guard in the best possible way. Absolutely bursting with flavor, this creamy cup of perfection came proudly topped with crumbled bacon and shredded cheese. Each flavor stood out in the mix incredibly well. Yeah, I know bacon makes basically anything better, but in this case it shined even brighter than normal. A real home run.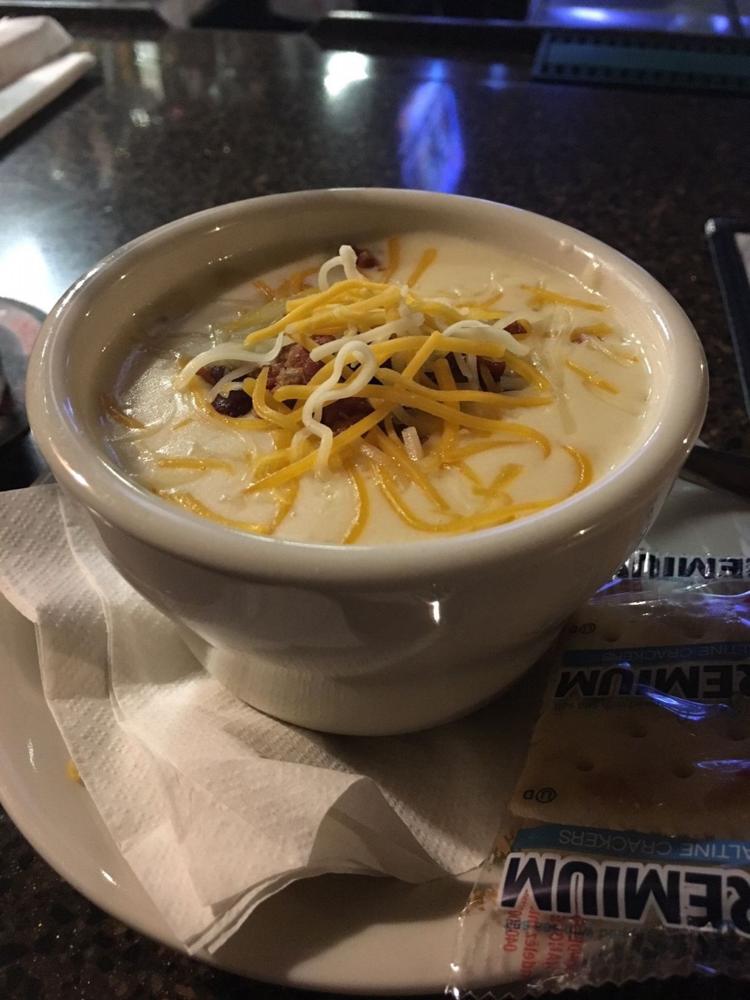 The buffalo tenders, on the other hand, were mostly forgettable, and came with fries and a side of blue cheese that was uninspired and likely straight out of a bottle. I wouldn't come running back for them, but the menu here had many options, so it was likely just a misstep in ordering.
Overall, I have to give high marks to the Old Oar House. While it may be located in a town that's a bit off the beaten path, its cozy charm, incredible beer list and out-of-this-world soup make it well worth the trek.
Here's the scene — it's a Friday afternoon, and I haven't eaten breakfast or lunch. It's bee…