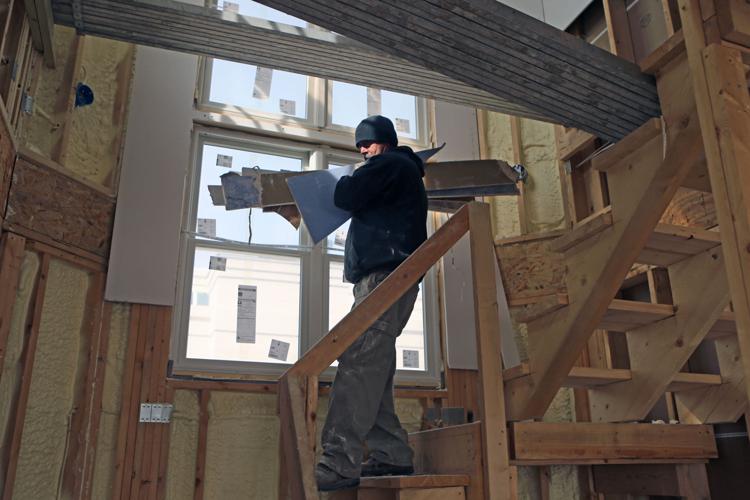 South Jersey beach construction booming
John Van Duyne heads into a house he recently finished building, a few doors off the beach in Ventnor.
He points out the quartz shower seats and countertops in the downstairs bathrooms. In the living room, a giant TV is recessed into the wall, and rows of speakers are built into the ceiling.
The master bedroom includes a bar and refrigerator hidden under a sink. And when Van Duyne approaches a separate room that houses the toilet, the lid lifts automatically as soon as he reaches the door.
This could be a dream beach house to almost anyone. Van Duyne figures that on the grand scale of today's luxury homes, this one is maybe a 4 out of 10.
Construction is still busy on the islands that stretch along the South Jersey coastline. And builders say much of their market now is for high-end homes with elevators and pools and luxury gadgetry built right in, from automatic vacuum systems to automatic irrigation systems for the plants that decorate the decks.
News about South Jersey real estate often includes fair amounts of gloom and doom. Atlantic County is still the national leader in mortgage foreclosures. And sales figures from New Jersey Realtors, the trade group, show the median value of a single-family home in Cape May County dropping last year by 5.8 percent to $290,000.
ATLANTIC CITY — A newly proposed project to overhaul Tennessee Avenue made waves with invest…
For those reasons and more, a local home-building industry that boomed for decades along with Atlantic City's casino business has slowed almost to a halt in much of the region. But building hasn't stopped entirely. It just moved to the beach.
"The focus is always on the water, whether it's beachfront or bayfront," says Van Duyne, a Ventnor native who builds on Absecon Island.
Scott Halliday has been a builder for 38 years with Halliday-Leonard General Contractors of Ocean City. At one point, he figures, 60 percent of its business was building homes on the mainland in Atlantic and Cape May counties, with the rest on the islands.
But now, 100 percent is at the shore, in Ocean City and Sea Isle City. Halliday says a lot of what he and his partner, Keith Leonard, build these days is considered middle-market there. But the definition of that term has changed radically, along with buyers' expectations.
In 20 years, "something that would have been a 10 then, I'd say it's probably a 3 or 4 now," says Halliday, who also builds "ultra-high-end" homes on the two islands.
Those buyers want custom cabinets, granite or stone countertops, stone-tile bathrooms, exotic wood flooring and custom staircases, and most want an elevator, he said.
"At least in the upper end of the market, it's a given. You have to have an elevator now," he says. "And with larger properties, another essential ingredient is a pool or spa."
When businesses close down or move out of New Jersey, lots of people naturally wonder why.
In Atlantic County, away from Absecon and Brigantine islands — and definitely in parts of those islands — the real estate prices have mostly been heading downward.
The median value of a single-family home in Atlantic County at the end of 2015 was $190,000. Last year, that price fell to $172,000, a drop of 9.5 percent.
But the number of sales jumped by 25.2 percent, to nearly 3,000 deals closed last year. Real estate agents attribute much of that increase in sales and drop in prices to the county's glut of mortgage foreclosures, which started even before five Atlantic City casinos closed since January 2014.
With so many houses available at bargain prices, there's little demand for new ones. So builders have largely stopped building on the mainland.
Egg Harbor Township issued 963 building permits for single-family homes in 2005. Last year, that number was down to 112, a drop of 88 percent.
"And some neighboring (municipalities) went down to almost nothing," says Pat Naticchione, the township's construction and zoning official. "We were never that way."
Meanwhile, Margate and Longport together gave out more single-family home permits, 115, than sprawling Egg Harbor Township in 2016.
Sizewise, those two Absecon Island towns add up to a bit over 3 square miles — or about 4 percent of Egg Harbor Township's 75 square miles of land.
Albert Boscov, chairman of a century-old department store chain that stretched from its root…
The story is largely the same in Cape May County. Sea Isle gave out 60 building permits last year and 69 demolition permits — which almost always lead to new construction, officials and builders say.
Stone Harbor gave out 44 of each, says Joanne Mascia, the borough's zoning official, who sees "a ton of building going on. ... We're absolutely seeing more than we used to."
"They're basically two separate markets now, with outsiders buying up the islands," says Richard Perniciaro, a veteran Atlantic Cape Community College economist. "The two housing markets — mainland and island — are very separate and influenced by different housing trends."
"The investors, or second-home owners or retirees from outside the area, are making housing decisions based on the value of their homes in (Philadelphia), North Jersey or Cherry Hill," he says.
Those markets have largely recovered from the housing debacle that fed the national recession, he said.
With home values growing in those areas, Perniciaro said, "The shore is a bargain to them."
ATLANTIC CITY — Everybody can get back into The Pool starting the first weekend of March.
Those are Van Duyne's customers, people with "sand in their shoes," he says. They either grew up in beach towns or at least spent summers there. Now, they can afford a dream house with wine cellars, movie theaters and outdoor kitchens.
Halliday also sees single-family homes fitted with private spaces for several generations.
"In the design of lots of homes, Mom and Dad are building the house, and they have separate living accommodations, and possibly separate family rooms ... their own private spaces," he says.
Many of his buyers also fit that profile of people with lifetimes of memories now looking to live at their happy place, the shore.
"And they follow each other down," the builder says. "They gravitate in groups because they socialize together and always have. They brought their families down, and now they want to move onto the islands."
Contact:
609-272-7237
Twitter @PressBeach