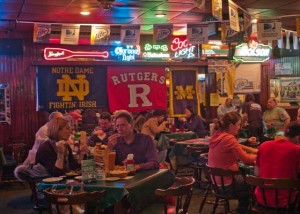 The 4-1-1
Come for the wings, stay for the good time at Caffrey's Tavern in Forked River
Steve Garcia, general manager for Caffrey's Tavern, has been with the establishment for more than 10 years - and it's not just because of its legendary 25-cent wing special.
"We are a tavern and a steakhouse, but we offer so much more than that," Garcia begins, on both the subject of Caffrey's menu options, as well as its entertainment and overall hospitality. "Nightlife is just one aspect of our business, but we always bring in acts who respond well with our crowd. We offer live music both Friday and Saturday nights, and also include special themes with our menu. Trivia night is Thursday, and that's always a great time, too."
Caffrey's is also a popular pick for any and all of your sports needs, as Garcia reveals that the bar is home to 25 TVs and plenty of channels to broadcast all the games.
"The action at Caffrey's really happens all day long, from the time we open, till the time we close," Garcia says.
Entertainment Interludes:
Thursdays: Trivia Night, 8 p.m.
Friday, Feb. 17: Bullzeye, 9 p.m.
Saturday, Feb. 18: Ken and Mary Sue, 9 p.m.
Mondays: Bingo Night.
Upcoming Event:
Keep Caffrey's on your calendar for St. Patty's Day, as they are hosting a huge party with live music by Big Baby Ernie.
Come On, Get Happy:
Caffrey's happy hour happens every day, from 11 a.m. to 6 p.m. And aside from discounted house wines, well drinks and domestic drafts, guests can enjoy 25-cent wings. Other appetizers are also reduced from 4 to 6 p.m.
Favorite Fare:
"Caffrey's is known for our eclectic menu." Garcia says. "Some of our guests' favorites include our honey, buffalo and garlic parmesan wings, as well as our pierogies, potato skins, mozzarella tower and potstickers." Garcia also boasts of Caffrey's seafood options, daily lunch and dinner specials, and its low-calorie menu.
Vitals:
What: Caffrey's Tavern
Where: 440 Route 9 South, Forked River, 609-693-6613
When: Open daily from 11 a.m. to 2 a.m., full menu available till midnight Sunday through Thursdays, and till 1 a.m. Fridays and Saturdays.
Who: Owned by Joe DePasquale for 15 years.
Web site: www.caffreystavern.com
Other Info: Kids menu available for $4.99, wheelchair accessible, accepts all major credit cards except Discover, accepts reservations for parties of 8 or more, private event room available for groups of 40 people.
Getting There
Please remember to always drink responsibly
Tell'em What You Think