Atlantic City | Pleasantville | Brigantine
Top Stories
Atlantic City casinos' first-quarter gross operating profits down 64 percent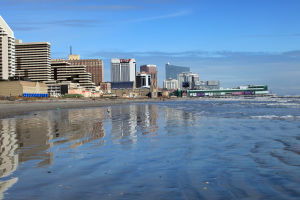 Atlantic City's dozen casinos saw gross operating profits fall by 64 percent in the first quarter, regulators said Wednesday.
More Headlines
Wednesday 05/22/2013
A church plays an important role in its community. It's a place to gather and socialize, and it's a place to worship. And, maybe most importantly, it's a source of help for those in need.
As a little girl, Shannon Hartey, of Mays Landing, lived for three years at Children's Hospital of Philadelphia, fighting acute myeloblastic leukemia. The lost years were from ages 5 to 8, she said.
Atlantic City
As a longtime educator, Yvette T. Soklove, Esq., said she has seen many of her students go on to do wonderful things. But the focus, she has noticed, is always on the young people who have chosen a negative path.
Tuesday 05/21/2013
Four men wanted as part of an alleged Atlantic City drug-trafficking ring have been arrested a week after a raid by the Atlantic City Task Force ended with 14 arrests and a total of 28 charged.
Results
A Pleasantville man who allegedly fled the scene of a fatal accident will face up to 10 years in prison after being charged today, Acting Atlantic County Prosecutor Jim McClain announced today,
A top Atlantic City gambling executive came out swinging Tuesday at casino competitors in surrounding states, ridiculing them as little more than "Walmarts with slot machines."
The Steel Pier's owners have plans to construct a 200-foot-tall observation wheel, building the new ride on on a newly constructed deck to be added onto the beach south of the existing pier.
Ugalde completes basic training
Atlantic Cape inducts students into Phi Theta Kappa
Monday 05/20/2013
Atlantic City police were able to get a woman off the ledge of a casino after she threatened to jump tonight.
A New York man was sentenced to three years in prison Monday for leading police on a chase down the Atlantic City Boardwalk last year.