Grace Potter and Nocturnals put on a polished act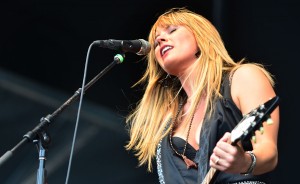 It would be easy to compare Grace Potter to Janis Joplin. But that wouldn't be fair to either.
While both have captivating, unique and powerful voices and have soulful demeanors, their music is quite different.
Potter and her band the Nocturnals, who drew thousands of people to the Pacific Stage - the most of any artist all weekend - offer a more polished soul than Joplin's psychedelic soul.
Standouts included the opener, lively "Ah Mary," the ballad "Apologies and the Delta-inspired "Nothing But the Water I. "
The amazing thing about watching Potter's career soar - she's currently at the height of her popularity - is how her look has become just as polished, graduating from hippie to supermodel. But it hasn't hurt her sound.
Great voice. Fine guitarist and organist. Beautful. The total package.
Comments