New Jersey is becoming more racially diverse, but its schools are becoming more segregated, according to the latest report from the UCLA Civil Rights Project.
The report released this month, "New Jersey's Segregated Schools: Trends and Paths Forward," says racial and economic segregation in schools is mostly the result of segregated communities. This sort of segregation can have a detrimental impact on minority student outcomes, studies have shown.
Source: NJ Department of Education 16-17 Enrollment Data
"I think there's pretty much no question that, overall, students benefit from being in a diverse setting," said Paul Tractenberg, a national expert in public education, a former professor at Rutgers University and founder of the Education Law Center.
The latest report, which includes data through 2015, is an update of a 2013 report that drew attention statewide after it pointed out racial and economic segregation patterns from 1989 to 2010. Tractenberg collaborated with Civil Rights Project co-founder Gary Orfield and his team on the 2013 report, sparking his interest in the topic.
"People have put it off the table for discussion, but the reality is that we're getting more and more powerful data showing it's a life-changing problem," said Orfield, who co-authored the report.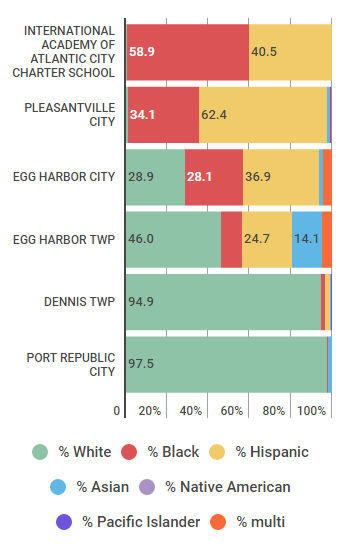 Orfield is a professor at UCLA and co-director and co-founder of the Civil Rights Project. He said the organization has been consistently looking at this topic on a national level for its 21 years of existence but a few years ago started delving into state data.
Data from the report show that school population in New Jersey is becoming less white and more Hispanic. Despite the increase in minority populations, schools continue to be segregated in urban areas, mainly along the New Jersey Turnpike corridor, the data show, but also near Atlantic City. The proportion of schools serving less than 1 percent white students — 8 percent — has nearly doubled in the last 25 years. At the same time, the exposure of black and Hispanic students to white students is decreasing.
Not all schools suffer from a diversity problem. In South Jersey, analysis of enrollment data from the New Jersey Department of Education from the 73 school districts in The Press coverage area shows a diverse population with small concentrations of segregated school districts, mainly near Atlantic City.
Tractenberg said he was hopeful when he saw about 15 percent of school districts in the state actually do mimic the racial makeup of the state. He said Atlantic County is home to five of the 19 most proportional districts in the state: Buena Regional, Egg Harbor Township, Galloway Township, Greater Egg Harbor Regional and Somers Point.
"That's 26.3 percent, the highest percentage of any county," he said.
Last month, the Egg Harbor Township School District held a strategic planning meeting where more than 100 community and faculty members were tasked with coming up with the pros and cons of the school district. Many of the groups in the meeting pointed to the district's diversity as a positive.
The district is 46 percent white, 25 percent Hispanic, 14 percent Asian and 10 percent black. Superintendent Kim Gruccio said the diversity is great exposure for all students.
"We're in the business of education, but we're very fortunate to be diverse, and that's education right there," she said. "They embrace it, and we coexist with a mutual respect for one another."
Egg Harbor Township High School Principal Terry Charlton said the diversity also helps spur conversations and lessons that may not have otherwise happened.
"Students bring up things in class that really make the students engage because of their cultural backgrounds," Charlton said.
Tractenberg said the biggest educational benefits from diverse schools are for minority and low-income students, but there's also evidence that white and Asian students, who don't suffer a disadvantage, may also achieve greater. Then there are the cultural and social benefits of a diverse school.
"To function at maximum effectiveness in that multicultural world is experience in doing it," Tractenberg said. "The earlier they start that process, the better off we'll all be."
There is hope for New Jersey if more focus can be put into diversifying communities, improving school-choice options and better training for educators, students and community leaders, the report states.
Orfield said it was true that not everything can be desegregated, but there are options to help integrate students, including school choice, county technical schools and regional magnet programs. He said school districts and towns should be intentionally pursuing integration.
Tractenberg said New Jersey has to make a plan to deal with segregation in schools, and that should start with housing. He said much of the housing segregation that exists is not happenstance but the result of government and legal intervention through housing policies and zoning rules.
Another way to address segregation might be the most controversial: Taking away home rule of school districts.
"The state has chosen to assign responsibilities for carrying out education to local school districts, but that's not part of the constitutional structure," Tractenberg said. "The Legislature of N.J. tomorrow could abolish all school districts and say we're running everything out of Trenton."
What's the likelihood of change? That depends, Tractenberg said.
"I believe (Gov.-elect) Phil Murphy has a lot of progressive instincts. He's identified school desegregation as something he'd like to see happen under his administration. Is he going to bite some of these bullets that are going to be explosive?" Tractenberg asked.