Named after a small town in Sicily not far from Palermo, Iccara Italian Bistro is one of Cape May's most recent additions — an upscale-casual, seashore chic BYOB located behind the Washington Street Mall in the building that once housed the long-standing Island Grill.
But while the eatery might be new, Owner and Chef Vincenzo Sanzone is a veteran restaurateur.
Sanzone, who was born in Iccara, came to South Jersey as a young boy with his family, who opened Sal's Pizza in Wildwood Crest. From there, the family opened Carini's Ristorante & Pizzeria, also in the Crest, as well as Little Italy, just on the tip of Wildwood.
Something is very different about Cuba Libre Restaurant & Rum Bar recently, and it's impossible not to notice.
By the age of 17, Sanzone was practically running all three restaurants.
Eventually, he broke off on his own and opened Vincenzo's Little Italy II in North Cape May, an inviting year-round, family-friendly spot with a large menu of varied pizzas and entrees for parties big and small.
However, Sanzone always had his eyes on Cape May, but either the timing or the space wasn't quite right for him. So when Carol Herforth closed the Island Grill about a year ago to focus more on her new venture — the delightful Cold Spring Grange Restaurant in Historic Cold Spring Village — the stars finally aligned for Sanzone.
"I always wanted a place in Cape May. But every time I was looking before, I couldn't find the right spot," Sanzone says. "When this opportunity came up, I leapt at it.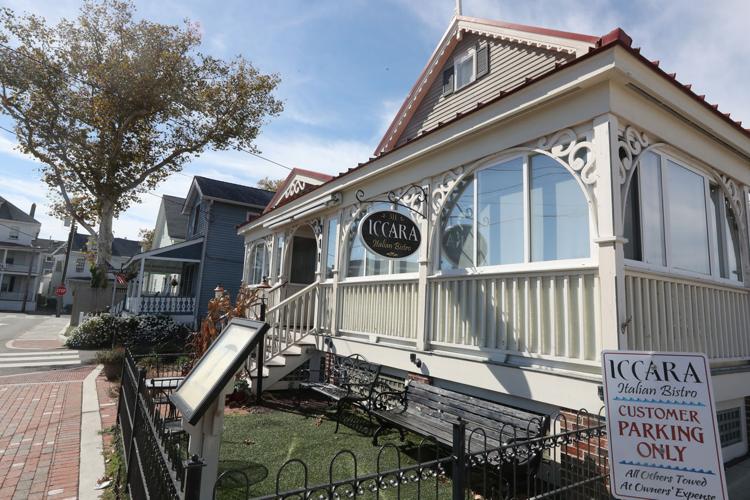 "I always wanted a more upscale restaurant with a smaller menu."
The menu at Iccara is indeed more condensed than at Vincenzo's, as well as more creative, but it still has a very nice variety of meat, poultry, pasta and seafood dishes, with an emphasis on the latter two.
"We focus on Italian and seafood — we have to have Italian dishes," he laughs. "And people do expect seafood — we're at the beach."
The menu, though, is more than just your average chicken parm or pasta Bolognese — although Iccara does prepare both. Sanzone clearly has put much thought and design into his new menu, from the delicious bread accompanied by a thoroughly flavorful caponata, to the appetizers, the entrees and the desserts. And even when you do come across a standard Italian dish on the menu, such as the aforementioned chicken parmigiana ($24), it has been elevated — like by using organic chicken.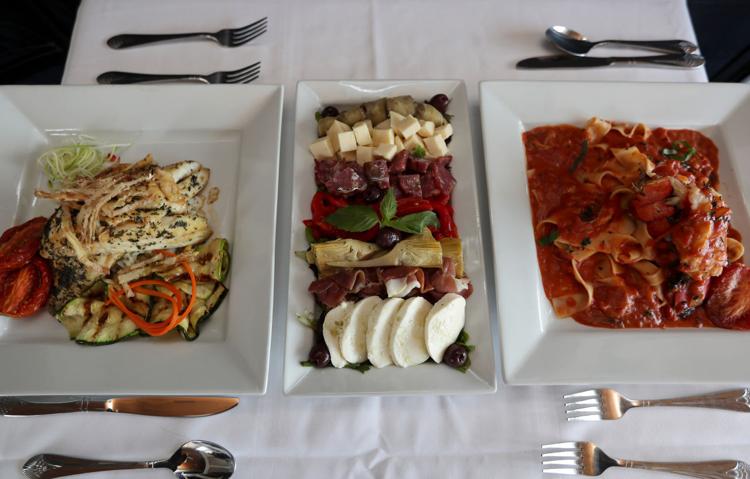 Even the fried calamari listed under apps is different, prepared Sicilian style ($13) with garlic and olive oil, Kalamata olives, capers, Italian chili peppers and lemon. If you like octopus, Iccara grills it to perfection and tosses it in an arugula salad ($15) with cured olives in a tomato and lemon vinaigrette. Groups would do well by sharing the amazing antipasto ($18) that's loaded with salami, provolone, olives, artichoke hearts, prosciutto, grilled eggplant and fresh mozzarella over mixed greens.
Entrée customer favorites, according to Sanzone, include the Italian fish stew — or cioppinno ($29) — with mussels, clams, fish, scallops, shrimp and calamari, all simmered with tomatoes, fennel and onion and served with a roasted garlic crostini.
The Mediterranean sea bass bronzino ($32) is another popular seafood dish. It is as attractive as it is appetizing. The light fish is layered on a bed of risotto and surrounded by grilled veggies like tomatoes and squash, then covered with crispy potato strings.
The pastas are homemade, but created over at Vincenzo's, along with the sauces and bread.
"The kitchen is not so big at Iccara, so I come in early in the morning (to Vincenzo's) to prepare everything and bring over (to Iccara)," Sanzone explains.
Popular pasta dishes already have been the Pappa Della Nona ($29), with delicate ribbons of pasta tossed in a lobster marinara and topped with a whole lobster tail. Cavatelli is the fun twist in their Bolognese, or what Sanzone calls Pasta Alla Little Italy ($22), which is combined with sautéed ham and mushrooms in a creamy meat sauce.
"I do it the way my grandmother did it," Sanzone says of his Bolognese sauce.
The standout pasta entree, though, has to be the incredible and interesting Lobster Pasta ($27). Large chunks of sautéed lobster meat are mixed with mushrooms and shallots in a highly flavorful light tomato cream sauce and served over perhaps the tastiest squid ink fettuccine around.
While a complete overhaul wasn't fully necessary in order to make Iccara his own, Sanzone did carry out some aesthetic changes to the décor: new carpets were installed; contemporary lighting fixtures were put up; and sophisticated navy-colored accents and wainscoting were added, replacing the bright salmons and lime greens of the more Key West-themed Island Grill to give Iccara a nautical-chic appearance.
It's here. Atlantic City Weekly's 50 Bites+ has arrived to the delight of ravenous eaters ev…
Sanzone's eye for detail and design is apparent even in the tiniest facet, such as the stylish, geometric circular pattern on the wall sconces that is mimicked in the modern, metal bread bowls.
As a BYO, there is no bar, of course, but a round of the house-made sparkling lemonade for the table at the start of the meal might just be the perfect replacement for a bubbly aperitif. After dinner, Iccara's desserts should not be missed, from the homemade tiramisu and the tantalizing cannoli to the strawberry shortcake, a layered sponge cake with a light and extraordinary strawberry foam center.