For a town as packed with stores and people as Pleasantville is, there is a noticeable lack of bars. Search all you like, but your options are limited. Really limited. In other words, if you don't feel like hitting up the go-go bar, Sam's Rialto Grill is pretty much your only option in town.
But what a fine option it is.
Sam's has sat in the same unassuming spot on Main Street since opening its doors in 1983. A well-worn spot, everyone here greets you with a smile and friendly conversation. The long bar runs the length of one side while a series of tables offer seated options on the other. It's a simple local watering hole, the kind of place that is becoming harder to find these days in a landscape dotted with gastropubs and too-cool-for-school hipster speakeasies. While I imagine Sam's was just as glorious back when it opened as it is today, I can't say for sure, as I only started coming here two years ago. But something tells me it was.
There's an old story that Tracy Walsh, the innkeeper at the Jonathan Pitney House, tells abo…
Sam's manages to wear a lot of hats, yet somehow it wears them all well. It is simultaneously a fun spot to catch a live band, a great "old man" bar, the go-to spot for some of the best soul food in south jersey, and, most recently, a fun spot to grab a well-made cocktail.
Truth be told, many a time I have wandered through these doors simply to grab some of their famous chicken and waffles without even bothering to order anything from behind the bar. Why? Well, they are the only place in the area that serves red Kool Aid, and that I just can't resist a big purple glass of sugary happiness. When I stopped in recently, I ordered all of the above before moving on to peruse the cocktail menu.
While the menu of drinks may not be the longest (five cocktails in total), it does feature some nice options, each of which are served in mason jars. Now I know some will roll their eyes at that particular presentation — as it's become something of a cliché in recent years — but at a spot selling soul food it makes for a perfect visual, not to mention a larger cocktail, so it's a win/win in my book.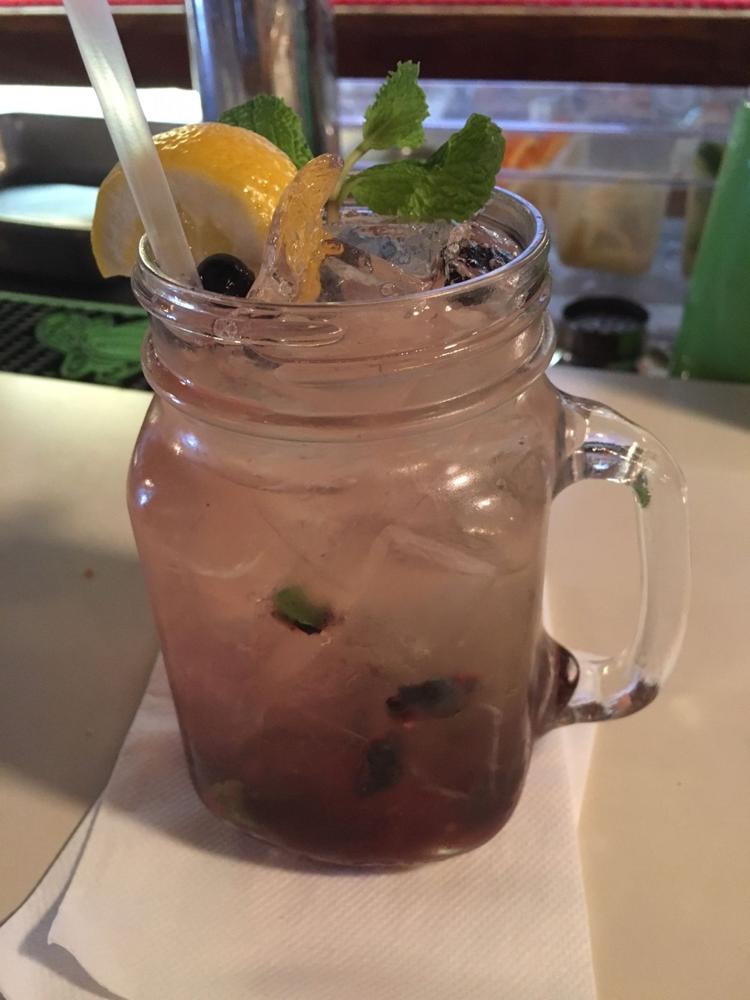 The drinks themselves are all the kind of thing you could see yourself sipping on a hot day in the deep south. They include spiked iced teas and lemonades, as well as a house made sangria and yes, even a Kool Aid-based cocktail. Since I had already downed several Kool Aids, I opted to sample both the Robby's Lemonade as well as the Kay's Lemonade. Each were very refreshing, mixing house-made lemonade with flavored vodkas and muddled fruit. If I had to pick one I'd probably go with Kay's version, as it was slightly less sweet, but honestly either would suit me just fine on a hot summer day.
If you're in need of a party, you're in luck. It's officially the spookiest — and most fun —…
Another surprise here is the longer-than-you-would-expect list of beers, both on tap and in bottles. This is a somewhat newer concept at Sam's, one brought here after the place was featured on Guy Fieri's "Diners, Drive-Ins and Dives." Sure, you can still grab a can of Miller Lite or Colt 45 here, but it's nice to see taps from Sam Adams, Sierra Nevada and Cape May IPA in the mix too.
So, while the options may be few in the Pleasantville bar scene, Sam's Rialto Grill makes sure that what is there is worth stopping in for.