Menz Restaurant & Bar has existed on the periphery of our awareness for years. When it first came up as our potential dining story, our discussion went something like this: "I used to go there when I was a kid," or "I drive past it all the time when I go to my grandparents' house," and "My wife used to go there when she was on vacation." In other words, we knew Menz's was something of a legend in the Rio Grande area, but it had been a while since any of us had walked through its doors.
Sitting on an innocuous street corner, with its name plastered across the roof and an eye-catching boat beached in its spacious front parking lot, Menz's became the caramel apple of our eye when we heard about its mind-blowing Halloween display. We're pretty Halloween obsessed around here, so we made it our mission to head to Menz's to see for ourselves what all the buzz was about, each taking on a different area to review: Editor Pamela Dollak on decorations, Associate Editor Rebecca King on food, Associate Editor Ryan Loughlin on cocktails and Director of Entertainment Publications Scott Cronick on the silly, serious and somewhat unbelievable (but totally true) odds-and-ends that make Menz's the "most unique restaurant at the shore."
'FrankMENZstein' haunted dining
The sole purpose of us heading out to Menz's Restaurant was for the Halloween decor, dubbed "It's a FrankMENZstein Halloween: Haunted House Dining."
Decorating the rooms of Menz's is no easy task. Completed all in-house by staffers, it can take up to three weeks to execute. The theme varies year to year; this year's focus is a scary swamp. The visionary behind the spooky décor is Denise Menz, who co-owns the restaurant with her brother Jay Menz. She develops the concept, purchases the decorations and enlists and organizes the staff to help. He, according to his daughter Megan Menz, "adds the crazy stuff."
Right from the get-go — like a Kentucky Derby favorite breaking out of the gate with an inst…
Not all of the rooms of Menz's are tricked — and treated — out. But those that are, reeeally are. When entering the haunted dining room, guests must walk over a rickety wooden bridge in order to cross the alligator-infested swamp — with real water — built specifically for this Halloween dining experience.
Once inside, black lighting emits an eerie glow throughout, giving the entire space a spooky feel. Translucent white gauze and spider webs are copiously draped throughout, thoroughly covering the walls and ceiling, while hanging bats, crouching witches and pouncing wolves can be found in almost every corner.
A horrendous cacophony is created from the clamor of flapping wings, high-pitched squeals and howls and growls that blend with the din of snapping gators and hissing snakes.
Glowing eyes spy guests from both "undead" dolls perched on swings that hang from rafters and zombied figures that lurk behind creepy trees and spooky shrubs. Flames spew from the mouths of a gruesome three-headed monster, and ghastly skeletons hang precariously from flickering candles in crystal chandeliers.
Even the wait staff gets in the "spirit" of things — with ours wearing Halloween-inspired hair accessories.
While much pride is placed in the food, it without a doubt takes a back stage during "It's a FrankMENZstein Halloween: Haunted House Dining," which this year will run through Nov. 5.
Food that's anything but frightening
"The food could suck and I'd still come here next year," Scott said when we sat down at our table, noting the incredible ambiance of the swamp-themed decorations.
Fortunately, the food did not, in fact, suck. We began with a healthy serving of appetizers: jumbo fried ravioli ($7.25) stuffed with five different cheeses and served with marinara sauce, a specialty caprese salad ($10.99) on big hunks of bread, sassy shrimp ($12), which are flash fried and tossed in a sweet chili sauce over a bed of lettuce, and clams fra diablo ($12). Each was a crowd pleaser, not a dud in the bunch.
After apps it was time to get down to business. Among the items ordered for our main entrees were: chicken cutlet parmigiana ($21) — a favorite at the restaurant — grilled BBQ salmon ($23.50) prepared on an aged cedar plank with homemade southern-style sauce, fried oysters ($23), veal parmigiana ($27), crab au gratin ($25.95) and broiled sea scallops with crumbled bacon ($28) and topped with creamy horseradish sauce.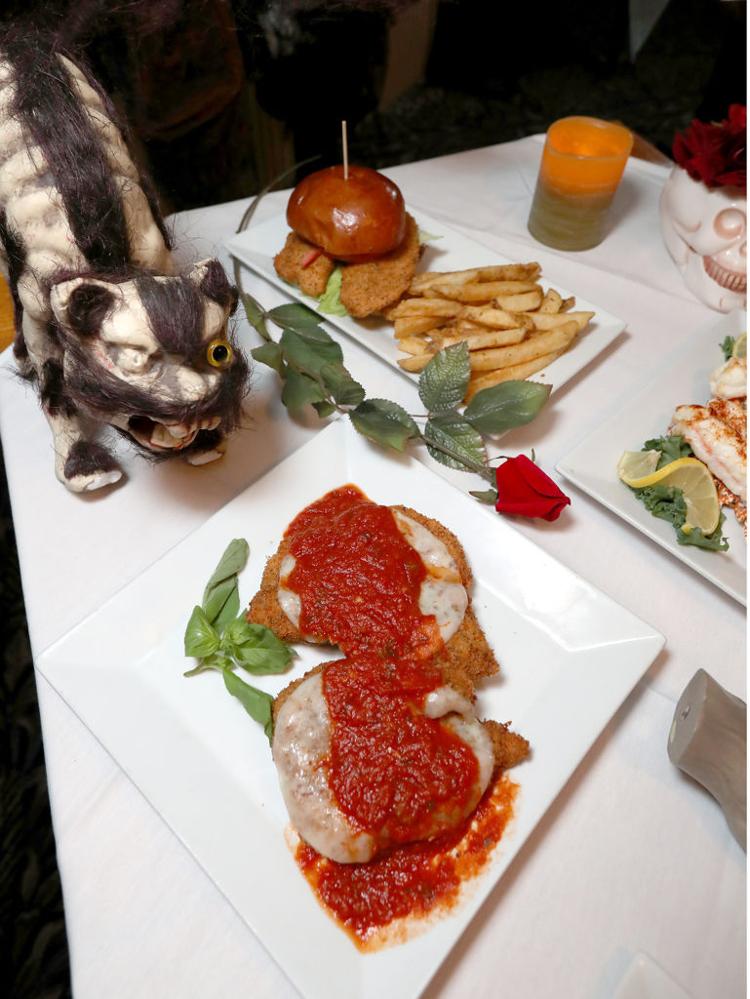 The menu warns "please be patient," as all entrees are prepared to order. But patience was hardly necessary, as the meals came out hot and in a timely manner, clearly homemade and prepared with care. Each entrée came with two vegetables, and we delighted to see that among the vegetables were options like macaroni and cheese, french fries and spaghetti — our kind of vegetables!
The seafood entrees were a hit. The fried oysters were respectable, the crab au gratin was creamy with crispy breadcrumbs on top and loaded with crab, the salmon — my meal of choice — was moist and smoky, and the scallops — the recommendation of our waitress — received rave reviews. Both varieties of parmigiana got the same reaction: the meat was tender and well-prepared, but the dish could have benefited from a less-sweet marinara sauce. But we're Italian-food snobs over here and Menz's isn't an Italian restaurant, so for that they receive a pass.
There's an old story that Tracy Walsh, the innkeeper at the Jonathan Pitney House, tells abo…
A big surprise of the evening was how tasty the desserts were. Bursting at the seams from apps and entrees, we gazed hesitantly at the tray of tempting desserts our waitress presented to us. But we eventually picked one to share, then one more, than another and another, all for the sake of journalism. The s'mores cake was dense in the best way, with a welcome charred marshmallow on top. The banana whipped cream pie was perfectly flavored. The salted caramel pound cake was the table's favorite, with the cake "not dry and terrible like most pound cakes are," according to Ryan, and a rich buttercream icing on top. "Not bringing it home was one of the greatest regrets of my life," Ryan recently sighed while remembering the unfinished dessert he left behind. Even the plain New York cheesecake, which we shelled Pamela for ordering because it was "boring," surprised us with its perfect texture and taste.
Let's be honest, during Halloween at Menz's, you're coming and staying for the immersive decorations. But you'll get a good meal out of it, as well.
At Menz's, spirits inspire … the spirits
There is simply no way of not getting into the Halloween spirit when dining at Menz's during the month of October. The sheer volume of spooky sights puts you in the mood for a good time, and, of course, nothing says a good time better than a few well-mixed cocktails.
So ordering up a gin and tonic just doesn't seem festive enough here. Luckily, Megan Menz herself put together a variety of Halloween/autumn-themed cocktail recipes, each of which made for the perfect complement to the macabre surroundings.
A trio of autumn-y sangrias were up for grabs, the first being the "harvest apple," an incredibly delicious mix of red wine, locally pressed apple cider, cranberry and fresh fruits. Those who prefer things even sweeter can opt for the "caramel apple," which adds — you guessed it — caramel to the mix, upping the autumn-themed game another step. Rounding out the sangria trio is the "witches brew," a sweet/tart mix of red wine, orange, cranberry and blackberry juices that produced a frightfully perfect blood-red color.
All three of the sangrias were great, but the winner here is the caramel apple. Sweet (read: very sweet) but packed with flavor. It tasted like fall in a glass.
Non-sangria fans are not out of luck however, as a pair of Halloween-themed martinis have also been added to the menu this season, starting with the "Boo-tini," a ghost-white, vodka-based drink flavored with a sinister shot of white chocolate liqueur, garnished with a ghost-shaped marshmallow Peep. Chocoholics will be pleased to find the "death by chocolate," a blend of vodka and chocolate liqueur accented with a skull head garnish. Both of these were tasty, creamy and definitely fell on the sweet side, but even that is fitting. We are talking Halloween here — it's all about the sweets!
Stranger things at Menz's
OK, so while Menz's is hands down, absolutely, no doubt the coolest, most fun and creepiest place to dine at Halloween, there are some oddities at Menz's even when it's not the witches' season.
It starts as soon as you enter the porch and are greeted by a giant Bengal tiger replica that is so big, a fat boy like me can sit on it and not break it (which I did, by the way; sat on it, not break it). But that is just the tip of the animal kingdom iceberg that awaits you inside.
There is literally a giant — and I mean giant — display case that is either a taxidermist's dream or an animal lover's nightmare. Inside this glass monstrosity you will find a very scary hyena; a bobcat that was supposedly owned by a woman in Millville as a pet then later shot by a hunter after the woman let it loose in the woods; a giant coyote that may or may not have been imported from Texas by a serviceman, raised at the airport when younger, let go and then hit by a vehicle and stuffed; and four — yes, four — double-headed calves ranging from quite small to medium sized that most don't believe are real … but they are. Or were, anyway.
"My father (Franklin Menz) used to say that the only two phony things in this place were him and the Jersey Devil," says Franklin's son Jay, a current co-owner, referring to a zebra-like plush Jersey Devil that is mounted on the wall in the gift shop.
There are other rooms with tons of big game that Franklin loved to hunt — including monstrous elk and moose — as well as walls of dedication to Smokin' Joe Frazier, the late, great heavyweight boxing champion and longtime friend of the family.
The tribute includes paintings, boxing posters from cards that Jay and his sister attended around the country, and other very cool boxing memorabilia worth making the visit for.
Perhaps the most creepy of the non-Halloween offerings at Menz's is right in the gift shop, where kids shop for little toys and penny candy. In a glass case on the entrance wall are encased porcelain dolls that look like they should star in the next "Chucky" sequel.
And, finally, back to that tiger: on the opposite wall of the dolls, a giant, painted mural features the late Franklin Menz cradling and bottle-feeding a large tiger.
"It was his pet," Jay says with a laugh. "I can't make this stuff up."