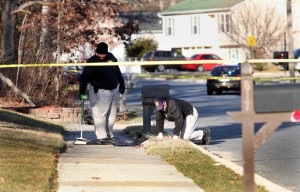 PLEASANTVILLE - City leaders are looking for a way to stem further violence after two men were gunned down early Friday on city streets in possible gang-related shootings.
| Tags: With Video

MAYS LANDING — Ryan Patterson yelled his attacker's name during a 911 call made while he and his mother were being fatally stabbed inside their Hammonton home last year, according to information made public Thursday during a bail hearing for the Pattersons' accused killer.

Coast Guard investigators will interview the crew of a commercial vessel near Houston as part of an ongoing investigation into the capsizing of the Mandy Ness off the coast of Long Beach Island last week
Latest News

ATLANTIC CITY — For the people behind the Miss'd America Pageant, where the show will be next year is a much better question than whether it will be next year.

WILDWOOD — Marine Lance Cpl. Krista Zielinski got plenty of hugs and congratulations as well-wishers welcomed her back to Five Mile Beach on Thursday night.

NORTH WILDWOOD — Calling their actions "credible and believable," a Municipal Court judge said Thursday that he would allow the testimony of two officers who arrested Hamilton Township Deputy Mayor Charles Cain on drunken-driving charges.
| Tags: With Video
Sports

The Philadelphia Flyers are paying Jody Shelley $1.2 million this year.

ATLANTIC CITY - The first time Favad Akhtar saw the indoor track in the renovated Atlantic City Armory he had to reach down and touch it.

ATLANTIC CITY - The Atlantic City High School football coaches watch Dayshawn Reynolds break long run after long run every day in practice.
| Tags: With Video And Photo Galleries
Entertainment

Carson Kressley didn't hesitate when asked to reprise his role as host of the Miss'd America Pageant:

Luke Palladino may expand his culinary reach when Revel opens this spring. According to sources, the restaurateur is planning to open a concept that will blend retail and quick service in Revel's proposed Marketplace section.

There's the carnival - and then there's the "CarnEvil." Here, the maze of abandoned, half-torn-down attractions - with more than a few angry clowns roaming around - is anything but amusing. Those lucky enough to find their way out will be forced to dodge brain-hungry zombies on the way to their next two mazes: a haunted ship and a circular corn maze on the beach.
Visit pressofAtlanticCity.com for more news