ATLANTIC CITY — If you were to step into Jeffries Tower and head to the mailboxes, you'd come to a stop to stare at the board on the adjacent wall.
Famous city figures such as businesswoman Sara Spencer Washington and former Mayor Lorenzo T. Langford would be staring back at you.
Actors James Avery (Uncle Phil on the TV series "The Fresh Prince of Bel-Air") and Rosalind Cash ("The Omega Man") smile down.
Photos with bios of athletes Los Angeles Lakers guard Willie Glass and Harlem Globetrotter "Super" Sam Sawyer are stapled to the wall.
The bulletin board was constructed by the woman sitting in front of it, pointing to each memorable figure.
Levis Gordy-Rose, a resident at Jeffries Tower, has been in charge of updating the bulletin board every month for the past three years. For Black History month, she'll usually pin up photos of famous historical figures, such as Martin Luther King Jr., but this year, she wanted a more local celebration: one that would make residents and guests stop in their tracks when they were grabbing their mail or dropping off relatives.
"I thought, 'We have a lot of history here,' so I started asking questions, and people started running to me giving me information," said Gordy-Rose, 58, of Atlantic City.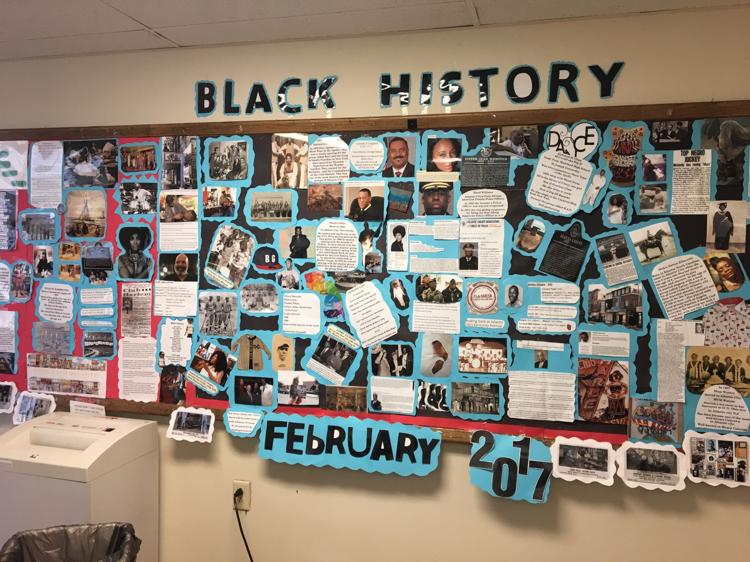 On Gordy-Rose's floor of the building, she said, is Larry Jackson, who sat behind Martin Luther King Jr. on the civil rights activist's first bus ride in Montgomery, Alabama.
Sawyer and another basketball player's mother, Pearlina Glass, live in the building.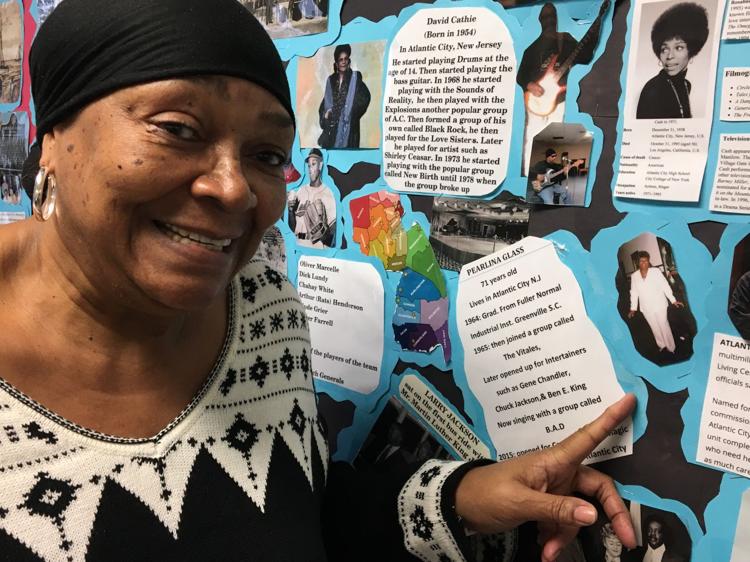 Glass, 71, is former Lakers guard Willie Glass' mother. Her other son, Alphonso "Big Al" Glass, hosts Big Al karaoke and has played in venues including Harrah's Resort, Taj Mahal and The Flagship.
Glass said she's proud of Gordy-Rose's work, which included nights of printing, lamenting, writing biographies and copying old photographs.
"It makes me feel good that she saw it fit enough to acknowledge them in black history. It makes me feel very proud," Glass said.
Rosalyn Combs pointed to a picture that stands out to her. It's a photo of a historic marker at Kentucky and Baltic avenues that commemorates her mother, Virgie Lee Jordan.
Jordan worked on behalf of the children of the Stanley S. Holmes Village. She died at age 82 in 2009. Combs is happy her mother's plaque is part of Gordy-Rose's project.
"It's amazing. I see my mom's picture on the board, and people ask, 'Is that you with the blonde wig?'" she said. "I'm very proud of her."
Pride was the whole point, Gordy-Rose said.
GALLOWAY TOWNSHIP — The twisted fragment of stained glass in Wendel White's camera lens tell…
"We're more than just Martin Luther King Jr. Our history is still moving on, and people are still creating history here in Atlantic City," she said.