Open today until 11 PM.
9510 Ventnor Ave, Margate City, NJ 08402
tel. 609-487-7450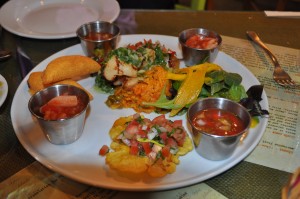 5 images
MANGOS MARGATE IS A SMALL FAMILY RUN OPERATION. WE BRING TO YOU A HUMBLE NEW FLAVOR OF HOMEMADE, ECLECTIC, SOUTH AMERICAN CUISINE. OUR PHILOSOPHY AT MANGOS IS FARM FRESH QUALITY, HOMEMADE AND EXTREMELY FLAVORFUL FOOD, IN A RELAXED B.Y.O.B ATMOSPHERE . Quite good, white tablecloth fine dining style Colombian restaurant. A very nice place with nice decor, probably would be a good place for a date. Colombian cabbage salad", fried yucca with hot pepper based dipand the "Colombian ceviche" cilantro based green salsa, organic , locally grown "Jersey fresh" ingredients,The owner is from Medellin, Colombia CLICK HERE TO VIEW MENU!