There's something unfulfilling whenever my friends and I go to the club.
It's loud, it's crowded and it's usually tough to even grab a drink. Besides that fact the DJ never wants to hear requests.
"You can't play Macy Gray or you won't?"
Still, we all find ourselves there every once in a while. We buy the $15 shots, we try to communicate to our friends on the dance floor and we try to have a good time.
This week's episode of FX's 'Atlanta' took us for a night on the town with our boys and it didn't hold back on shining a light on the typical club's ugliest features.
We open the show sitting in a VIP section with Earn, Alfred and Darius. Earn set it up for Alfred and the group to get paid for Paper Boi's appearance. It's obvious that no one in the group is having fun. Alfred is angry about the choice of champagne placed at his table, Earn is in search for the club runner for money and Darius is just waiting for someone to buy him a drink (he claims he's "that guy" who always gets free drinks.)
Alfred doesn't want to be there. Even when a fan walks up to him and starts singing an entire Paper Boi verse and chorus, he brushes him off. He looks upstairs at what seems to be the ultra VIP area for another Atlanta celeb named Marcus Miles.
This is Alfred's mindset as well as his struggle all at once: he's being paid to enjoy himself but he can't when he sees someone "living it up" merely feet away from him and just a little higher up than him at all times. Alfred wants to get paid, he wants the fame but he's not even comfortable in his environment. He even said he doesn't trust anyone in the club. Darius pulls out his phone to show Alfred Marcus Miles' invisible car on social media. Alfred doesn't believe it's real. He can't seem to see the path to that success.
In Earn's case, he's finding the same struggle to wrap his head around being manager. When he finds the club runner Chris, he asks the man (through subtitles due to the club's music) if he and Paper Boi can get paid for their appearance. This leads to Earn scrambling around the club to keep up with Chris, who is obviously dodging him.
This episode depicts the club life perfectly. Earn can't communicate with Chris. Darius leaves the VIP to smoke and comes back and is told he has the wrong bracelet to reenter the lounge. That and the slew of creepy guys scattered from scene to scene show exactly what most clubs will look like on a Saturday night.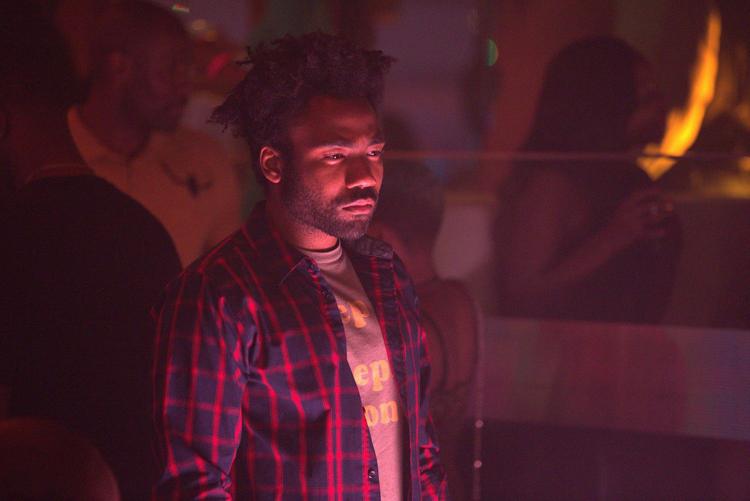 After Chris pulls a Scooby Doo and dodges behind a revolving door, Earn gives up and heads to the bar. The bartender serves him a drink and gives him the advice of the night.
"Leave? If you at the club then deep down you want to be at the club," she says to him.
This is true. Deep down, there's a reason you end up tagging along to the club with your friends, despite objections. You're often either there to accomplish or avoid something. Earn's excuse is he's trying to earn the trust of Paper Boi and Alfred is trying to elevate his status, even if he hates the way he has to do it.
The bartender tips Earn off that there is a fire alarm trick to opening the revolving door. When he encounters Chris in the back office, he's given $750 – much less than the $5000 he and Alfred were promised.
"We had a good time," Chris says to him with a smirk, "that's why you came here."
When he returns with the money, Alfred is enraged and heads to the back with his squad. He beats Chris down and takes the rest of the money he's owed.
After they leave the club, gun shots go off out front and three or four people are run over with Marcus Miles' invisible car. It's just another comical absurdity that this show finds a way to throw in each episode. Paper Boi and Earn are believers.
When the three meet at a diner after the scene, they see on the TV that police are searching for Alfred for questioning regarding the incident.
This was one of our more in-depth looks at this group in this season. After the last couple of episodes, this narrative was straightforward. I wouldn't be surprised if the shooting isn't even addressed. This show doesn't owe us as an audience anything. But it did give us more insight into these characters. Paper Boi and Earn both want the same thing - success - they're just tired of the crappy champagne and janky club owners they have to deal with to achieve it.