"If you still believe in love and family make some noise."
Tyrese Gibson shouted that out to a packed house at Boardwalk Hall on Saturday night.
Gibson was opening up for Erykah Badu in a night that lent itself to the most devout R&B and hip hop fans.
Slow jams and sexuality highlighted Gibson's opening set, but the artist and actor stopped to mention new president and former Atlantic City businessman Donald Trump.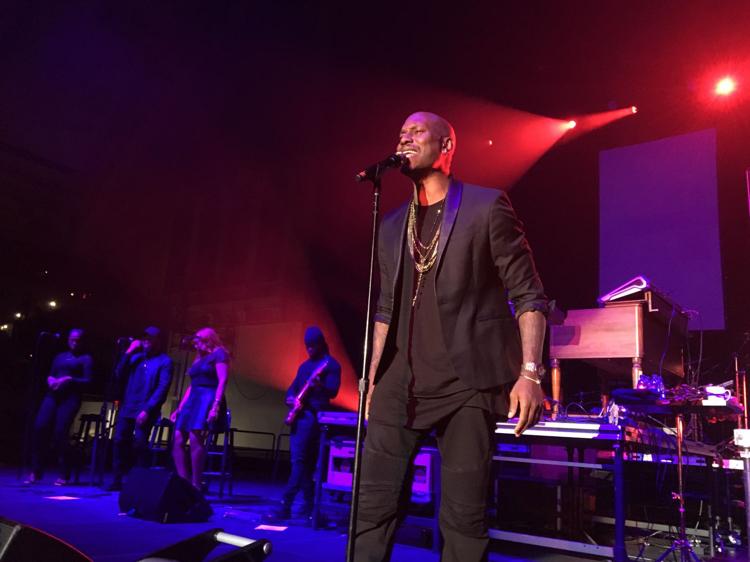 "He doesn't realize that he's only bringing us closer," Gibson said to the audience.
Gibson will co-star in this year's "The Fate of the Furious."
Throughout his act, Gibson would interact with the crowd, tempting them to stand up and advising security to not hold his fans back from rushing towards the stage.
Gibson's biggest applause came with his single "Capricorn" which starts off with him asking the audience about their zodiac signs.
"I haven't been back here in a while," Gibson said of Atlantic City.
For the R&B fanatics, Gibson broke into his song "Stay" which then moved its way into a Marvin Gaye "Let's Get It On" medley.
Gibson wrapped up his set with a lively audience who were waiting for their main act.
Erykah Badu took the stage at 10:30 p.m. to an audience that was ready to hear some of her greatest hits and deepest tracks.
Walking out with what has become her signature ten gallon hat, and wearing black gloves with gold metallic finger nails, Badu came out to greet Atlantic City.
"People in the back put your hands up," she screamed as she went into a few of her more jazzy hits.
But after a couple warm up songs, Badu broke into one of her more famous songs with "Love of My Life."
"How are we doing Atlantic City" she asked the crowd.
Between Gibson and Badu, the night felt like one big R&B spectacle.
Heavy, intricate bass lines made their way into each song. Alternative percussions like electronic drum pads were never far out of reach for Badu.
The crowd never stopped moving as you saw people running into someone they know but never bringing a halt to their dancing.
For a winter weekend night, Boardwalk Hall looked completely filled besides some scattered open seats higher up in the venue. Most sections were filled with people eagerly awaiting the each song, standing and dancing in front of their assigned seats. It really felt like one big R&B community.
It seems as if this city still believes in love and family, as Tyrese pointed out. And with more hip hop acts coming into the city, it seems like it's ready for more music to dance to.