The women of Vikings Dragons are stretching on Derby Avenue, a few feet from their dragon boat which they are about to shove off onto the bay in Ventnor City.
The Beatles are playing from some unknown speaker, most of the rowers have sunglasses on against the evening sun and their coach Shelley Safer is watching as the team preps.
On this Tuesday, Safer said the team has some specific techniques to work on today. They're trying to improve their stroke, trying to put more water on the blade while using less power.
Safer admits they aren't a power team when it comes to rowing.
"When the average age of our team is 63 or 64, power isn't really our thing," said Safer, of Margate.
Every May, the women — who consider themselves friends more than teammates — head back out to the water to practice and catch up with one another. The team will also be celebrating its 10th year competing in the Gilda's Club Dragon Boat Race at Lake Lenape in Mays Landing.
It's one of three or four races the team plans to compete in this summer, but the team's focus is less on winning and more on bonding and having fun. More than placing for a medal in a race are the times the team gets to enjoy a full moon on the water, or a sunset. And the team always spends their postgame of a race at an ice cream parlor.
"That's a ritual," said Judy O'Rourke, a member of the team.
Dragon boat races works out every part of the body. When members of the team row on one side, they're not only working upper body but also their core.
Sandy Dalton is hobbling around on one crutch as the team stretches. She recently inured her leg and is expected to be ready for July's race in Mays Landing. She's not worried, though. She was more grateful when all of the team members sent emails to her asking how they could help.
"It's definitely a family situation," said Dalton, of Ventnor.
And it's a family with a common bond. Many of these races help donate to certain forms of cancers. Many of the members of the team have been or know someone affected by cancer. The team has paddled in the past for their friend Sandy Fry, who died of pancreatic cancer. This year, Sandy Dalton is rowing for her brother who died of leukemia in December.
"He's my inspiration," she said.
Dalton, along with all 20 or so members, will have someone in mind as they paddle to the sound of the drum — a staple in dragon boat racing.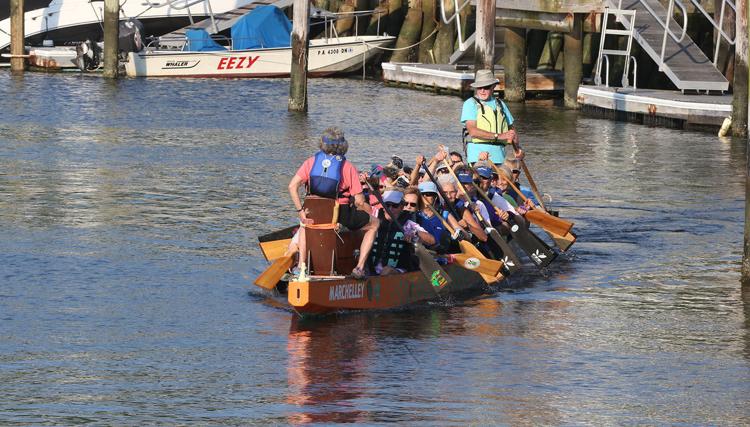 The purpose of the drum is to keep a steady row. The drummer drums along when the front paddle of the boat goes in.
June Nesbitt, of Northfield, has that responsibility of keeping a steady rhythm for her teammates. Nesbitt used to be a rower but now sits in the back of the boat as her friends listen for her pounding of the drum.
"You just need to keep a steady beat," Nesbitt said. "Whatever the beat is doing I'm just keeping up."
The Viking Dragons raised more money than any other team last year at the Gilda's Club race. They also had a La La Land-flub happen to them when they were told they had one third place last year, only to be rescinded after the women received their medals.
So does that mean they hope to place in the top three this year?
"That would be awesome," Sandy Dalton said.
But that's not the goal, said Shelley Safer.
"Our goal is being there, having fun and supporting Gilda's Club," Safer said.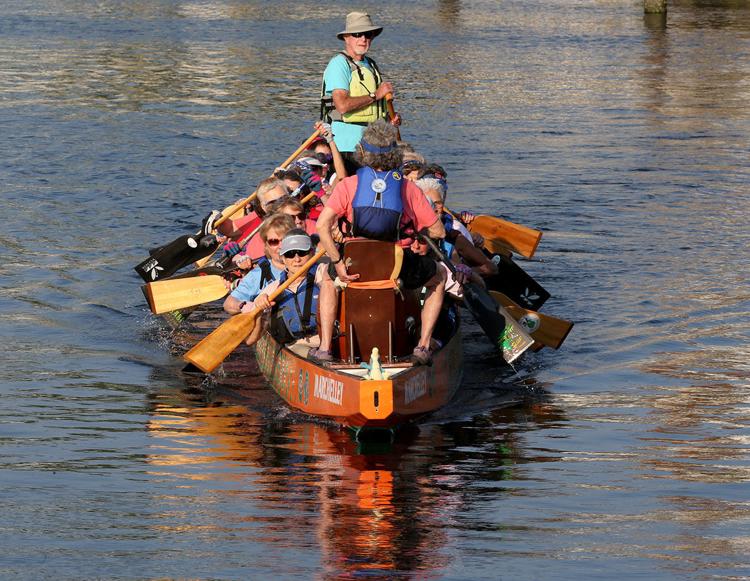 And that's why these women keep coming back.
"It's really fun. It's nice to be on the water and we're blessed to have this at our fingertips. It's nice watching sunsets with good people," Safer said.