Gutter Drunk's music tells story of sobriety, friendship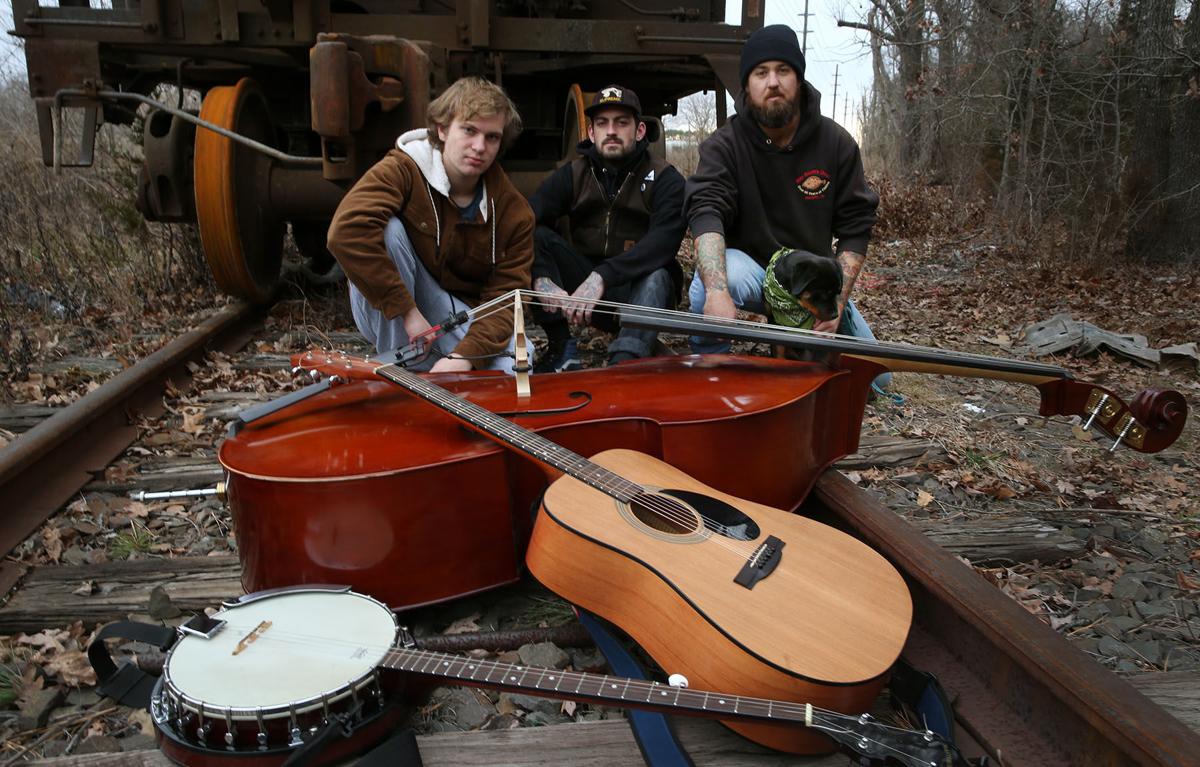 Tom Flynn is confident he wouldn't give up this life — his sobriety — for anything in the world.
"In a cliche sense, I want to be better than I was yesterday and continue to grow myself. The last 10 years — at least — were robbed," he said. "I'm just learning how to get my feet on the ground and keep them there."
On a recent morning, Flynn and friend Will Boothby, who formed the band Gutter Drunk, are tucked away at Ventnor Coffee, where the pair occasionally play.
Tattoos spread from Boothby's hands, which clutches a cup of coffee, up to his neck. Flynn, who will undoubtedly be busy later that night at work as an EMT, has his Rottweiler puppy, Brody, in tow.
Flynn, 25, and Boothby, 27, have been friends for nearly their entire lives, growing up next door to one another in Margate. For the past 15 years, they've been playing music together.
Depending on who you ask, Atlantic City's punk scene is either coming back or on the decline…
But how long had they been using?
Boothby let out a dry laugh.
"Since we were 12, at least," said Boothby. "(Flynn) wasn't ever early for anything, but he would wake up super early to meet me at the bus stop before school and get high on the corner."
Boothby and Flynn laugh about the old memories. Their friendship has endured its share of trials, often marred by their addiction to drugs and alcohol.
But the two have always considered each other brothers.
Now both sober, their band has not only steadily gained popularity in the local music community, it's become an avenue for them to discuss addiction.
Their song "Dirty Heroin," written by Boothby, touches on his time as an addict. A Facebook video from almost a year ago of the pair singing the tune in the woods has generated almost 4,000 views.
"That was me reflecting on 'Get me out of here,'" said Boothby. "I guess I was trying to say, 'Why? Why did I do that? What is it? And how the hell can I get away from it?'"
Their 12 original tracks, which are listed on SoundCloud, range from fast punk on "Scumbag Dereliction and "Pool Scum!" to a more acoustic, folksy sound on "In the Pines."
Boothby writes the majority of their songs, but Flynn said all of their lyrics are true or something that happened to them. Even the band's name — Gutter Drunk — came when Boothby was reflecting on his days of drinking and sleeping under the stairs of Tropicana Atlantic City.
During those years, Flynn and Boothby said, being an addict was a full-time job. Their creativity as musicians often took the back seat.
Flynn said that despite the fact that the two had been playing music together for a long time, they were always too strung out to do anything about it.
"The way I drank, I was brain-dead," he said. "I couldn't even play guitar when I was drinking."
Boothby, who typically plays the drums, said he began writing music and playing guitar as he got clean.
"When we first got sober, we would camp every night. It's like, we didn't care if it was 15 or 16 degrees and we were out in the woods," said Flynn, who plays the banjo. "Just trying to get another day sober, really. We had nothing to do except play music."
The pair moved in together, working on staying clean, and would head out every night to camp. After tossing up a tarp and starting a big fire, the friends would jam.
With only a few months clean under their belt, music kept them busy. Going out into the woods was a release, though Flynn said friends jokingly asked why they paid rent if they were just going to sleep in the woods every night.
"You could scream out there and just jam and really let it go," Boothby said.
Gutter Drunk has grown to include drummer Jim Chivalette, who is also the vocalist and guitarist for punk band No Comply, and stand-up bassist/Atlantic City High School student Brad Jones. The band often plays gigs at venues such as The Boneyard on Virginia Avenue.
Boothby and Flynn know better than to linger around a bar. The only time they step in one, they said, is to a play a show.
Flynn said he now goes in there with a purpose, but he doesn't want to live in a bubble just because he's sober. Flynn also still plays in his family's Irish band, The Flynns.
"I look at the drunkest guy and think, 'I was way worse than that,'" said Flynn with a laugh. "It's good to remember that."
Boothby, a tattoo artist, said he's finding joy again in the hobbies he loved before addiction, such as surfing and skateboarding. He spends more time working with his father at his workshop, too.
The two hope to get into a studio to record a full album and even go on tour. Nailing down their sound is hard, say the pair, though they describe it as falling somewhere between punk, folk and "bushwhacking" music.
"It's Gutter Drunk," said Boothby. "It's rock 'n' roll."