North Cape May artist Dave Macomber using platform to help others in need
Despite being voted Most Friendly by his Lower Cape May Regional High School class, David Macomber couldn't seem to impress his art teachers.
When the whole class would paint a bird, he'd paint a lion. He failed art class for not following directions.
"I wanted to learn the techniques, but I wanted to paint the way I wanted to paint or draw the way I wanted to draw," said the 36-year-old North Cape May resident.
These days, the professional artist and creative director of the artBOX at Morey's Pier does well for himself, having quit his job as a graphic designer to pursue painting full-time seven years ago.
In his garage studio on a recent Thursday, Macomber worked on a series of stormy waves with acrylic paint for an upcoming show. Upstairs, a whale painting hung over a couch while other walls were covered by more waves and photos of his children.
When he's not juggling being a father, husband and a full-time artist, Macomber has taken his humanitarian work abroad, using his art as a platform to help others.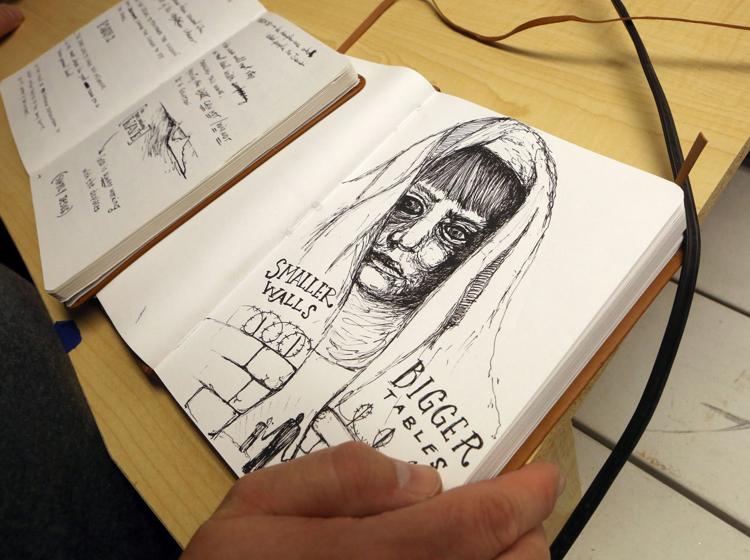 Recently, he traveled to Budapest for a conference about the refugee crisis, speaking with refugees and workers alike on what's working and what's not. Macomber spent time with the refugees, jotting down their stories and sketching their portraits.
After the conference, he was supposed to travel to Serbia to work in a refugee camp, but was denied access.
Macomber takes a hands-on approach to charity. After the devastating 2013 typhoon in the Philippines, he used his social media connections to ask for help.
Macomber said the work he did in the Philippines was "life changing," as it showed him how social media can be a powerful tool in mobilizing people and supplies quickly.
It wasn't long before he raised $5,000, and he personally delivered enough fresh water filters for more than 100,000 people.
"If I can use my art as a way to gain a bigger audience, that's what I want to use my art for," he said.
On an earlier trip to the Philippines, before the typhoon, Macomber and his wife, who had been married for several years, were thinking about starting a family.
It was there that they were inspired to adopt and later became foster parents. Their two sons were adopted through the foster system, and they are fostering two girls.
His wife, Melissa Mae, is supportive of his work and doesn't mind when he slips away into his home studio. When all four kids are home, Macomber describes the house as creative and fun — with a lot of dance parties.
"David, in general, is just a fun guy and husband," she said. "He always keeps us doing things that are more interactive. Before dinner time, we'll all stand up and do silly dances so the kids can get their wiggles out. Little things that do make a big difference."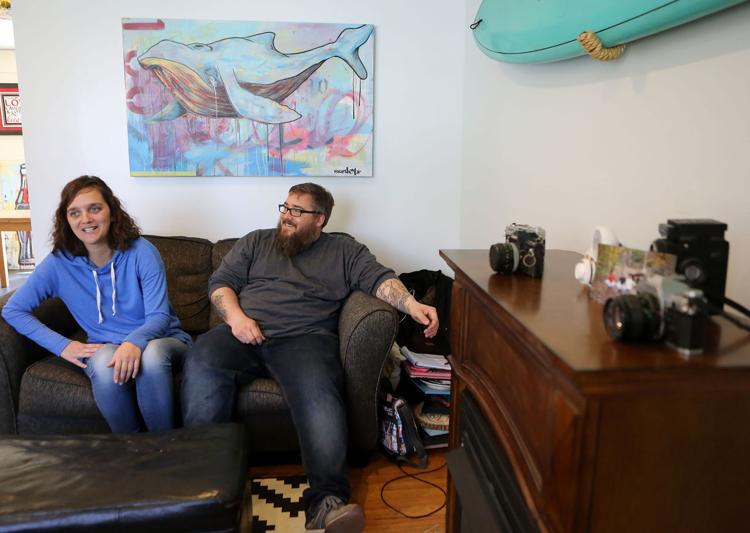 Macomber's art draws influence from storms. Hurricane Sandy particularly left its mark on his work.
A few years ago, he crafted a sculpture made of debris from the devastating 2012 storm.
"You see these people that lost their homes, but they still have their family, and a storm really shows us a perspective," he said. "It's horrible because it's destructive and you lose so many material things, but you have this perspective of what's important on the other side."
Sometimes, Macomber said, a storm can be a learning experience that can be used to help others.
"When you're in the midst of something, something big like your family member has cancer — stressing about it won't do anything about it, but sitting with that person all day will do something," he said. "I think people get so focused on the problem, they don't see what they can do."
Some of his paintings bear the logo "Itswel," which he said is derived from a old hymn.
"Even though there's storm and waves, everything is OK in my soul," Macomber said. "I feel like that's kind of consistent in my work, the Philippines trip and Hurricane Sandy — all that reinforces that thought I have and that I'm trying to tell with my art."
Macomber has weathered his own share of storms.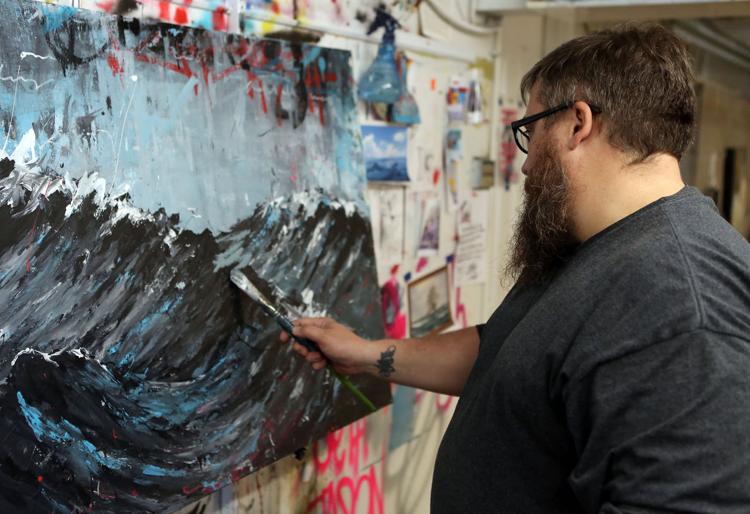 At a young age, he lost his sister. In junior high and in college, he lost two friends.
Deeply rooted in his Christian faith, Macomber said he realized how precious life can be. As long as he's on this Earth, he hopes to make a positive impact. Macomber said he was taught to love God and the world around him.
"It's just trying to love people and do the best I can with what I have," he said.
"The Bible says the two greatest commandments are to love God and love others, so for me, loving God is being who he created me to be and that's being an artist, a father and a husband."