Older age means new workout regimens for locals
The front room at Yoga Nine in Ventnor is already warmer than when the class first started.
Sounds of recorded deep breaths fight with the students' breaths as they lie face down on their mats.
This isn't a hot-yoga class, but Chris Forrest is starting to sweat.
At 53, Forrest has been coming to three classes a week for almost three years. He, like many people when they reach a certain age, had to take up a workout regimen to stay spry. Or just to stay upright.
"(When I was 50), I started to really tighten up and hunch over. That's part of aging," said Forrest, of Winslow Township, Camden County.
The Centers for Disease Control and Prevention says older adults should spend five hours each week on moderate aerobic exercises, such as walking fast or water aerobics. The organization also recommends two or more days each week of muscle-strengthening activities like lifting weights or resistance bands.
Leading up to age 50, Forrest had lost almost 50 pounds and had gone through a divorce.
Someone he was seeing recommended yoga, but he had reservations.
"I felt very weird for the first month. It's just different. With my generation, my age, you'll think it's just women in a class bending, and that's not the case," Forrest said.
Forrest works in telecommunications and radio for Amtrak and said his night classes help him get centered.
"It's body and mind. I have an extremely stressful job, and this gives me a chance to just let everything go and get centered and get focused," he said.
Some other people in the room look a couple decades younger than Forrest, but Yoga Nine owner Laurie Greene said students in her classes range from ages 10 to 80.
"It's modified for people's bodies. I think this is the kind of thing you can do your whole life. It's not like CrossFit, where you say, 'Oh, I blew out my knee.' You should never hurt yourself doing this, ever," Greene said.
She said Forrest's shoulder problems forced him to see a doctor, and Forrest told her his doctor was surprised by how flexible he was.
"He recommended (to Forrest) to just keep doing yoga," she said.
For others, a consistent workout leads to healthier living.
After retiring two years ago, Dianne Woods was gaining weight and moving much less than she did when she was an occupational therapy assistant.
At 69, she decided to join Strength Training for Seniors at Anytime Fitness in Mays Landing. The over-55 class incorporates everyday lifting. Workouts such as free-weight bicep curls and side raises for shoulder strength are common.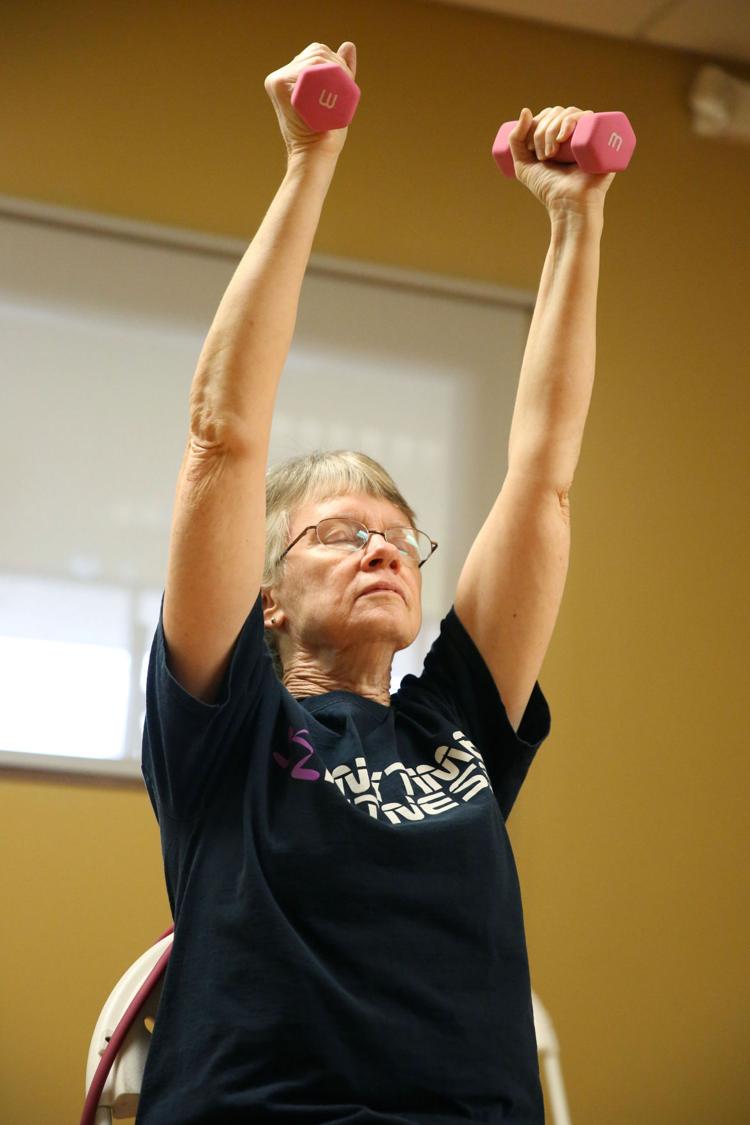 What's uncommon is the class' soundtrack. Songs like Elvis Presley's "Hound Dog" and Bill Haley and His Comets' "Rock Around the Clock" play for the older generations.
Woods does squats in front of a chair — a common movement she wants to make sure she doesn't lose with age.
"I wanted to stay functionally strong so I could carry the groceries in and play with my grandkids and go ride my bike and go hiking in the woods," said Woods, of Mays Landing.
Myke Collazo, owner of Anytime Fitness' Mays Landing location, said the class is meant to improve movements people lose as they grow older.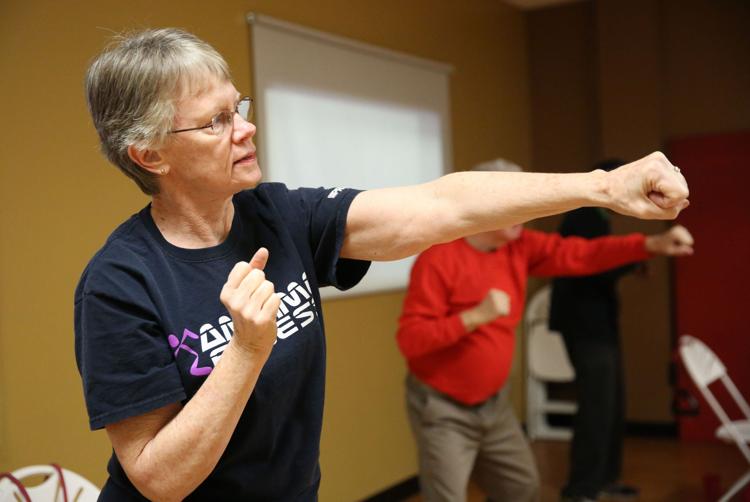 "Balance is something seniors struggle with, sense of core strength and flexibility, too," he said.
He recalls when Woods first entered the class and was unsure of her ability. He said the work she's putting in at the gym is helping her in the outside world. He recently ran into her while she was hiking in Bushkill Falls Park in Pennsylvania.
"The quote is 'People don't stop playing because they get old. They get old because they stop playing,'" he said.