Terry Plasket stands over a sink, stretching a clay coffee mug handle like Laffy Taffy.
The Wheaton Arts resident potter is on his third mug, but has a table of a dozen handleless cups waiting for him.
This is just one of the many jobs of the campus' pottery shop, a studio that may not be the focal point of the arts center, but still engages its audience with classes and demonstrations.
Plasket knows this is what people will take away when they walk through the rooms of pots and mugs inside the shop.
"I don't know if people when they come here expect to see pottery but I think everyone that comes here are really happy when they leave us," said Plasket, 64, of Vineland. "I think a lot of that has to do with that we can have that one-on-one interaction."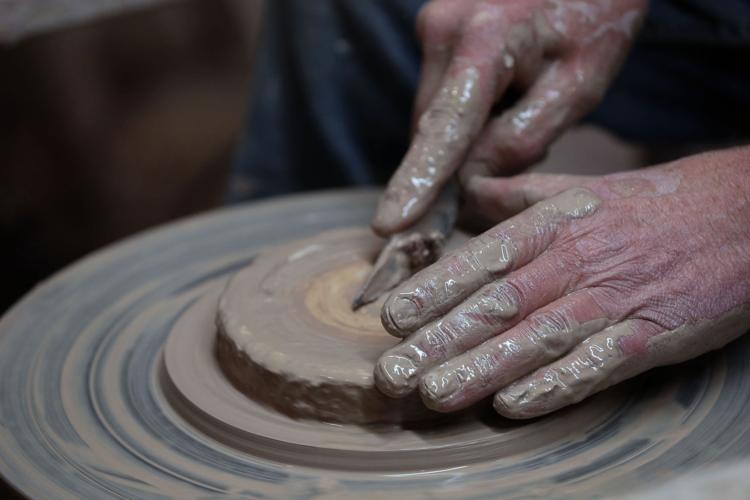 Most classes will feature Plasket or another member of the studio using a pottery wheel to form a piece of art. Other interactive classes get hands-on with attendees.
On Saturday, the studio will be hosting a family workshop which focuses on coil potting, a style of pottery that uses air to dry clay pots and then coils them up from the base of the pot to the top.
Often, these workshops aren't difficult for the novice potter, nor do they require any specialized equipment.
"Very often, as with coil pots, it's something you can do and take it home and finish off," said Cherelle Oriolo, instructor for the biweekly workshops.
Besides the family workshops, the pottery studio will often hold private lessons with private parties.
Tessa Peterzak, associate potter at Wheaton Arts, recently held a class with a local Girl Scouts troop where they did coil potting as well as pinch potting — a more handmade, basic form of pottery.
The whole course for the girls, who earned their pottery badge for taking part in the class, is to show what it is to work with clay. It's a nice experience, said Peterzak, and she doesn't mind working with the novice potters.
She's more concerned with the intricate modeling that a child may think up.
"They'll do long spikes and crazy designs, and they're willing to take that risk. I just want to make sure I can deliver for them," said Peterzak, 25, of Franklinville.
To make sure the fragile pottery isn't dismembered, she'll bring the tray out to the two kilns behind the studio. The pottery will heat up for 10 hours and cool down for another two days to solidify the pots and mugs.
This winter, the studio is building a kiln from scratch. Bricks have been laid in what looks like an old walk-in chimney. A welder recently came in to apply steel bars to the outside to keep it in place. The pottery staff will usually build a new kiln every year and a half.
Plasket said these are the types of things that go on at the studio during the off-season at Wheaton: little repairs the audience doesn't need to see. That goes doubly once business picks back up during the warmer seasons.
"(People) won't see what they don't want to see. Nobody wants to watch a kiln get built. And Wheaton is a place for seeing things happen. I think that's the big selling point," he said.
What people will want to see in the spring and summer are demonstrations, and Plasket knows it. They will almost always be doing wheel demonstrations in which they make a piece of art from scratch.
"You see kids and they all go, 'Whoa it's magic,'" Plasket said.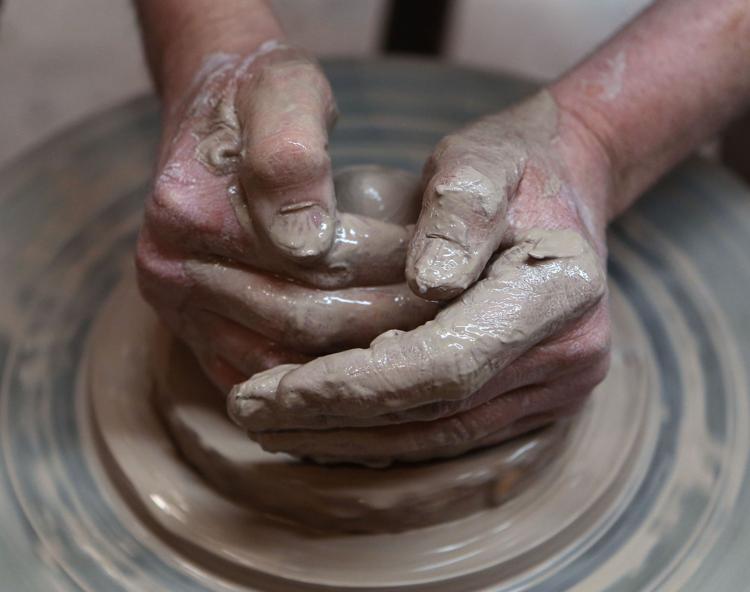 On this Thursday, with no children or adults or classes scheduled, Plasket and his team are throwing pieces on the wheel — he's adding handles to mugs and he has loaded up the electronic kiln on the other side of the studio.
The group doesn't take a day off, just so it can be ready for next season.
"We're already thinking about the fall," Peterzak said.