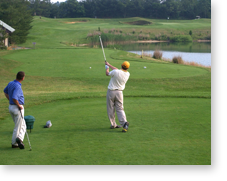 Welcome to Ballamor Golf Club

The gates are now open at the area's best maintained, most spectacular course – one that was formally limited to a small number of enthusiasts. Now open for all those who genuinely love the game and challenges that only Ballamor will be able to provide.
Carefully carved out of gently rolling land and dense woods, Ballamor was named the 4th best public course in the state of New Jersey by Golf Magazine. Designed by nationally renowned architects Ault, Clark & Associates the course uniquely blends traditional architecture with subtle modern-day nuances succinctly capturing the distinct beauty of the property. As such, each hole possesses its own individual character with a total package that presents a strong composition, testing every type of golf shot.
This once private course is now open to the public. We invite you to experience everything Ballamor has to offer.
Annual Memberships

Ballamor Golf Club is proud to offer several membership programs to fit any need. Affordably priced and loaded with "members only" benefits that you'll only find at Ballamor including a dual membership at our sister club, Scotland Run.
Associate Membership, our most popular option, offers up to a 45% discount on greens fees year-round and reduced rates for guests for just $495 a year. If you play golf, you owe it to yourself to check out our membership offerings.
BusinessMax Membership Not Your Typical Membership.

We get it. Your business, group or organization wants access to a superior course at an affordable rate. We'll you've got it. With BusinessMax, everyone's a member and entitled to savings of up to 45% per round. To find out more, call the Golf Shop at 609-601-6220. Be sure to ask about our signing bonus.
Click here for more information on any of our membership options
Business ID: 1101290796 | Universal ID: 0d7a7032-7d16-52d5-b27b-46d92480f4da