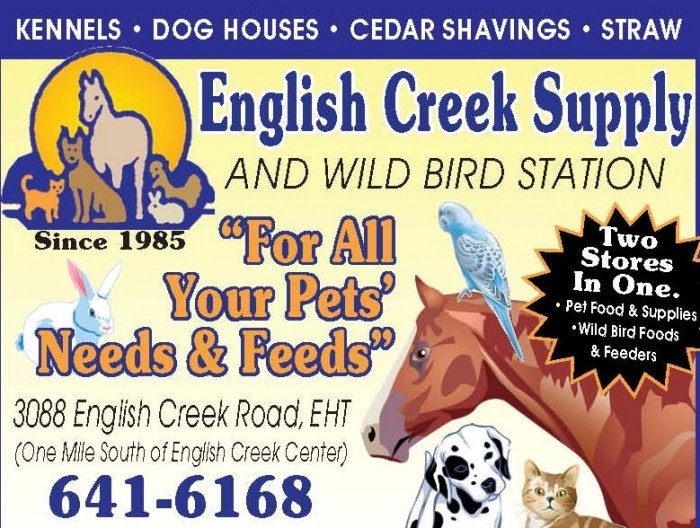 Welcome to English Creek Supply!
3088 English Creek Ave---Egg Harbor Twp NJ 08234
Good Service – Something Extra!
Besides a huge selection of products and excellent pricing, English Creek Supply prides itself in good courteous service. Our attentive employees have a combined experience of 50 years in pet and animal supply business and we will gladly address any of your questions and concerns. Our car service takes the "work" out of buying large bags of food. Be it a 40lb bag of dog food, 50lbs of horse feed, or a bale of hay. We get it and load it in your car. IT IS THAT EASY!
Huge Inventory – Excellent Pricing
English Creek Supply is a complete source for all foods and other supplies relating to pets, livestock, poultry and wild birds. Our warehouse facility enables us to buy foods on pallet and truck load "deals" and offer prices comparable or lower than our larger competitors. Weekly deliveries from several distributors assures that our retail store will be well stocked with a vast variety of pet and animal accessories. Special orders on non-stock items can usually be filled within 7-10 days.
NATURAL & HOLISTIC PET FOODS:
ENGLISH CREEK STOCKS THE MOST POPULAR PREMIUM PET FOOD BRANDS IN SMALL MEDIUM AND LARGE BAGS:
Canidae
Blue Buffalo
Earthborn
Evo
Eukanuba
Back to Basics
Chicken Soup
Iams
Innova
Core
Canine Caviar
Bil Jack
Natural Balance
Heath Extension
Triumph
Nutro Max
Natures Variety
Nutro Source
Merrick
Pro Plan
Taste of the Wild
Solid Gold
Science Diet
Wellness
Orijen
Natures Logic
California Natural
Natural Choice
Holistic
Royal Canin
Pricing is competitive! Service is great!
Special orders are welcome! Pets welcome!
PET SUPPLIES & ACCESSORIES
Kennels Nylon and leather leads
Bowles Nylon and leather collars
Raised Bowls Nylon and leather harnesses
Electric Fence Retractable leads
Anti bark collars Toys: plush/rope/rubber
Remote trainer Coats
Pet doors Sweaters
Training cages Rain Gear
Poop Scoopers Boots
Tie out cables Life jackets
Auto waters
Auto feeders
Cat Litter Pans
Scratch Posts
Pet Beds
Dog Houses
Play Pens
Pet gates
Supplements: Grooming: Flea/Tick
Hip & Joint Dental Products Frontline
Glucosomine Clippers Advantage
Chandroitin Brushes Advantix
Vitamins/Minerals Slickers Sprays
Omega 3&6 Shampoos Powder
Aspirin Conditioners Foggers
Wormers Odor Control Yard
Spray
Treats: Small Animal & Fish:
Dog Biscuits Fish Food
Himalayan Chews Small Animal food
Dental Chews Caged bird food
Beef Jerkey Pond pumps
Chicken Strips Pond Liners
Freeze dried liver
Busy Bones
Beggin Strips
Greenies
Hip & Joint Chews
Pig Ears
Raw Hide
English Creek Supply ---3088 English Creek Ave---Egg Harbor Twp NJ 08234
Wild Bird Seeds and Feeders
Wild Bird Seeds in 25-40-50lb bags
Black sunflower – Wild Bird Mix – Safflower-Sunflower Chips – Peanuts – Nyger
Suet Cakes:
Fruit flavor – orange – berry – seed – peanut
12 pack – Mix and Match
Over 100 feeders and more!
Business ID: 1122115749 | Universal ID: 8f2ffb3b-27d0-5055-ade0-d4d848761ede