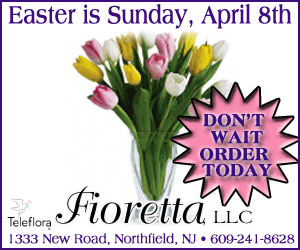 Fioretta LLC, Your Number One Florist in Northfield


For fresh, high-quality flowers in Northfield, you can count on Fioretta LLC. Our professional staff of florists in Northfield will work with you to create beautiful, unique gifts for your special occasions. Not only do we provide flower delivery in Northfield, we can deliver nationwide as well through our trusted network of florists. We even offer same day flower delivery at no extra cost for those last-minute gifts!

Create a special memory by sending fresh flowers.Fioretta LLC, your local Northfield florist, has just the right bouquet to fit every occasion and budget. Let us help you create smiles with our unique designs of Mother's Day flowers, birthday flowers, or anniversary flowers. Say "I love you" with a stunning arrangement of Valentine's Day roses, add joy to the holidays with a seasonal centerpiece, or cheer up a friend with a fun get well flower gift basket. Let Fioretta LLC help you surprise someone with the best flowers in Northfield NJ today. When you need to send your condolences we can help with a thoughtful funeral flower arrangement.

Need to send flowers inNorthfield or anywhere nationwide? No problem! With convenient online ordering from Fioretta LLC, you can surprise your loved ones with fresh, fragrant flowers or fruit basket without stepping foot in our store. Browse our online catalog to find just the right gift for your special occasion. You can also call Fioretta LLC and speak with one of our friendly florists inNorthfield and we can design your perfect gift.
World-Class Flowers inNorthfield, Fioretta LLC


The floral designers at Fioretta LLC are committed to creating special flower arrangements to suit your specific needs. We also have a broad assortment of plants and gift baskets for every occasion. Each of our bouquets is professionally arranged in a reusable vase using only fresh flowers in Northfield. To add a special touch, we also carefully hand-deliver each arrangement directly to your recipient. When you shop at Fioretta LLC, your order will be handled with the utmost care by one of the foremost florists in Northfield NJ.

Don't be fooled into ordering from national floral sites that ship flowers in a box. Nothing ruins the joy of receiving fresh flowers like unpacking damaged and dehydrated blooms and having to arrange them yourself. When you select Fioretta LLC to send flowers toNorthfield or any other destination, your order will be handled professionally and with the utmost care by expert florists inNorthfield.
Business ID: 1128561480 | Universal ID: 8045dca7-367d-5c54-835f-39ad95c9e4d5