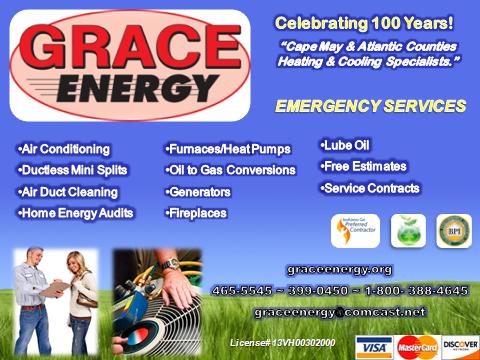 Grace Energy offers a wide variety of products and services in South Jersey including air duct cleaning, humidifiers, electronic air cleaners, ultra violet treatment systems and ventilation systems, winter watch service and fuel oil delivery.
Grace Energy's company theme is "We'll be there!" because Grace Energy will be there for estimates, service, installation, service contracts, deliveries and to answer the phone so you'll always speak to a person. Call Grace Energy and inquire about their many services, products and payment plans.
Whether your home or office is too cold or too hot, Grace Energy offers heating, cooling and HVAC services to get you back in your comfort zone quickly and affordably. Grace Energy has been serving commercial and residential customers throughout Cape May & Atlantic Counties with superior products and professional, ethical service.
In business since 1912. Small, locally owned, customer oriented. Our slogan is also "We'll be there!" because we answer our phones, return every phone call and show up for estimates, repairs, installations, deliveries, etc. Our customers are loyal to us because they know we care and we work hard to earn their trust and loyalty.
Emergency Service • Financing Available • Free Estimates • Fuel Oil Delivery • Service Contracts
Business ID: 4000003083 | Universal ID: e243315c-951c-55f2-9562-733b7a529f4a