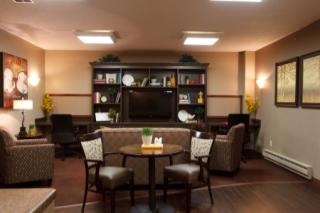 About Linwood Care Center
We are a 174-bed skilled care center located in Linwood, NJ. Our general services include short-term rehab, long-term care, respite and hospice services, and ventilator care.
OUR MISSION/CARE PHILOSOPHY
At Linwood Care Center, our mission is to provide the finest quality health care, rehabilitative and support services to our patients and their families.
Our care approach is patient-centered and involves an integrated program of therapies that address the total well-being of each individual. For each patient, we create an individual care plan and assemble a care team that may include specialists from several areas. The goal is to design a course of treatment and therapy that best meets the needs of the patient.
OUR STAFF
Meet some of the staff members who make our center a great place to live and work!
Click here for Staff link >>
DIRECTIONS
This site includes maps and directions you can print out.
Click here for directions/map >>
PHOTO GALLERY
Take a tour of our center. Also, see some "candids" taken by our residents, staff and family members.
Click here for main photo gallery >>
WHY DO DOCTORS AND DISCHARGE PLANNERS PREFER TO REFER PATIENTS TO LINWOOD CARE CENTER:
"The staff here at Linwood Care Center is very attentive to the medical needs of the residents. I know that the patients I refer here will receive excellent care."
-Dr. Stephen G.
CLICK HERE FOR:
LINWOOD CARE CENTER IS PART OF THE REVERA HEALTH SYSTEMS:
More info about Revera Health Systems
Business ID: 1101133089 | Universal ID: 51b3b7ed-7a8b-5606-a389-8024060f4c1b