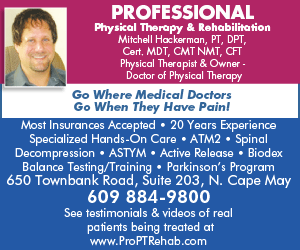 About Us
Because It Matters Where You Go For Your Physical Therapy
Our Mission
•Providing the best physical therapy care available. Providing Excellence in Rehabilitative Care!
•Providing patients with a means to treat themselves independently maximizing their potential to prevent recurrence of symptoms, facilitating quality of life and providing cost-effective quality care.
•Helping our patients achieve and exceed their rehabilitative goals and to help them function at their highest possible level.
•Providing professional, individualized services to our community.
Our Services
Musculoskeletal / Orthopedic Rehabilitation
•General sprains and strains
•Post trauma
•Post-surgical procedures
•Post Total Joint Replacements (i.e., Total Knee, Total Hip & Total Shoulder Replacements).
Specialized Neck & Back Pain Treatments
•McKenzie Certified Physical Therapist (see http://www.mckenziemdt.org/index_us.cfm)
•Trained in various procedures, focused upon pain of Spinal Origin.
•Emphasis is placed upon the use of 'Mulligan Joint Mobilizations With Movement; ' (see http://www.bmulligan.com), which are the most important, useful & productive procedures available in the world of 'Hands-On Care.'
•The ONLY facility throughout the South Jersey shore region to have and to be trained in the use of the ATM2 which was specifically developed to have an IMMEDIATE effect of reducing &/or eliminating pain of spinal origin (see 'ATM2 – Pain Relief' page for further details).
•Spinal Decompression (Traction): Offering Spinal Decompression (Traction) using your insurance coverage (see 'Spinal Decompression' page for further details).
Soft Tissue Mobilization (STM) & ASTYM (SEE 'ASTYM' PAGE)
•ASTYM is a revolutionary process that heals soft tissue problems. Success is often achieved where other treatment methods have failed! Chronic bursitis, tendonitis, carpal tunnel and scarring. (see ASTYM page for further details).
Manual Mobilization
•A variety of specific hands-on treatment methods are utilized to treat joints to improve their mobility, range of movement, promote healing and ultimately to reduce pain and restore function. Manipulation is also performed as deemed appropriate, however, rarely is manipulation required in the world of orthopedic care. In addition to treating neck and back pain, McKenzie & Mulligan procedures (see above) are the treatments of choice for the joints of the limbs.
Sports Medicine & Athletic Performance
•Rehabilitation programs which are developed in accord with each persons respective needs to quickly return one to their respective sports activities; whether a 'high level' athlete or a 'weekend warrior.' We provide manual therapy, therapeutic exercises and the ATM2 to enhance mobility for most sporting activities. Improve your Golf game, be at your best with any sports activity.
Personal Training
•Personal Training is offered to the General Public as well, however, patient's completing their physical therapy regimen are eligible for a special discount on personal training sessions if they contact our Personal Trainer within 2 weeks following completion of their physical therapy regimen. (see 'Personal Training' page for further details).
Industrial Rehabilitation
•Focus patient programs on quick, cost effective treatment tailored to address job specific issues. Employee presentations and recommendations to reduce on-the-job injuries. We offer demonstrations in proper body mechanics, materials handling and functional positions to help prevent injury. Functional Capacity Evaluations are available as well.
Parkinson's Rehabilitation
•Focus upon loss of functional independence, loss of balance & coordination. Therapists work with patients to improve areas of dysfunction.
Business ID: 4000003358 | Universal ID: 306d24ec-c26c-506d-9740-206af130ed81