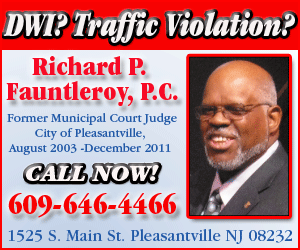 Richard T. Fauntleroy attended Cornell University, in Ithaca, New York, where he received his Bachelor of Science degree in 1972. As an undergraduate, he was a member of the African American Society, selected to the Ho ‑ Nun ‑ De ‑ Kah Honor Society and served as a Teaching Assistant in Sociology (1971‑1972). He was a varsity football player and a member of the Red Key Society.
He graduated from the Cornell University School of Law in 1975 with a Juris Doctor degree. While in law school, he served as Chairman of the Black Law Caucus, a member of Cornell Legal Aid Clinic and as a Member of the Cornell Law School Student Association and also worked as a Law Clerk for Cornell University's, General Counsel's Office.
Richard became a member of the New Jersey Bar in 1975 and is admitted to practice before the New Jersey Supreme Court, New Jersey Superior Court and the U.S. District Court of New Jersey. He is also admitted to practice before the United States Court of Appeals ‑ Third Circuit and the United States Supreme Court.
His employment includes being an Assistant County Prosecutor with the Atlantic County Prosecutors Office after graduating from law school. After leaving the Prosecutors Office, Richard joined the law firm of Tomar, Parks, Seliger, Simonoff & Adourian, P.C. of Camden County, New Jersey where he became the 15th partner of the firm. While at the firm he managed the firm's Atlantic City office. After leaving Tomar, he and a friend formed the law firm of Harris & Fauntleroy, P.C., where he remained until opening his own law firm, Richard T. Fauntleroy, P.C. in 1987.
Richard served as the Municipal Judge for the City of Pleasantville from August of 2003 until December 2012. Other positions held as an attorney included Legislative Counsel, City Council of Atlantic City (8/84 ‑ 6/88), Municipal Prosecutor, Egg Harbor Twp., NJ (1/1/93 to 12/31/95), Municipal Public Defender, Egg Harbor Twp., NJ (1/88 ‑ 3/89), Municipal Prosecutor, City of Pleasantville, NJ (1993). Richard also served as a member of the Atlantic County Board of Elections, and as an Adjunct Instructor an Atlantic Community College, Atlantic County, New Jersey.
The firm is engaged in the general practice of law including personal injury, municipal court matters, family law, contract matters, real estate sales and purchases, employment and civil rights issues.
Noteworthy professional affiliations have included: Member, Supreme Court of New Jersey Committee on Character‑Part IV where he held positions of the Chair Statewide Panel (7/03 ‑ 6/05), Statewide Panel Member (1998 ‑ 2005) and Chairperson Part IV (10/95 to 7/03). Richard was also a Member of IOLTA Board of Trustees which Administers New Jersey Attorneys Trust Account Interest (9/03 ‑ 2/07) and was
Chairman of the Board (11/04 ‑ 2/07) and Member of the Supreme Court of New Jersey District Ethics Committee‑District 1 (1984 ‑ 1988). As a member of The New Jersey State Bar Association he was a Trustee At Large (1989 ‑ 1991) and served on the Association's Judicial and Prosecutor's Appointment Committee and Minorities in the Profession Section .
Richard served as a member of the Vincent S. Haneman American Inn of Court serving as a Barrister for the period 1994 to 1997 and the Sidney Reitman Employment Law American Inn of Court as a Barrister from 1993 to 1995.
He has been recognized for his contributions by various organizations over the years. Awards and honors include: Outstanding Young Men of America Award (1979); Atlantic City Magazine ‑ One of 84 People to Watch in 1984; Community Service Awards, Atlantic County Bar Association (1988 and 1990); Community Service Award, Women's Progressive Club of Swedesboro, NJ (1991); Community Service Award, Egg Harbor Township Committee and Community Service Award, Egg Harbor Township Youth Organization (1993); Keynote Speaker, Celebration of 100th Anniversary of the founding of the NAACP, Mainland NAACP Branch & Stockton College Program - February, 2009.
He has served as a Board member for a number of organizations such as The Legal Services Corporation of New Jersey; Ralph Peterson Scholarship Foundation (Treasurer); Egg Harbor Township Police Athletic League: Atlantic County Economic Development Corporation: Atlantic City Boy's Club and the Atlantic County United Way.
Business ID: 1100193611 | Universal ID: cffca56d-f441-5e62-b200-e459571f3b3b