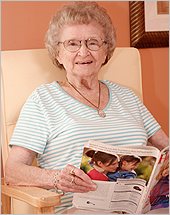 Royal Suites is a state of the art healthcare center situated on eight wooded acres. The facility incorporates numerous amenities so patients can relax and rejuvenate in comfort. Excellence in long term care, respite care, as well as rehabilitative care. Royal Suites offers a full range of services, including physical , occupational, cardiac monitoring and speech therapy. Large well appointed rooms offer internet access, personal televisions , and long distance phone call capability. Guest service personnel assure that your loved one's stay exceeds every expectation. Royal Suites has earned the confidence of medical professionals throughout the area, Outstanding care and exceptional amenities makeRoyalSuitesAtlanticCounty's premier healthcare center.
Monthly Alzheimer's Support Group - Third Thursday of each month from 1pm- 2pm at Royal Suites - Gain practical tools & tips, Share Experiences with others, Network to learn effective coping methods.
Light Refreshments will be served. Group is facilitated by Diane Conover, CALA, CDP and Stacy DiFillipo CSW - for more information call Stacey at 609-748-9900
Bingo & Dinner - Thursday September 6th at 5:30pm at Royal Suites
Win Great Prices! Free Raffles & Gifts!
Please reserve your seat today - 609-748-9900
Business ID: 1101469270 | Universal ID: 4456c1fb-28e4-535c-a05a-b6138c65af93