Girls soccer roundup: Logan Kesel's goal gives Holy Spirit a win over Absegami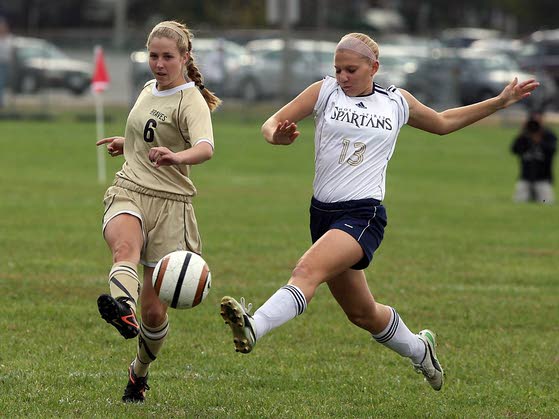 Logan Kesel scored the game-winning goal with a header in the second half to give Holy Spirit High School the 1-0 win over Absegami in a Cape-Atlantic League girls soccer game Tuesday.
Danielle Peck had the assist and deflected the ball off a corner kick from Kourtney Dalzell.
Goalkeeper Audrey Wilson made eight saves in the shutout.
Absegami goalie Hayley Grimm had 11 stops.
Absegami 0 0-0
Holy Spirit 0 1-1
Goals-Kesel HS.
Goalies-Wilson (8) HS; Grimm (11) A.
Records-Absegami 9-5-1; Holy Spirit 9-6-1.
Nonleague
Egg Harbor Township 1,
West Deptford 0
Egg Harbor Township's Jordyn Martini scored the game-winner on a pass from Juliann Brand. Antonia Maffia and Carly Friedman combined for the shutout. Each had six saves.
The Eagles are now 7-7-1.
West Deptford 0 0-0
Egg Harbor Township 0 1-1
Goals- Martini EHT.
Goalies-Kipp (10) WD; Maffia (6), Friedman (6) EHT.
Records-West Deptford 10-5; EHT 7-7-1.
Winslow Township 3,
Atlantic County Institute of Technology 1
Jamie Barber scored for ACIT in this nonleague match.
Atlantic County Institute of Technology 1 0-1
Winslow Township 1 2-3
Goals-Barber ACIT; McGrath, Comer (2) WT.
Goalies-Ikalina (7), Estrada (5) ACIT; Murray (7) WT.
Records-ACIT 5-13-1.
Shore Conference
Barnegat 1,
Brick Township 0
Laura Nelson scored the game-winner for Barnegat in the 32nd minute. Emily Calderon and Taylor Teliszewski combined to make four saves in the shutout.
The Bengals outshot Brick Township 13-5.
Brick Township 0 0-0
Barnegat 1 0-1
Goals-Nelson B.
Goalies-Calderon (2), Teliszewski (2) B; Tobin (5) BT.
Records-Barnegat 10-7-2, Brick Township 4-12-2.
Tri-State Christian
Kings Christian 5,
Pilgrim Academy 0
Courtney Novak led Kings with two goals.
Maggie Kling had nine saves for Pilgrim.
Kings Christian 2 3-5
Pilgrim Academy 0 0-0
Goals-Holloway, Lyon, Gruneva, Novak (2) KC.
Goalies-Panagatopulous (6) KC; Kling (9).
Records-Pilgrim 5-9.