Baseball: Matt DiCerbo hits 3-run homer to help 15th-seeded Atlantic City beat second-seeded Vineland in playoff opener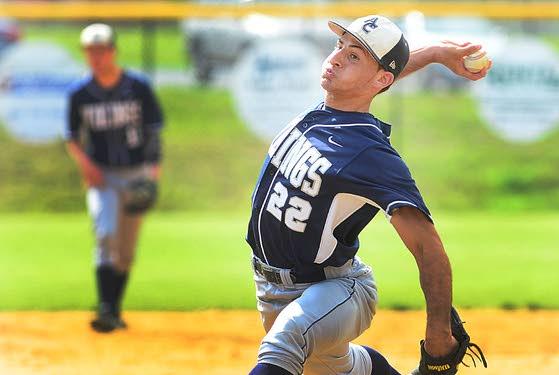 VINELAND - With another memorable win Monday afternoon, the Atlantic City High School baseball team made it harder and harder to be forgotten about.
The 15th-seeded Vikings upset No. 2 seed Vineland 5-3 in a South Jersey Group IV first-round game. Atlantic City (13-9) will play at No. 7 seed Lenape in the quarterfinals Friday.
Jon Bruccoleri pitched a complete game for the win. Matt DiCerbo hit a three-run home run, and second baseman Dean D'Alessandro made the defensive play of the contest with a diving catch with the bases loaded during the third inning.
"Maybe this opens some eyes that we do have some baseball players at Atlantic City High School," Vikings coach Brent Bean said.
The Vikings' baseball team is often overlooked. The team has not had the same success as the school's high-profile football and boys basketball programs.
But Atlantic City attracted the notice of the South Jersey baseball community last week with an 8-2 win over Bishop Eustace. Monday's win will get Atlantic City even more attention. Eustace (19-7) is ranked No. 4 in The Press Elite 11, while Vineland (20-6) is No. 7.
"This puts us on the map," Bruccoleri, a senior, said of the team's recent upset wins.
Monday's game was no ordinary No. 15-No. 2 matchup. The Cape-Atlantic League American Conference Division II rivals played twice during the regular season with Vineland winning both games, 4-3 and 5-0.
"They know what we can do and we know what they can do," Bean said. "I don't care what sport you're in. Anytime you have to face a team three times, it's hard to get that third win."
Atlantic City never trailed Monday.
The right-handed DiCerbo gave the Vikings a 3-0 lead when he lined a pitch over the right-field fence in the top of the third inning.
"It was a fastball, but I'm not really sure where it was," he said. "It must have been outside for me to hit it to the opposite field. That brought our spirits up, and I think it set the tone."
D'Alessandro made sure the Vikings kept the lead in the bottom of the third.
With the bases loaded and Vineland down 3-1, Andrew Gee of the Fighting Clan hit a soft line drive that seemed destined to land in shallow center field.
D'Alessandro ran to his right, dove and made the catch behind the second-base bag on the edge of the outfield grass to the end the inning and save at least two runs.
"I just tried to get a quick read off the bat," he said. "I knew I had a chance and I just laid my whole body out. It happened real fast. I'm just glad I looked (in the glove) and saw the ball."
That wasn't Vineland's only scoring chance. Bruccoleri scattered eight hits in seven innings. The Fighting Clan left eight runners on base in the third through sixth innings.
"I know things didn't go as planned in the start of the innings," Bruccoleri said. "But you have to bear down and get outs. You have to focus on the next hitter."
Lenape beat Egg Harbor Township 3-1 in Monday's first round. The Vikings also are familiar with Lenape. Atlantic City beat the Indians 4-3 on May 3.
Monday's playoff win should give the Vikings' baseball program a boost. This is the second straight year Atlantic City has won a playoff game.
Atlantic City baseball teams have struggled in the past because its players lacked experience. But Bean said the Vikings made plays Monday they simply would not have made earlier this spring.
"We would have messed them up," he said. "But now our guys have got a lot of confidence. We're starting to click. Everything is starting to make sense to the players."
Contact Michael McGarry:
609-272-7185
Atlantic City 003 011 0-5 8 0
Vineland 001 101 0-3 9 3
2B: Monacello, Glanville AC. Colon, Malatesta VL. HR: DiCerbo AC.
WP: Bruccoleri (5K) LP: Malatesta (9K)
Records-Atlantic City 13-9; Vineland 20-6
Comments