Lacrosse roundup: Lindsay Lare scores five goals to lead Lower Cape May to win over Egg Harbor Township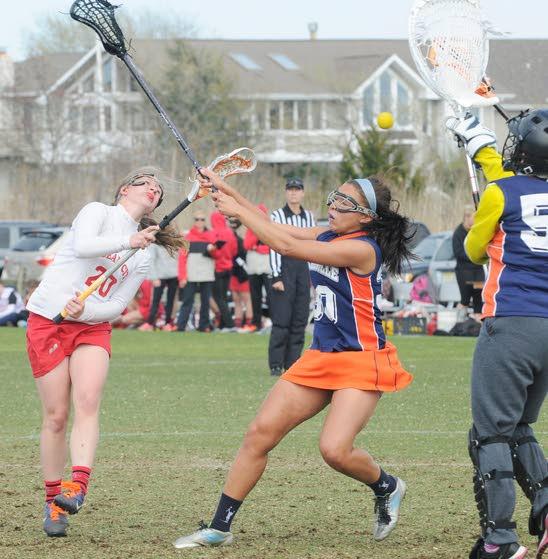 Lower Cape May Regional High School outscored host Egg Harbor Township 10-6 in the second half for a 14-10 victory in a Cape-Atlantic League girls lacrosse game Tuesday.
Lindsay Lare scored a game-high five goals for the Caper Tigers. Victoria Mann chipped in with four goals and an assist.
Mackenzie Meyer, Courtney Eble and Lauren Angello each scored twice for the Eagles.
Lower Cape May Regional 4 10-14
Egg Harbor Township 4 6-10
Goals-Lare (5), Mann (4), Sangillo (3), Thompson, Mahom LCM; Meyer (2), Eble (2), Angello (2), Pinkney, Snodgrass, Umphlett, Corazza EHT.
Goalies-Whittle (17) LCM; Naber (14) EHT.
Records-Lower Cape May 5-2; EHT 2-6.
Mainland Regional 20, Middle Township 9
Anna Gordon led all scorers with six goals for Mainland. Kailey Stangle added five and Riley Dolan four for the Mustangs.
Madeline Anagnou and Victoria Deever each netted a hat trick in the loss.
Mainland Regional 9 11-20
Middle Township 3 6-9
Goals-Gordon (6), Stangle (5), Dolan (4), Albright (3), Klever (2) MR; Anagnou (3), Deever (3), Mairone, Colea, Bartha MT.
Goalies-Gerstel (7) MR; Laing (8) MT.
Records-Mainland 7-1; Middle 5-4.
Ocean City 20, Millville 4
Tess Solazzo posted eight goals and three assists to lead Ocean City. Casey Hanna added six goals for the Red Raiders.
Corinne Etter led Millville with a hat trick.
Millville 3 1 -4
Ocean City 10 10-20
Goals-Etter (3), Parent M; Rohrer, Armond, Zukawski (2), K. Hanna (2),C. Hanna (6), Solazzo (8) OC.
Goalies-Linbeck (5) M; Twiggs (5) OC.
Records-Millville 3-6, O.C. 9-3.
Barnegat 11,
Lacey Township 10
Barnegat carried a 8-6 halftime lead to victory. The Bengals are 7-5, while Lacey went to 10-2. Further details were unavailable.
Boys lacrosse
Ocean City 18, Vineland 9
Kevin Dougherty scored six goals and had two assists for Ocean City. Dan Spatol added five goals and one assist.
Details for Vineland were unavailable.
Ocean City 5 4 2 7-18
Vineland 2 2 3 2-9
Goals-Dougherty (6), Spatol (5), Schuler (3), Conrad (3), Mateer OC.
Goalies-Wyman (16) OC
Records-Ocean City 6-3, Vineland 1-8.
Comments