Cleanup, damage assessments begin as evacuees return home in Cape May County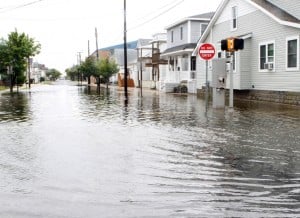 CAPE MAY COURT HOUSE — Cape May County began the cleanup from Hurricane Irene on Sunday as people began trickling back into deserted towns and dealing with power outages, snapped trees and flooding in some areas.
No injuries were reported in the county, which issued a mandatory evacuation leading up to the storm.
Most roads were passable and inspectors deemed the county's bridges and dams safe, said Lenora Boninfante, spokeswoman for Cape May County.
By Sunday afternoon, officials were waiting for the governor to rescind a state of emergency before Cape May County rescinded its evacuation order.
Nonetheless, residents, second-home owners and tourists slowly began making their way back to Cape May County to check their homes, assess damage and snap pictures of the beaches and streets.
The cost of Hurricane Irene on this coastal county had not yet been assessed. The extent of beach erosion and damage to personal and public property will be determined in the coming days, Boninfante said.
"The next step will be from municipalities tomorrow to begin assessing the cost of the storm and damage to their beaches and other infrastructure," she said. "Today was the cleanup to get everybody back safely."
 According to Atlantic City Electric's outage map, there were still about 25,000 customers without power in the county as of 5 p.m. Sunday.
Bob McCloskey, 66, returned to his home in Lower Township on Sunday after the family had evacuated to his daughter's house in Pennsylvania.
"I was very nervous about what I might come home to. Thank God, nothing," he said.
The worry for his home he experienced while evacuated has McCloskey debating whether he would evacuate again.
"I might think twice next time," he said. "That's a bad thing, I know ... but it was worrisome being away."
In North Wildwood, the wind pelted sand at sporadic sightseers who stopped at Second Avenue and the beach to snap pictures of the coastline Sunday afternoon.
Motels typically abuzz with vacationers this time of year were closed. On Surf Avenue, electronic parking meters were still covered in shrink-wrap plastic to keep them dry.
In Wildwood, the Boardwalk was eerily quiet, with shops boarded up and just a few people walking the boards on a warm Sunday afternoon.
It was reminiscent of the offseason rather than late August, said Mike Micklasavage, 52, who has a seasonal rental in North Wildwood.
"This is like March, but without a jacket," he said.
On the Boardwalk in Wildwood, there were few signs of damage.
By Maple Avenue and the Boardwalk, a bench shelter tipped over a chain-link fence and fell 10 feet from the Boardwalk to the beach below.
Elsewhere in the area, there were other lingering problems. The Middle Thorofare Bridge which connects Lower Township to Cape May was closed Sunday afternoon due to a leaning power line.
The traffic signal on the Garden State Parkway at Exit 10 by Stone Harbor Boulevard was also out of service Sunday.
In Sea Isle City had flooding and some beach erosion, but damage was not severe, Mayor Leonard Desiderio said.
"Some homeowners are going to have some damage," he said. "But overall, with what it could have been, it wasn't," he said.
Avalon Mayor Martin Pagliughi said in a statement the borough sustained minimal damage to infrastructure but asked residents and visitors not to return until Monday due to potential problems with driving.
Avalon Borough Hall will be closed to the public today as employees restore offices from which filing cabinets, computers and documents were temporarily relocated in case of flooding, he said.
Meanwhile, some residents were making preparations to return home after evacuating.
Diane Karpinski of Cape May Court House flew to the family's Venice, Fla., beach house Friday morning. On Sunday, she said they were trying to find a flight back.
"Every single plant is in my garage," she said. "Everything that could possibly fly away, we stuck in the garage. Every pot, every grill and all the furniture."
Although Irene caused the Karpinskis to make an unexpected vacation, she said she'd do it again if another storm came.
"I'm very careful of hurricanes," she said. "I'd rather be safe than sorry; I'm just happy we have a place we can come back to."
Dmitry Miazhevich and his friends decided to ride out the storm in their Wildwood home. A 32-year-old native of Belarus who works for a fiberglass company, Miazhevich wore a T-shirt that read, "Welcome Irene."
In the street near their home, water flooded up to their knees.
A picture shows the group floating on their backs in the floodwater at night.
"We're going to put it on Facebook," he said.
Contact Brian Ianieri:
609-272-7253
Comments