Avalon, Stone Harbor beach-replenishment projects double after Sandy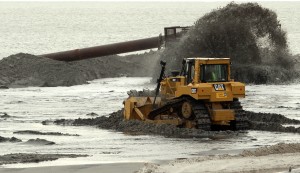 Avalon and Stone Harbor already expected to see their beaches replenished prior to Hurricane Sandy, but now the boroughs will receive twice the sand originally anticipated due to the storm's erosion.
A project to pump 710,000 cubic yards onto Seven Mile Beach started last week. The amount was revised from 300,000 cubic yards set long before Sandy pummeled the coastline at the end of October.
The original work was set to restore the sand lost during Hurricane Irene in 2011 only months after the communities received a replenishment project. This winter's re-nourishment was considered an emergency replacement, and now it is even more of an emergency.
"We're restoring it from both storms, in a sense," said Army Corps of Engineers spokesman Steve Rochette.
Before Sandy, the Army Corps had replenishment projects planned in four areas of southern New Jersey, including Seven Mile Beach as well as in Ocean City, Brigantine and the southern tip of the Cape May peninsula.
All those projects were re-evaluated in light of the erosion from Sandy. The work in Cape May, Cape May Point and Lower Township was little affected by the storm since the area is the farthest south from where Sandy made landfall.
Brigantine and Ocean City were dramatically affected, though. Ocean City is asking the corps to expand its project farther south than originally planned, and Brigantine will need much more sand than originally projected.
The contract in Avalon and Stone Harbor was originally awarded in the fall for $4.5 million to Norfolk Dredging Co. After Sandy, the Army Corps surveyed the coast and modified the amount, which will also increase the cost. The new cost was not available.
Luckily for the state and the local governments, the federal government is paying the entire bill as part of its Flood Control and Coastal Emergency program. Typically, the state and local governments involved split 35 percent of the entire project cost.
Avalon and Stone Harbor did not get hit with the same ferocity by Sandy as points farther north, but they still fared significantly better than nearby barrier islands of Sea Isle City and Ocean City, partly due to their extensive dune systems.
"We weren't that vulnerable," said Avalon Mayor Marty Pagliughi. "We had no breakthroughs of the dunes, but since Sandy we've been compromised pretty good."
Work started in Avalon on Jan. 3 and the dredge named Charleston will pump an average of 1,000 cubic yards per hour, 17 hours a day, only stopping for mechanical or weather-related situations.
The work to first cover the beach from Ninth Street south to 25th Street will likely be completed by the end of January. Afterward, the dredge will go to Fire Island in New York for a replenishment project there before returning to Stone Harbor.
In Stone Harbor, the beachfront will be restored from 92nd Street south to 114th Street and from 119th Street to the southern end. It all must be finished by May 23.
The contract will also include replanting dune grass, rebuilding dune fence and restoring handicapped access along various parts of the project area.
"We feel we're very fortunate that they're going to restore our beaches to pre-Irene levels, so that will include whatever additional damage was done during Sandy," said Stone Harbor Administrator Jill Gougher.
Rochette said that no new replenishment projects outside those planned prior to Sandy have been approved yet. The corps is still evaluating what parts of the coastline need sand most following the storm.
Contact Lee Procida:
609-463-6712
Follow Lee Procida on Twitter @ACPressLee
Comments