Published: Friday, April 02, 2010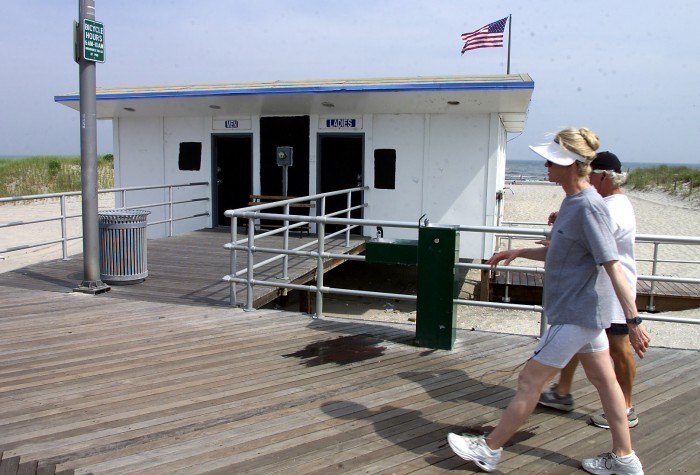 Bathrooms
ATLANTIC COUNTY
ATLANTIC CITY
Mississippi Avenue and Boardwalk
Garden Pier, New Jersey Avenue and Boardwalk
FOR MORE INFO: Call 609-347-5312
BRIGANTINE
FOR MORE INFO: Call 609-266-5233
LONGPORT
Community Hall, 33rd Street and Atlantic Avenue
Borough Hall, 2305 Atlantic Ave. (closed Sundays)
FOR MORE INFO: Call 609-822-4065
MARGATE
Clarendon Avenue and the beach
Huntington Avenue and the beach, Bloom Pavilion
Benson Avenue and the beach, Ventura's Greenhouse Restaurant
Lucy the Elephant, Decatur Avenue
Margate City Public Library, Granville Avenue
FOR MORE INFO: Call 609-822-2370
VENTNOR
FOR MORE INFO: Call 609-823-7953
CAPE MAY COUNTY
AVALON
CAPE MAY 
Washington Street near Ocean Street
East Lyle Lane and Decatur Street
Lafayette Street near Ocean Street
CAPE MAY POINT
Borough Hall, 215 Lighthouse Ave.
DENNIS TOWNSHIP
Recreation Center Gym and outside, 565 Dennisville Road, South Dennis
MIDDLE TOWNSHIP
Martin Luther King Jr. Center, Whitesboro
Railroad Avenue near Route 47, Rio Grande
NORTH WILDWOOD
Municipal Hall, Old New Jersey Avenue
Seventh Street and JFK Boulevard
OCEAN CITY
Carey Stadium, Sixth Street and Boardwalk
SEA ISLE CITY
Dealy Field, 60th Street and Central Avenue
Beach Patrol, 44th Street and Beach
Recreation Office, 6108 Central Ave.
STONE HARBOR
UPPER TOWNSHIP
Caldwell Park, Amanda's Field, Petersburg
WILDWOOD CREST
Scoop Taylor Park, Ocean Avenue between Heather and Crocus roads
WOODBINE
Borough Hall Lobby, 501 Washington St.
Community Center, Longfellow Road
OCEAN COUNTY
BARNEGAT LIGHT
Public Boat Ramp, West 10th Street
Tennis courts between West 10th and West 11th streets
FOR MORE INFO: Call Borough Hall weekdays at 609-494-9196
BEACH HAVEN
FOR MORE INFO: Call 609-492-9193
HARVEY CEDARS
Sunset Park off West Salem Avenue
Borough Hall, 7606 Long Beach Blvd. during municipal hours (closed Sunday)
FOR MORE INFO: Call 609-361-9600.
LONG BEACH TOWNSHIP
Ball field at municipal complex in Brant Beach
FOR MORE INFO: Call 609-361-1200.
SHIP BOTTOM
Borough Hall, 1621 Long Beach Blvd.
Wawa, West Ninth Street and Long Beach Boulevard
Tenth and Shore Avenue (on the bay)
FOR MORE INFO: Call 609-494-9481.
SURF CITY
Municipal building, 813 Long Beach Blvd.
Bay Bathing Beach, 15th Street and Barnegat Avenue
Municipal Boat Ramp, Division Avenue
FOR MORE INFO: Call Borough Hall at 609-494-3064.