Published: Wednesday, July 07, 2010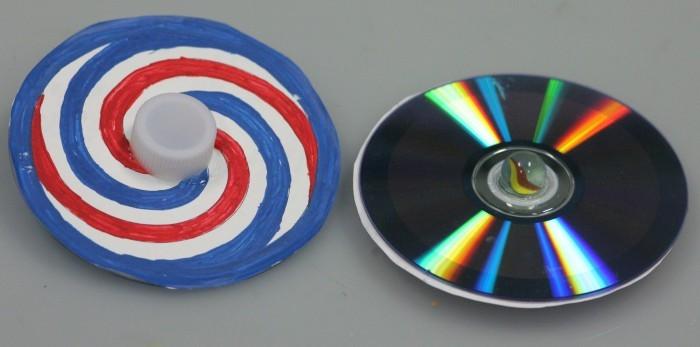 Spinning tops made from CD's feature patriotic colors of red, white and blue. (Paul Tople/Akron Beacon Journal/MCT)
A new spin on summer fun
By Kathy Antoniotti Akron Beacon Journal
There is no better time than summer to play outdoors when nice weather beckons you outside. Finding a pickup baseball game at your neighborhood park can be even more fun than league play. And an evening game of kick-the-can with the kids in your neighborhood will keep you busy until the street lights come on to signal it's time to go inside.
You don't know what you are missing if you don't venture outside and reconnect with old friends and make some new ones during long summer afternoons.
I made these spinning tops in patriotic colors of red, white and blue using old compact discs with instructions and patterns I found at http://familyfun.go.com/crafts/cd-spinners-890164 on the Web.
The craft is especially easy to make and can be done quickly so you can take them outside and have spinning contests with your family.
Supplies you will need:
_Old compact discs.
_Design templates (available at the Web site).
_Plastic bottle caps.
_Large shooter marble.
_Crayons or markers.
_Scissors.
_Craft glue or a low-temp glue gun.
Print out the designs on your computer or trace around a CD on a piece of white paper.
I found the templates a bit smaller than my discs, so I placed the CD on the circle and traced around it after I matched them at the center circles.
Color the design any way you prefer. If you use the templates, look at the photo to help you color the designs.
Cut the circles and the centers out and glue them to the discs using craft glue.
Use a stronger glue or a low-temperature glue gun to attach the marble to the hole of the old CD on the opposite side of the design.
Using the same glue, attach the plastic bottle lid on top of the design over the center hole.
When the glue dries and sets, take your spinners outside for a spin.
___
(If you have a craft idea or question, contact Kathy Antoniotti, Akron Beacon Journal, P.O. Box 640, Akron, OH 44309-0640; 330-996-3565; or via e-mail at kantoniotti@thebeaconjournal.com.)