Published: Friday, July 30, 2010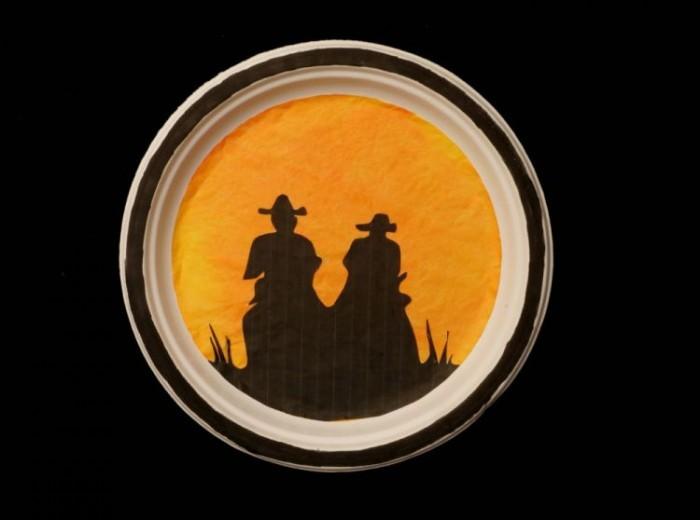 You can honor cowboys the world over with a Sunset Cowboy hanging.
Rein in some fun, make a cowboy
By KATHY ANTONIOTTI, Akron Beacon Journal
Cowboys have regained their popularity with the comeback of Woody in Disney-Pixar's "Toy Story 3."
To honor cowboys the world over, I made a Sunset Cowboy hanging with instructions I found at http://www.busybeekidscrafts.com/Sunset-Cowboys.html. You will need to download the template of the cowboy silhouette from the site.
Supplies:
Cowboy template
Coffee filter
Red and yellow food coloring
4 tablespoons of water
Small containers
Wax Paper or plastic bag
Dropper or straw
10 3/4-inch paper plate
Glue
Scissors
Directions:
Place your coffee filter onto a piece of wax paper or plastic bag.
Fill two containers with two tablespoons of water each, mix 10 drops of yellow food coloring in one container and 10 drops of red food coloring in the other.
Spread your coffee filter out and use a straw or eye dropper to drop some yellow and then some red all over your coffee filter. When the yellow and red run into each other it will create a beautiful orange. Place your coffee filter outside in the sun, or in a sunny window to dry.
Cut out your cowboys from the template.
Once the filter is dry, glue your cowboys onto your sunset. The edges will hang over the coffee filter, so trim off the excess.
Glue your picture into a paper plate to frame it. If you want to hang it, just punch two holes on either side of the plate and tie on some string.