Published: Thursday, June 10, 2010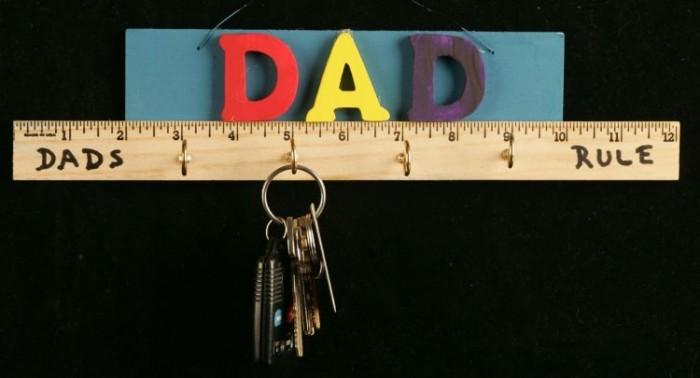 Wood and other supplies to make this Father's Day project for children are available at most craft stores.
This crafty project will be the keys to happiness on Father's Day
By Kathy ANTONIOTTI, Akron Beacon Journal
Father's Day is June 20.
To tell your dad how much you appreciate all the things he does for you, use these instructions to make a key holder, something practical your dad can hang and use.
I wrote the instructions for this craft after seeing several variations of it on the Web.
All the wooden pieces needed for this project are available through retail stores that carry Darice's Craftwood supplies.
Supplies you will need:
1 12-inch wood ruler.
2 1 1/2-inch wooden letter Ds and an A.
1 wooden rectangle sign, 8 by 2 1/2-inches.
4 1/2-inch metal cup holder hooks.
Acrylic paint in four colors and brush.
Wood glue.
Black marking pen.
Thin craft wire, if the sign doesn't already have a wire to hang it with attached
Small nail and hammer.
Directions:
Paint the sign and letters four colors and set aside to dry.
On either end of the ruler, use a black marking pen to write "Dads Rule" using 2 inches of space for each word. (See photo.)
Glue the ruler to the bottom edge of the sign or slightly below it and align and glue the letters above. Set aside until the glue dries.
If the sign does not have a wire for hanging, punch two holes near the top with the nail and hammer. Insert craft wire through the holes from front to back and make small circles on the ends of the wire in the back to keep them from slipping back through.
Make starter holes with the nail and hammer at the 3-, 5-, 7-, and 9-inch marks on the ruler.
Screw the cup hooks into the starter holes for your dad to hang his keys.