Published: Friday, August 13, 2010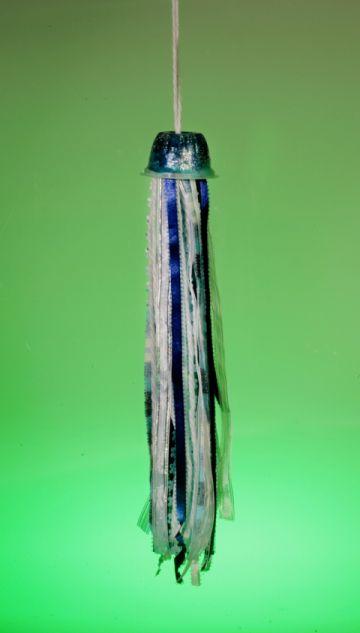 With some yarn and ribbon along with an empty plastic fruit cup you can make a jellyfish for the kids to play with.
Whip up a jellyfish you can touch
By KATHY ANTONIOTTI, Akron Beacon Journal
For the past few years, it's become apparent to scientists that while global warming may be threatening many species, jellyfish seem to be basking in the warmth.
Many scientists believe that warming, overfishing and other environmental stresses actually benefit jellyfish, causing explosions in jellyfish populations in tourist destination and commercial fishing areas.
The August issue of Family Fun magazine supplied these directions to make a beautiful, safe jellyfish for you to play with. I modified the directions for our use.
Supplies:
Empty plastic single-serving fruit cup
Mod Podge (or white glue)
Glitter
Colored tissue paper
Large nail
Yarn and ribbon pieces, each about 1 1/2 feet long
2 1/2-foot length of yarn or ribbon
Directions:
Brush the inside of the fruit cup with Mod Podge and sprinkle on some glitter.
Tear the tissue paper into small pieces and place over the glitter inside of the cup. Brush more Mod Podge over them as you go. Allow the cup to dry.
Poke a hole in the bottom of the cup by turning it upside down and hammering a large nail through the center.
Stack about 25 (1-1/2-foot-long) pieces of yarn and ribbon, matching up the ends. Tie the 2-1/2-foot length of yarn around the center.
Thread the ends of this piece of yarn up through the hole in the cup. Tie the ends together for a hanging loop.